Cool Stuff: The Dialogue Series - "Like Inside The Actors Studio For Screenwriters"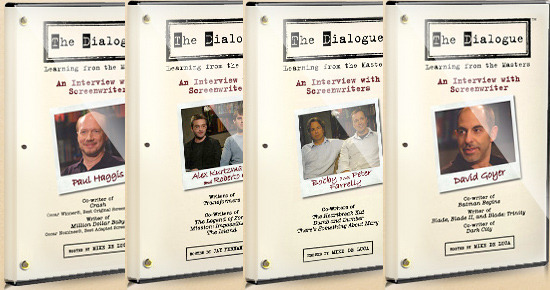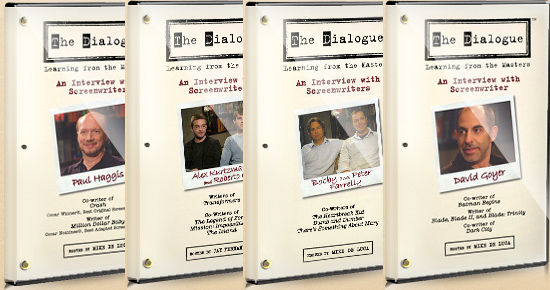 Last month I received an e-mail from a friend informing me about a screenwriter-focused interview series called The Dialogue. The 70-90 minute long-form interview series features interviews conducted/hosted by Mike De Luca (former president of production at DreamWorks Pictures and New Line Cinema, where he produced American History X, Magnolia, Boogie Nights) and Jay Fernandez, and feauring interviews with some of the most interesting screenwriters today, including:
Stuart Beattie, Sheldon Turner, David Goyer, Paul Haggis, Jim Uhls, Ted Griffin, Ganz Mandel, Jose Rivera, Scott Rosenberg, Callie Khouri, John Hamburg, Nick Kazan, Jonathan Hensleigh, Robin Swicord, Marshall Herskovitz, Nia Vardalos, Billy Ray, Paul Attanasio, Susannah Grant, Bruce Joel Rubin, Kurtzman-Orci, David Seltzer, Simon Kinberg, Jeff Nathanson, Ed Solomon, Peter Tolan, Farrelly Bros and more.
Unlike the how-to books, these interviews focus on how some of the most successful professional screenwriters in the business today create their stories, made it to where they are, and work in the industry.
When do they write? Where do they write? How do they self-edit? Where do they look for inspiration? How do they survive bouts of writer's block? Do they do readings of their work? What's their process? How important is structure? How do they develop a character? What kinds of research do they do? How do they prepare for a pitch meeting? How do they measure success? ??In these interviews you'll get answers to these questions and hundreds more.
I've watched a few episodes of the series and learned a great deal about the process of a working professional screenwriter. Imagine it to be a more informative/less dramatic version of Inside The Actors studio, but with screenwriters instead of actors. Interviews like Jay Fernandez's one hour and sixteen minute talk with Alex Kurtzman and Roberto Orci is something I've been looking to watch for years now.
And the DVDs are pretty affordable – only $8.95 each. They even offer a DVD club where you can receive one or two DVDs a month over a year. Click over to TheDialogue.com to learn more or buy dvds. Here are a few clips from the DVDs.
The trailer:
Kurtzman/Orci clip:
David Goyer clip:
Jim Uhls clip:
Before /Film came around, I was an aspiring filmmaker, but importantly an aspiring screenwriter. If time ever somehow freed up, I'd love to explore that world more. I've always found the art of screenwriting to be fascinating, because of the structure and minimalistic disipline required to write a good spec script. I still own a few shelves of screenplay-focused books, and would recommend anyone who is a real film geek to read at least one book on script structure.
Cool Stuff is a daily feature of slashfilm.com. Know of any geekarific creations or cool products which should be featured on Cool Stuff? E-Mail us at orfilms@gmail.com.