Tom Hanks Reveals Larry Crowne Casting But Leaves Us With Another Puzzle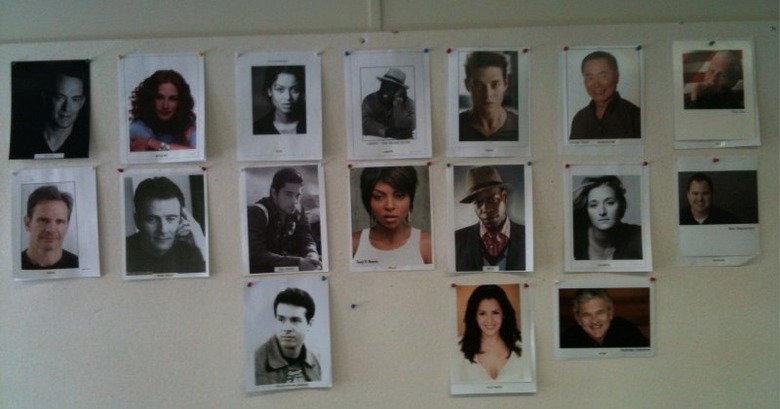 Update: Most slots are now filled – and one of them not by the actor we originally assumed...Tom Hanks has used a Twitpic to unveil some previously unannounced members of the cast for Larry Crowne, his upcoming sophomore effort as writer-director. That's the picture at the head of this story. Can you descry each and every one? I certainly can't.
Okay, I've done my best – and looked at Movieweb, Movieline and Coming Soon's coverage – and here's a list of who's who, reading left to right from the top row down.
Tom Hanks, Julia Roberts, Gugu Mbatha-Raw, Cedric the Entertainer, Rami Malek, George Takei, Dale Dye
Peter Scolari, Bryan Cranston, Wilmer Valderrama, Taraji P. Henson, Malcolm Barret, Unknown, Bob Stephenson
Jon Seda, Maria Canals Barrera – not Nia Vardalos, Holmes Osborne
Vardalos is also Hanks' co-writer on the film. The last remaining unknown may well be Mamie Gummer – at least, that's who Dark Horizons have tentatively named.
The outstanding mystery, I think, is in the arrangement of the images. I think each column has some kind of meaning. Maybe they represent key players in certain subplots, sequences or scenes; maybe they represent relationships between the characters in some sense. Perhaps each column is a kind of 'family'? That would be interesting, possibly exciting... draw your own conclusions.