David Cronenberg And Viggo Mortensen To Reteam For Eastern Promises 2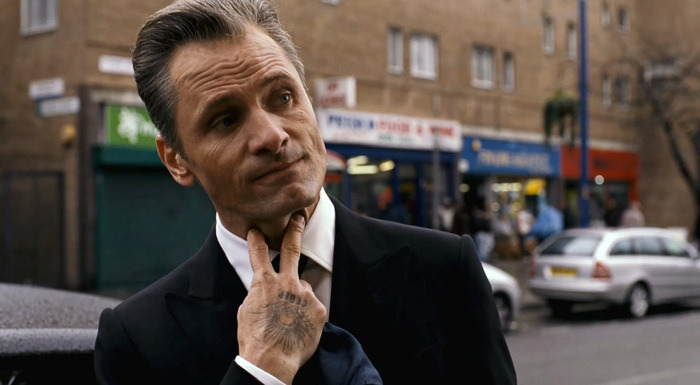 The ever-fruitful and edgy creative partnership between director David Cronenberg and actor Viggo Mortensen continues, with today's announcement of a sequel to their captivating 2007 Russian mob film Eastern Promises. The pic above perfectly conveys our expectations. Deadline reports that producer Paul Webster is overseeing the project, which now has a completed script by Steve Knight, who penned the original and also wrote David Fincher's planned Bobby Fischer biopic Pawn Sacrifice. At this time last year, we posted on the possibility of a follow-up.
Further details are not yet available, nor is the involvement of the first film's co-star Naomi Watts, whose role and subplot were arguably overshadowed by Mortensen's sharply dressed thug named Nikolai Luzhin. The big reveal in the film (spoiler follows) is that Luzhin is an undercover agent in London, whose dedication to the gig is exemplified by a body painted heavily in esoteric gang tatts, a Dracula 'do, and a submersion in several homicides. The film's graphic and bloody action sequence in a bath house is considered classic for the modern crime genre.
Shooting is tentatively pegged for the winter, though Cronenberg is scheduled to make The Talking Cure this summer, which stars Mortensen as the infamous and great psychoanalyzer Sigmund Freud, a role originally attached to Christoph Waltz. This is one sequel that is a no brainer and not driven by a cash-grab mentality in my opinion. Any new collaboration between these two gents still has an air of freshness and unpredictability that can't be said of Depp and Burton's and Leo and Martin's. Thoughts?