/Film UK - The First Men In The Moon, Cemetery Junction, Wild Captain America Rumours... And Much, Much More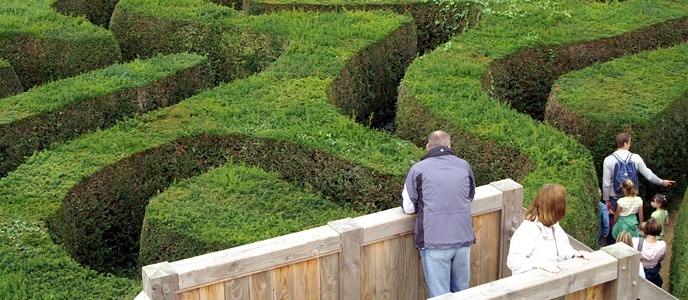 Coming to you weekly from my vantage point in good old Blighty, it's Slashfilm UK. Anglos and Anglophiles rejoice as every Friday I'll be bringing you a round up news, links and coverage specific to the motion picture comings and goings here in the UK. Sometimes we'll be talking about films that have already played in the US, other times it will be films that won't make it to the US for a good while yet, and from time to time you'll read about films that will never make it to the US at all.
I have to start with something that makes me really happy: The full line-up for Sci-Fi London has been announced, and includes Splice as the opening night film! A real result. The fest runs 28 April to 3 May and, frankly, looks amazing.
Here's a behind-the-scenes clip from The Heavy, courtesy of Hey U Guys:
Metrodome are "scaling back" their plans for theatrical releases. The so-called arthouse circuit in the UK is slowly vanishing with a great number of the pseudo-indie, pseudo-arty chains filling their screens with the same films as the multiplexes, so I think Metrodome's decision is, at best, a sign of the times, at worst a harbinger of much worse to come.
Screen Daily report that Metrodome's CEO Peter Urie is resigning as of the end of March. The company is currently in the midst of their first co-production, the fire-breathing-Moby Dick picture Dragon Fire.
The BBC quoted Emma Thompson from the carpet of the Nanny McPhee and the Big Bang premiere. She said quite clearly that Carey Mulligan has been cast as My Fair Lady's Eliza Doolittle... but then Collider only got a wishy-washy answer out of Mulligan when they tried to confirm. I'm believing Emma Thomspon myself: the girl who was Sally Sparrow (that show is in our DNA, I tell you) has got the gig. The next question, I suppose, is whether or not they'll convince Hugh Grant to sign on. I think he's probably scared of singing – but so was Rex Harrison, clearly, and that... er... did that work out okay? Sort of, I suppose.
Here's the new UK quad for the Nicholas Sparks adaptation The Last Song. Director Julie Ann Robinson is, interestingly, British. Why can't we find films for her to make at home, eh?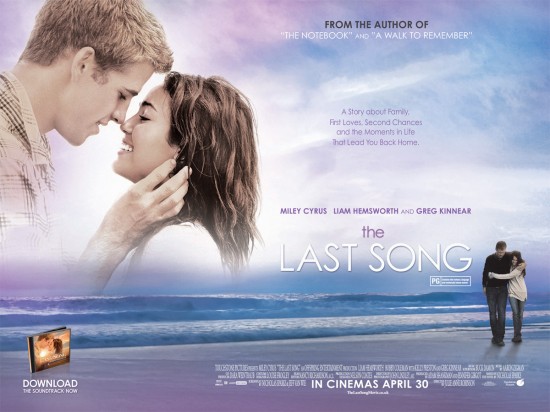 It's pretty weird, I think that when Aardman, Voozclub and BRB team up to produce Canimals, Aardman won't be responsible for the animation or character design. Here's the first image from the in-development show now.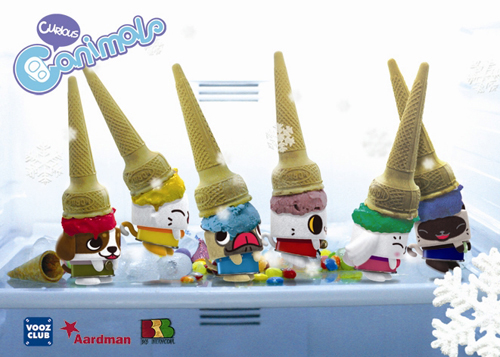 It appears to be a series of cans with animal faces (there was a clue in the title, I think) and they have... ice creams on their heads. Some of them seem quite happy about it, though.
If you haven't found Big Fat Geek Running yet, check it out. Billed as exercise tips for "nerds, gamers and film fans" it's part promo for an iPhone app, part catalogue of awkward comedy at the expense of a self deprecating, overweight geek. It's also very British.
Whip It is finally coming to the UK on April 7. About blessed time. To celebrate, here's a pair of all-too-short clips.
Film journo Nick Roddick is to direct an MA in Film Curating for London Film School and The Film Consortium. Screen Daily have it that this is the first course of it's kind. The first events actually curated by students will happen in the summer of 2011. Cheap labour scam? Who said that at the back of the room? Put your hand up.
The BBC are making a new film of Women in Love, this time starring Rosamund Pike. According to The Daily Mail, this version will blend in events from DH Lawrence's "prequel" novel The Rainbow (in truth, Lawrence wrote the two books as one and they were split by the publisher).
Only from now until March 29th, Eureka's Masters of Cinema DVDs are going cheap.
Bloody Disgusting have caught up with Yann Sammuel's The Great Ghost Rescue, but don't seem to realise it will be kid's film and fits their site mandate about as much as Casper.
A pretty healthy list of cast members for Elfie Hopkins and the Gammons has turned up on Screen Terrier. Set to shoot in April, this will be first UK horror picture to film for the new 3D formats. I previously featured a concept trailer.
The London Film Museum is going to host Fan Festival, "the Ultimate Spy and Sci-Fi event" on the weekend of April 24th and 25th. Ray Harryhausen is going to be there, so we can all go and tell him how much nicer Clash of the Titans looked when he had a hand in it. Other guests will include Honor 'Pussy Galore' Blackman and... wow, he gets around... Bert Kwouk.
Other things to enjoy at Fan Fest will be Tony Stark's first-gen Iron Man suit (the rusty metal one, I believe) from the movie; James Bond's Little Nellie; a special Q&A session with Christopher Lee; and a gallery of production art and other images detailing the making of Avatar.
Empire (not embedable) and Hey U Guys (embedded below) have each premiered a clip from Shelter, a spooky thriller (at least in theory) with Julianne Moore. Coming out on April 9 in the UK, the film appears to have no US release scheduled as yet.
I'm getting a real feeling of Case 39 off of this one.
From Twitch, a look at Mark Gatiss' and Damon Thomas' BBC film of HG Wells' The First Men in the Moon.

Broadcast have April 3rd on their calendar for the launch of Sky 3D. The first programming will be a Man U vs Chelsea football match and a rotating showreel of demo material.
The UK release of Legion on DVD and Blu-ray is coming soon. This week, the BBFC certificated a picture-in-picture commentary track.
I'm not really a Ricky Gervais fan at all... so imagine my surprise on seeing the trailer for Cemetery Junction. It actually looked quite honest, fresh and human. This week, a clip arrived online and... well, it didn't live up to the trailer. But I'm still hopeful. Here's the clip.
A woman on a London bus and talking loud on her mobile led to Bleeding Cool reporting the casting of Ryan Phillipe and Keira Knightley in the (shot in the UK, largely set in the UK) Captain America, presumably as Bucky and Peggy Carter. We'll just have to wait and see about this, I suppose.
Judging from the BBFC certification, the DVD of Henri Georges Clouzot's Inferno (a wonderful documentary about Henri Georges Clouzot's is going to contain a 57 minute, 14 second and 10 frame chunk of original footage. That's probably the closest we'll ever get to the intended film, if not all that exists from the shoot.
The trailer for Justin Kerrigan's my-dad's-a-spy drama I Know You Know has arrived. Every frame seems to be a pastiche of something else – post modern fun or tedious cliche churning? You decide.
ITV may be planning pay-to-view channels again. Variety have the discouraging news.
The UK Film Council are planning a series of film-related events leading up to the Olympics:
Film Nation Shorts, a UK-wide shorts filmmaking competition for young people
Film Nation Dreams, a documentary film project following young Olympic and Paralympic contenders
Olympic Schools Film Week,an Olympic schools film week showing films from the Olympic nations
London International Film Talks, a programme of masterclasses with some of the world's greatest filmmakers
Tony Blair has set up some film awards as part of the Tony Blair Faith Foundation. The Telegraph report that Natalie Portman and Jet Li will be among the judges. Blair said:
I hope this competition will provide a platform for creative and talented young people and an opportunity for young filmmakers to see their work promoted on the global stage.
This week's Memorabilia event at the NEC looks like a good one – an SFX pub quiz pitched at a decent level for real geeks, a 'Red Band Trailer Zone' and the launch of Just For the Record. I have it on pretty good authority that this indie comedy is actually funny, an idea nicely supported by the fact it has both Rik Mayall and Phil Davis in it. There's going to be a panel with the film's director and writer, as well as a couple of its stars. Here's the trailer:
Elsewhere at Memorabilia, some live Robot Wars-style bot fighting; playable previews of upcoming EA videogames; and a whole host of autographing celebrities from Oliver!'s Mark Lester and Ron Moody to the most geek-friendly William Forsythe, John Saxon, Burt Kwouk and Warwick Davis.
The BFI have had to postpone their dual-format release (DVD and BD) of Ozu's Tokyo Story and Early Summer from 26 April to 19 July, where they join his Late Spring. Triple Ozu – at least that's something. This delay does mean there's no new BFI titles in April, however – boo! – but at least there's a whole raft in May.
Misfits director Tom Harper's debut movie The Scouting Book For Boys is in UK cinemas now – I can't vouch for it personally, might be great, might be a turkey. Talking to Roll Credits, he announced his upcoming slate: episodes of the This is England TV spin-off, features called Earthquake Bird and Cheerleaders, and another short-shoot movie that he compares to Shane Meadows' Le-Donk. From Film 4 I see that it will be called A Two and a Three.
Meanwhile, Scouting Book's screenwriter Jack Thorne is writing a Skins feature film (he's written for the show already). According to The Observer, the film will bring together the casts of every "generation" of the TV show. That will include those of the yet-to-announced next wave, I presume.
There's going to be an East End Film Festival.
Coming to UK DVD on April 26th will be Merantau Warrior, nee Merantau. Trailer time:
A new Scottish film website has launched: Reel Scotland. It's run by good guys, too.
Brit horror film Splintered is going to get a theatrical release in July, with DVD following in September. There's three trailers on the official site.
UK Films took a 7% share of the global box office in 2009.John Woodward, CEO of the UK Film Council made this statement:
It's always tempting to look for trends in statistics, but this isn't really possible when we look at UK films' share of the global box office. That's because these figures can fluctuate quite significantly every year thanks to only one or two massive films, like Mamma Mia or the latestJames Bond. So, whilst it's disappointing to see the share drop in 2009, we're anticipating a bounce-back next year, thanks mainly to the higher number of big event films made in the UK during 2009.
Chris Jones has given his view of the debate between BECTU and independent filmmakers over a national minimum wage. There's still a lot of talking to be done before this one is settled, I feel.
Reel Music have a Facebook page. I hope to see you (and you, you and you, but not you) at their first event on May 7. Here's how they pitch it:
A brand new club night dedicated to sounds of cinema. Be it your favourite score, mashed-up & remixed, or the very best movie anthems, Reel Music is THE club night designed and orchestrated by film fans FOR film fans. From the obvious to the obscure, we've got it covered.
If you would like some (quite expensive, pretty stylish, limited edition) FCUK Kick-Ass clothing, I've got some to give away. Follow me on Twitter, e-mail me your Twitter handle and await further instruction...
The London Book Fair is to hold two masterclasses, both of which will be of some interest to cineastes (the first features Lionel Shriver, author of the soon-to-be-a-major-motion-picture We Need to Talk About Kevin). Here's the blurb:
HOW TO GET PUBLISHED MASTERCLASS 2010:
Saturday 17th April from 11.00am – 1.00pm
Chaired by Danuta Kean – Freelance Journalist and Publishing Commentator; award winning and bestselling authors Meg Rosoff and Lionel Shriver will talk about their publishing experiences. Carole Blake, Agent, Blake Friedmann will speak about the role of an agent in publishing and what they look for in a prospective new author; Mark Booth, (Publisher, Hodder & Stoughton) will speak on what a publisher looks for and what goes into making a new author known and Siobhan Curham, Self-Publishing Editor at Writers' Forum magazine will share her experience and knowledge of self-publishing.
HOW TO WRITE FOR SCREEN: FILM & TV MASTERCLASS:
Saturday 17th April from 2.30pm – 5.00pm
Chaired by Julian Friedmann, Blake Friedmann, Literary, TV & Film this session will teach you all you need to know about writing for film and television. How do you go about learning the best way to tell your stories in script format? What books (and scripts) should you read? Do you need to do a degree in scriptwriting (courses are springing up all over) or can you do short courses? Who should you submit to and what should you submit? Are film and television writers different from novelists? This Masterclass will answer all these questions and more. So if you want to write for film or television, don't miss this event with a distinguished panel to include bestselling author and acclaimed TV writer David Nicholls, Dr Craig Batty (author and Senior Lecturer in Screenwriting, Bournemouth University) and Paul Ashton (Producer at BBC Writersroom)
You can find out more details and book tickets on the Fair's website.
BBC America are having to do a little bit of groundwork in getting their viewers ready for Dr. Who. Here's a couple of clips in which Steven Moffat, Matt Smith and colleagues explain what is an Tardis and who is them Daleks. British people have this stuff in their DNA by now.
A clip from the Arctic expedition mockumentary Beyond the Pole is sitting at The Guardian. It features Steven Mangan and Alexander Skarsgard.
Former Poet Laureate Sir Andrew Motion has been tapped to write a new sequel to Treasure Island, report the BBC. There's some magic naming going on – the story will be called Return to Treasure Island and feature Jim Hawkins' son, Jim junior. That's all to the point, anyway.
I an feel my chromosomes revving up again. Hang on...
The newly revealed logo for the UK Space Agency is somewhat similar to that of Dr. Who's British Rocket Group. Here's look, courtesy of Digital Journal. Can't find a BRG logo for contrast and compare, unfortunately.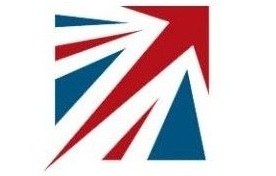 Blockbuster's UK wing have issued a statement to Computer and Videogames in which they stress that the seemingly-imminent bankruptcy of their US chain won't effect stores here. Anecdotally, I can tell you that Blockbuster stores seem to be vanishing pretty rapidly.
Want to win some Clash of the Titans stuff? There's five 'goodie bags' containing shirts and caps and stickers and can't-buy-it business like that. All you need to do is visit the UK site for the film and then e-mail me the answer to this question: What are the first words you hear spoken when the site has finished loading? Please include your address and note than only UK readers can win this one.
Next week – more of this good stuff, plus a special British Film Folk on Twitter feature that I've been working on for a while. Want to recommend a Twit for inclusion? Let me know via – what else – Twitter.