The Weinstein Company Buys The Company Men, Sets Holiday Release For Blue Valentine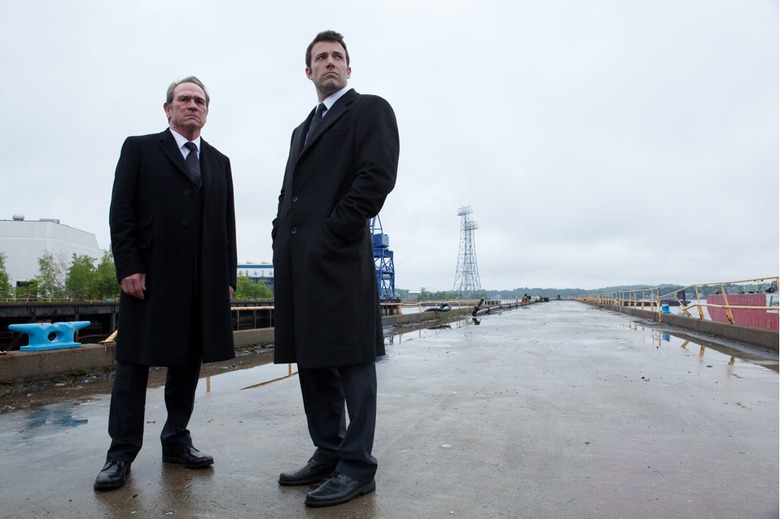 A couple months back, John Wells' film The Company Men premiered at Sundance. At the time, as evidenced by this interview conducted by David Chen, Wells didn't seem fully confident that the film would get picked up.
But the film found a home, as The Weinstein Company has picked up US distribution rights to the film, which stars Ben Affleck, Kevin Costner, Chris Cooper, Tommy Lee Jones and Maria Bello.
Deadline reports the deal, saying that a late summer or early fall release is likely. It's the third film TWC bought out of Sundance, having previously made deals for Blue Valentine and The Tillman Story.
Reviews for The Company Men were varied out of the festival, and with the Weinsteins behind the release one has to wonder what tinkering might go on with the release cut. Deadline vaguely references the idea that we might see some changes made, saying that execs interested in buying the film were giving Wells "tips to hone the picture." That's not a surprise, as films are often changed between festival debuts (for which edits may be quickly assembled) and release cuts. If it makes the film better, we should be happy for the alterations.
That fills up the company's slate a little bit. TWS has had nothing out since Youth in Revolt, and won't release a picture until The Concert, featuring Melanie Laurent from Inglourious Basterds, which hits in limited release on July 16. A month later we get The Tillman Story (Aug 20) with The Company Men loosely slotted in afterward. Nowhere Boy will hit on October 8, The King's Speech (with Colin Firth, Helena Bonham Carter, Geoffrey Rush and Guy Pearce) on November 26, and the Sundance hit Blue Valentine will be the company's big awards push movie, opening on December 31 to qualify for Oscar.
Here's the synopsis for The Company Men from Sundance:
One of the first casualties of a corporate downsize is Bobby Walker, a hot-shot sales executive who is living the idyllic life—complete with two kids and a mortgaged picket fence. His boss, and founder of the company, doesn't take Bobby's severance well, and he storms into the boardroom to demand a reprieve of the severe measures. He learns quickly that some choices are out of his hands, and this is only the beginning. We embark on a journey that is all too familiar in today's recessionary economy: one that will test friendships, loyalties, and family bonds. John Wells explores the powerlessness of losing one's job while examining how anger, fear, and forced humility can replace the security of "normal." The inspired casting of great actors, lending their formidable insight to this timely story, makes The Company Men a tribute to America's unsung heroes: hard-working men caught in life's unexpected misfortunes.