Kellan Lutz Cast As Poseidon In War Of The Gods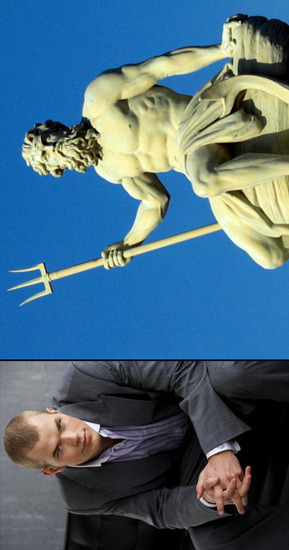 Not long ago, Twilight's Kellan Lutz was rumored to be one of the prime contenders for the role of Conan the Barbarian in the upcoming film by director Marcus Nispel. Though Lutz didn't get the role (it went to Jason Momoa) that was perhaps an indicator that we'll be seeing more of the actor in action-oriented films beyond Twilight. And now he's been cast in War of the Gods, the mythological tale by visually extravagant director Tarsem Singh.
Variety reports that Lutz has been cast as Poseidon. "Aren't you a little young for Greek god?"
He'll work alongside (or opposite, in some cases) Henry Cavill, Mickey Rourke and Freida Pinto in the story of " young warrior Theseus (Cavill) who leads his men into battle with the immortal Greek gods to defeat evil elder gods of the Titans in order to save mankind."
The film is based on Jason Keller's recent script draft. Tarsem has described the film as such:
...basically, Caravaggio meets Fight Club. It's a really hardcore action film done in Renaissance painting style. I want to see how that goes; it's turned into something really cool. This guy who I really love, who's the only one person in it right now, is the brother in The Tudors, Henry Cavill. I'm going for a very contemporary look on top of that so I'm kind of going with, you know, Renaissance time with electricity. So it's a bit like Baz Luhrman doing Romeo + Juliet in Mexico; it's just talking a particular Greek tale and half contemporising it and telling it.
There was a rumor that the title was being changed to Dawn of War, but that evidently went by the wayside. Despite the fact that Clash of the Titans and Percy Jackson are already on the map with new interpretations of Greek mythology, I expect Tarsem's to stand out, at least in a visual sense.