Rumor Of The Day: Olivia Wilde And Freida Pinto For Bond 23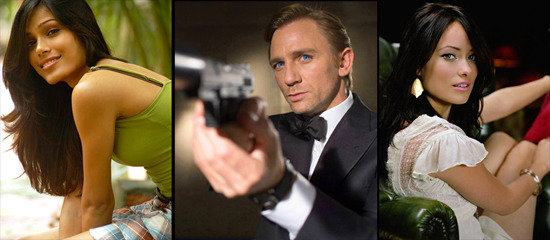 Because it has been a minute since anyone had much to say about the next James Bond movie, a couple of rumors — one already debunked, the other possibly based at least vaguely in truth — have cropped up. In the interest of keeping the record as clean as possible, I present both for your entertainment.
Freida Pinto (Slumdog Millionaire, You Will Meet a Tall Dark Stranger) has reportedly been cast in Bond 23, and Olivia Wilde has supposedly been approached to be a Bond girl. So, as the question was so concisely put in Amazon Women on the Moon, is all this bullshit...or not?Yahoo UK may be passing the rumor that Freida Pinto has been cast as a Bond girl, but reps for the actress are already denying it, via Ace Showbiz."I would like to confirm that as of today, Freida Pinto has not been approached to be part of the next 'Bond' film," said Pinto's spokesperson. "It is of course very flattering to even be rumoured to be part of a Bond film but she has certainly not been approached for the role of the next Bond girl opposite Daniel Craig as yet." In other words, it's a nice idea, sure, but scratch it for now.
Olivia Wilde, meanwhile, I rumored to be courting an appearance as "a double-crossing UN worker based in Afghanistan," but there is no substantiation to that one, either.
This all seems like foolish talk because Bond 23 is in nascent stages. While we've heard that Sam Mendes has been tapped to direct the film, as we understand it there is no real movement at this point, thanks to the financial trouble currently clouding MGM's future. Granted, we should be hearing about the results of the MGM asset auction literally any minute now, after which a flood of actual Bond news may follow. But until we get anything official out of the MGM sale and ensuing news about Bond, treat any rumors with extreme skepticism.