Tim Burton Set To Begin Stop-Motion Work On Frankenweenie 3D?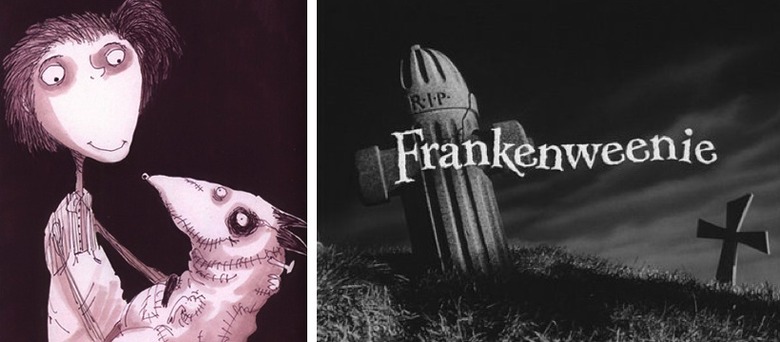 Last week there was some confusion when a Deadline report suggested that Tim Burton would shortly begin work on a stop-motion animated film based on The Addams Family. That report was quickly denied by Burton's publicist (in a way that still leaves us wondering if it is a film that will happen) but there's another animated movie that Burton has been gearing up to make: an update of his early short Frankenweenie. Now, word from SXSW is that Burton is ready to go with that update.
AICN caught Waking Sleeping Beauty director Don Hahn at a SXSW Q&A session, where he said that "the puppets are ready, the script is done and now that Tim Burton is clear of Alice in Wonderland... he's set to helm Frankenweenie in 3D." (Quote is from Harry at AICN, who was paraphrasing Hahn.) Hahn is executive producer of Frankenweenie 3D, so is in a position to know where that film stands. Besides, there was word about voice casting last December, so we knew that things were happening on the movie.
That's pretty telling info, and in any world other than one where Alice in Wonderland was a monster hit I'd figure it means that, yes, Burton is going right into Frankenweenie. But he may be in a position now that is stronger than any post-opening he's seen in his career. When you're riding the wave of something like Alice, even with grosses inflated by 3D, is the logical next move to update a short film made when you were just starting out? Then again, if Burton is really the 'true to his dreams' counterculture guy fans would like to think he is, this is exactly the logical move to make.
(Besides which, from a studio perspective, how much of the success of Alice is really seen as belonging to Burton? I could see execs figuring it's the post-Avatar surge of 3D combined with the enduring appeal of the source material, and that Burton was incidental. I don't think they'd be wrong.)
The original Frankenweenie was a black and white short made in 1984. Disney shelved the film at the time, thinking it wasn't quite right for children, but finally released it years later. The deal to make a feature-length version of Frankenweenie came up at the same time Burton made a deal with Disney to do Alice in Wonderland, and always seemed a bit like the director playing with the studio. Essentially, "OK, I'll make this one for you, but I want some cash to re-do the movie you screwed me on 25 years ago."
But perhaps this is just going to be a quick bit of fun for Burton — at least, quick as far as stop-motion goes. He's said before that this one would be really low budget, and despite being bumped up to feature length, it could be something he directs while prepping another live-action feature.