Penelope Cruz' Role In Pirates 4 Identified, Charlotte Gainsbourg Joins Von Trier's Melancholia?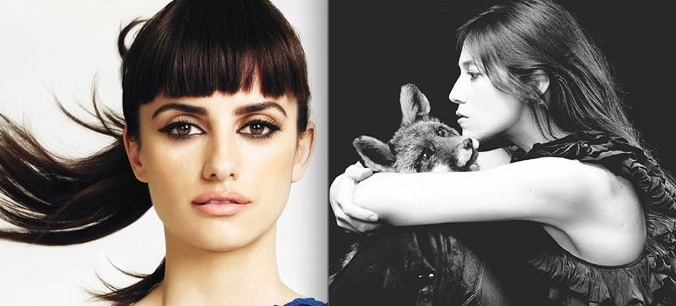 That headline might seems like a strange clash of conflicting stories, but they're closely tied together by one thing: back in February, news bubbled up that Penelope Cruz would be taking the lead in Lars von Trier's sci-fi disaster movie Melancholia; then one day later, we heard she wouldn't be doing it all and had signed on to Pirates of the Caribbean: On Stranger Tides instead.
I was rather disappointed. It was too easy to see her choice as either greedy or, perhaps worse, cowardly. And as a fan of both Cruz and von Trier, I had instantly become keen to see their collaboration. Rats.
Now, though, it seems that Lars von Trier has filled the role with Charlotte Gainsbourg, his collaborator on Antichrist. This is interesting in part because von Trier doesn't appear to have repeated his lead actors before, unless you count Jens Albinus' characters in both The Boss of it All and The Idiots as leads. Not only does this mean von Trier wants to work with Gainsbourg again, it means she wants to work with him.
The news comes from a report on Allo Cine. Unfortunately, they don't have any more details on the film to share. I can't wait to find out more.
Over at MTV, an update on Penelope's choice from Pirates' producer Jerry Bruckheimer:
She plays the daughter of Blackbeard. She's the daughter of the bad guy. She brings a lot of humor to it. And the fact that she's so feisty.
Sounds like she could do it in her sleep.
Blackbeard is being played by Ian McShane who doesn't exactly strike me as a real dead ringer for Pene, I must say.
There's a little more on the role, with Bruckheimer promising that we'll see "a little romance between Captain Jack and the character that Penelope plays". So that's Angelina Jolie and Penelope Cruz getting a little Johnny Depp action all in the one year? Should keep the paps and rumour rags on their toes anyway.
The final drop of information from Bruckheimer's lips was a confirmation of what we already really knew – that Geoffrey Rush will be reprising his turn as Barbarossa.
Incidentally, I was starting to wonder if Penelope's character was going to be a mermaid after the following casting call surfaced on Moviehole earlier in the week:
Beautiful Female Fit Models. Must be 5?7-5?8, Size 4 or 6 – NO BIGGER OR SMALLER. Age 18-25. Must have a lean dancer body. MUST have real breasts. Do not submit if you have implants. This is a show and tell of costumes with the director and the producers. Plan on an entire day of trying on clothes and being photographed.
Professional Dancers who are Swimmers. Females ONLY. Age 18-30. All ethnicities. YOU MUST have an extensive dance/swimming resume. We will be shooting in Hawaii.
Sounds like a troop of synchronised swimming mermaids. Rob Marshall has gotten his paw prints all over this thing already.