VOTD: Kuky Returns Trailer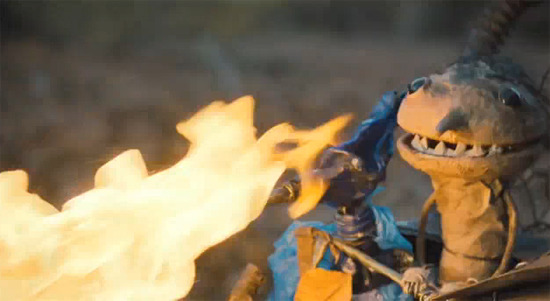 We've seen some great animation in the recent past, but damn. The Czech film Kuky Returns looks like a wonderful blend of Spike Jonze, Jan Svankmajer, the Muppets and probably a couple others. (Such as the video game Little Big Planet, even.) But despite all those influences at play, it also looks very much like its own thing. Watch the fantastic trailer after the break.
Twitch points to the trailer, and provides the synopsis below. The dialogue is not in English, nor is it subtitled, but I honestly haven't even paid attention to the story as conveyed in the clip — I'm too much agog at the animation to care right now. Not that anything here looks particularly different, just that it looks particularly right. I had no idea this film existed until this week, and now I'm crazy to see it.
(And while some viewers are seemingly captured by the expression of the inner child in this trailer, or some similar nonsense, I could really give a damn about being shown the world through the eyes of a child. But seeing things brought to life and given personality in just a few frames of movement? That is magic.)
Kuky Returns is the story of a boy six Ondra, who suffers from asthma, and so on "health reasons" must be off his favorite toy – a pink bear kuky. When mom Kukyho throw in the trash, it will work Ondrová fantasy in which experienced Kukyho adventure in an unknown natural world. It's really just a dream a little boy or kuky actually went to the biggest adventure of his plush life
Kuky Returns is an adventure, a poetic family story in which the main role, however, take the heroes of children's fantasy worldwhere the only heroes are the puppets. "I thought then change the scale and place the story directly into the microcosm, his protagonists make small enough that the roots of the tree decorations, light in the atmosphere made raspberry leaves, fuzz was all the props and extras natural insects," says Jan Sverak, who is also the author scenarios and as with most of his recent films also the producer.