/Film UK - Britain's Bigelow, Frankie Boyle Does Superheroes, Reel Music And More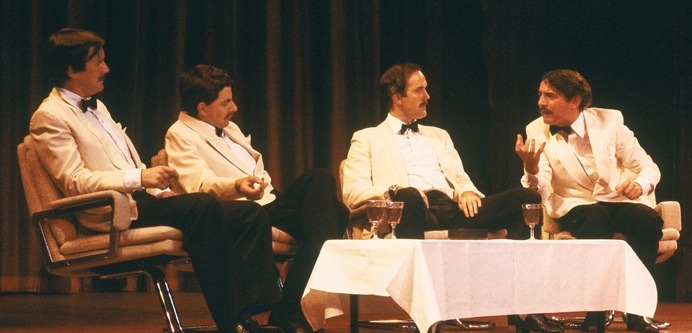 Coming to you weekly from my vantage point in good old Blighty, it's Slashfilm UK. Anglos and Anglophiles rejoice as every Friday I'll be bringing you a round up of news, links and coverage specific to the motion picture comings and goings here in the UK. Sometimes we'll be talking about films that have already played in the US, other times it will be films that won't make it to the US for a good while yet, and from time to time you'll read about films that will never make it to the US at all.
There's a profile of Susanna White in The Telegraph that calls her "Britain's Bigelow". Nice to see her profiled, but the comparison is a bit iffy. At best.
Rope of Silicon have premiered a mini-poster for Brighton Rock(work Orange).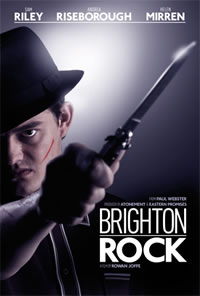 Grant Morrison, Stephen Fry and Paul McGuigan's TV project is called Bonnyroad, says Bleeding Cool. This, they point out, is a reference to Thomas the Rhymer, but they fail to connect a quote line from that poem to the show's Brigadoon-y premise. Here's the relevant snippet of poetry:
And see not ye that bonny road,
That winds about the fernie brae?
That is the road to fair Elfland,
Where thou and I this night maun gae.
And the site also has details of another Scottish TV project: Frankie Boyle's Hereditary. Or maybe it will be called Project Bloodline, they don't seem too sure yet. What is definite, though, is the essential premise:
The story of a bunch of kids who are the direct descendants of the FBI's ten most wanted supervillains. The kids don't know they're descendants, but they all start developing super-powers and find themselves being hunted down by the FBI.
The New Producers Alliance has gone bankrupt. You can read details on Chris Jones' blog. Here's an explanation of what the NPA did from their official site:
Established in 1993, the NPA is a national membership organisation and registered charity dedicated to providing essential training and networking opportunities for filmmakers. Led by industry professionals, the NPA assists independent filmmakers in developing their skills, contacts and creativity in line with working industry practices.
The
BBFC
have passed
Michael Winterbottom
's
The Killer Inside Me
as an 18 certificate, but fully uncut. They note that it contains "very strong violence, sadomasochistic sex scenes and child abuse".
I think a lot of us Brits wish Bill Hicks was one of our own – we certainly loved it when he came and did shows for us, and his TV specials were genuinely treasured by my generation. Here's the trailer for American: The Bill Hicks Story, a documentary I expect to do very, very well in the UK.
Mamoru Oshii's Sky Crawlers is getting a UK cinema release on April 23rd, then heading to DVD on May 31st.
Here's the Russian trailer for the Scots toon The Illusionist. It's beautiful. As soon as there's an English-language trailer, I'll make a front-page post of it.
Arrow Films are releasing Lucio Fulci's City of the Living Dead aka The Gates of Hell on UK DVD and Blu-ray, and as you'd expect from them, it has a healthy pile of special features.
Commentary track by Giovanni Lombardo Radice
Commentary track by Catriona MacCall
Introduction by Carlo De Mejo
Carlo of the Living Dead featurette
Penning Some Paura featurette
50-minute documentary The Many Lives and Deaths of Giovanni Lombaro Radice
Dame of the Dead Q&A featurette
Profondo Luigi: A Colleague's Memories of Lucio Fulci featurette about Luigi Cozzi
Here's a look at Andy Nyman in Chris Smith's upcoming Black Death, hitting UK cinemas in May.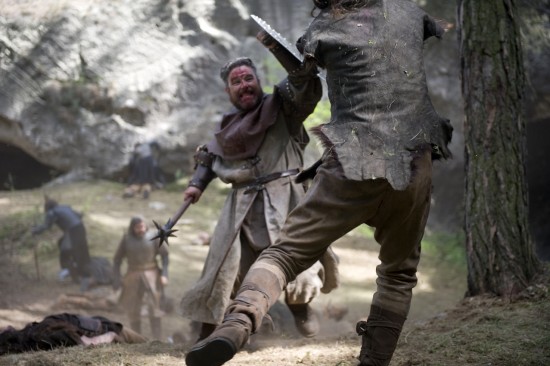 Meanwhile, a whole slate of special features for the film's eventual home entertainment release have already been passed by the BBFC. They add up to 58 mins and 8 seconds worth. Chuck in a commentary and you might have a deal.
The back catalogue of Handmade Films has been licensed for re-release on Blu-ray and via download – Reuters have the details.
Christian Alvart has revealed his plans to make at least one retro-pulp Captain Future movie. He tells Quiet Earth:
Captain Future still has a huge fan base in countries like France (Captain Flam), Italy (Capitan Futuro) Germany and the UK.
Er... I can't vouch for those continental types, but I don't think anybody I know has ever heard of him. The sequel, incidentally, will be called Captain Future – Wizard of Science.
Melissa Auf der Maur is bringing OOOM: Out of Our Minds to the ICA. It's a 28-minute film directed by Tony Stone, designed to tie in with Auf der Maur's new album. After the film, there will be a Q&A with the lady herself. Here's the rather intriguing blurb for the film:
OOOM is set across three time periods with one connection: Blood. A journey through parallel worlds that brings together a Viking heart, a car crash and a bleeding forest for an unforgettable climax, this imaginative mini-epic is proudly self-produced, shot in HD and fuelled by solo power.
Virgin Media have revised all of their subscription packages, say Broadcast, so that nobody is being charged a premium for HD. Meanwhile, Sky have just shelled out for 15,000 3D TV sets from LG and given them away to pubs (again reported in Broadcast).
Southampton is getting an Odeon IMAX of its own, report Business of Cinema.
Dread Central have posted a teaser for Harpoon: The Reykjavik Whale Watching Massacre, ahead of it's UK DVD release on May 10. Here it is.
The UK DVD release of Monty Python's Not The Messiah – He's a Very Naughty Boy will contain a 30 minute behind the scenes doc, two very short featurettes and sing-a-long-a versions of six songs from the show, including the perennial fave Always Look on the Bright Side of Life.
Shepperton Studios have launched a new facility which will preserve, restore and archive classic British films, many of them for release on DVD and Blu-ray or in cinemas. The Surrey Herald report that the first three titles to receive the attention will be Peeping Tom, Kind Hearts and Coronets and The Railway Children.The Pimpernel has his own ideas on how the Dan Dare movie should be cast.
The Birds Eye View festival has come to a close, awarding best movie to Jessica Hausner's Lourdes, best documentary to Jenna Rosher's Junior and best short to both Juanita Wilson for The Door and Hanna Heilborn for Slaves.
Here's the updated poster for the soon-to-start Reel Music club night. Check out the Djs: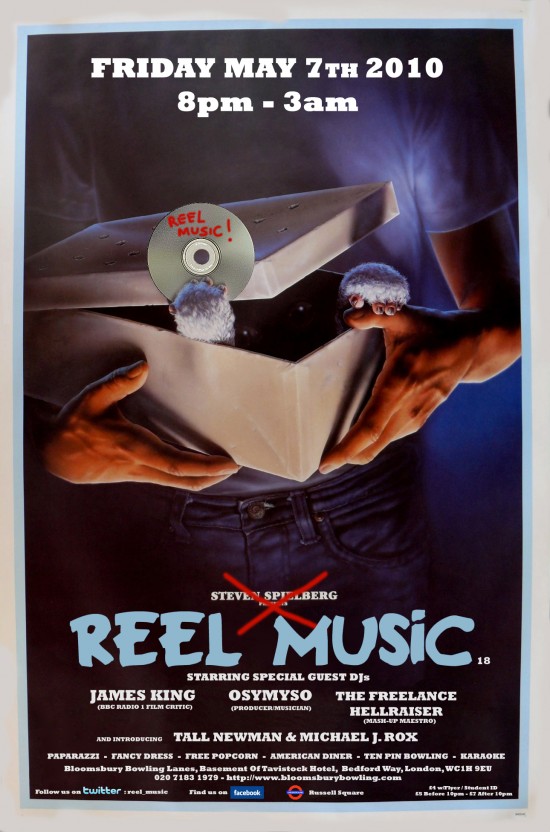 Hard to resist, isn't it?
The first episode of the new Dr. Who series has been premiered in Cardiff. I wasn't invited. Boo. Anyway, I was party to the press release that tells us the show will get a Christmas special this year, and another full series in 2011. What. A. Surprise.
Anyway, here's a clip of the first new episode poached from BBC News 24:
Sandra Bullock pulled out of the UK premiere for The Blind Side, so the premiere was scrapped altogether. Reuters suggest the root cause may be in her personal life.Focus Films have announced that production on Cary Fukunaga's Jayne Eyre will kick off next week. There's a set visit I'd like to make – great director, great cast, great source novel, great screenwriter.
Here's an amazing bit of publicty. On the Friday 26th episodes of Coronation Street, the upcoming UK horror film Splintered is going to be prominently featured. Here's an excerpt from the press release via Dread Central:
Those tuning in to the show can expect to see several of the main characters – Sian, Sophie, Ryan, and Lee – huddled around the television discussing the film. The action takes place across both Friday night episodes and forms part of a plot thread focusing on Sian and Sophie's strained friendship. The four teens arrange a double date where the tension is only heightened by their choice of DVD, and as the chilling world of Splintered plays out on screen, the awkward atmosphere soon threatens to boil over.
Here's a trailer for Leslie Iwerks' Dirty Oil, out now in select UK cinemas. Leslie previously directed The Pixar Story and The Ub Iwerks Story, the latter a documentary about her best-kept-secret of a genius grandfather.
Turner Prize winner Gillian Wearing has completed production on her debut feature film, Self Made. When given funding by the UK Film Council they said "Based on an idea by Gillian, the film follows 12 participants discovering their invented selves through a method workshop".
Apple have made their Meet the Filmmaker session with Paul Greengrass available as a podcast.
Monday 5th April is Bitch Slap Day at the Prince Charles Cinema. Ending with the UK premiere of Bitch Slap, the day will also feature a rare screening of the double bill version of Grindhouse and a couple of corking Russ Meyer pictures. Here's the brilliant poster: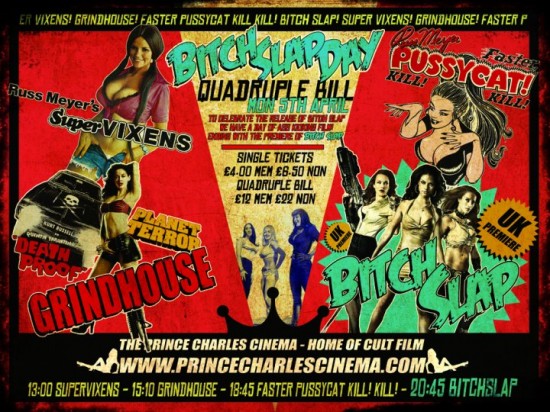 And it's a bank holiday, so you have no excuse. Because, obviously, you all work in banks.
Hammer House of Horror resident Simon Oakes tells Shock that new Quatermass and Captain Kronos pictures are definitely in the offing.Park Circus have restored Pandora and the Flying Dutchman and will be rereleasing it to UK cinemas on May 14.
Bigger reissue news is the release of a digitally restored Psycho. Here are the cinemas so far engaged to screen the film:
From April 2
NFT Southbank
Curzon Mayfair
Gate Notting Hill
Vue Westfield
Everyman Belsize Park
Vue Islington
HMV Curzon Wimbledon
Phoenix Finchley
From April 9
Picturehouse Clapham
Picturehouse Greenwich
Rich Mix Bethnal Green
Sorry if you don't live in London – but at least you now know that it's being reissued and can request your local to book it.
And, finally for this week, here's the UK quad poster for The A-Team. Familiar, non?