Abbie Cornish Cast In Dark Fields And The Madonna-Directed W.E.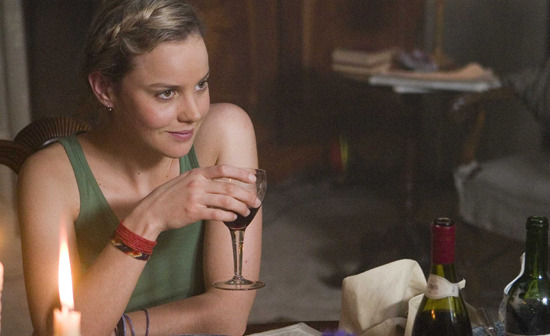 Abbie Cornish gave one of last year's great performances in Bright Star, and was rather overlooked when awards time came around. She has, however, won a better sort of recognition for a good performance: more work. The actress will appear in Neil Burger's Dark Fields, and in W.E., the sophomore directorial effort from Madonna.Variety reports both projects, though Cornish has been so persistently rumored for W.E. that this is just a confirmation.Dark Fields is sounding more and more interesting. Will Cornish have the role that was originally rumored for Elizabeth Banks? Seems like a good guess. Film is directed by Neil Burger (The Illusionist) from a script by Leslie Dixon based on the novel The Dark Fields by Alan Glynn. Bradley Cooper stars as a struggling writer who takes a top-secret drug that has been dubbed (by Variety) viagra for the brain. Robert De Niro co-stars as a mogul who is after Cooper's character.
Here's the book recap:
Imagine a drug that makes your brain function with perfect efficiency, tapping into your most fundamental resources of intelligence and drive, releasing all the passive knowledge you'd ever accumulated. A drug that made you focused, charming, fast, even attractive. Eddie Spinola is on such a drug. It's called MDT-48, and it's Viagra for the brain-a designer drug that's redesigning his life. But while MDT is helping Eddie achieve the kind of success he's only dreamed about, it's also chipping away at his sanity-splitting headaches, spontaneous blackouts, violent outbursts. And now that he's hooked and his supply is running low, Eddie must venture into the drug's dark past to feed his habit. What he discovers proves that MDT, once a dream come true, has become his worst nightmare.
Meanwhile, there's W.E., directed by Madonna. We haven't much reported on this yet because, well, it is directed by Madonna. Wish I could say that her film endeavors have been anything but dismal, perhaps excepting her acting turn in Evita. Maybe this will be a better film than her directorial debut, Filth and Wisdom.
W.E. also features Vera Farmiga in a story which interweaves the affair between King Edward VIII and Wallis Simpson and a modern story about a woman with a few problems of her own, and an obsession over certain royals. Cornish will play in the modern tale, which Farmiga will be the Duchess of Windsor. No male leads are cast yet.