This Week In DVD & Blu-Ray: The Princess And The Frog, Ninja Assassin, Astro Boy, Armored, Breaking Bad (Season 2), And More
We may receive a commission on purchases made from links.
This Week in DVD & Blu-ray is a column that compiles all the latest info regarding new DVD and Blu-ray releases, sales, and exclusive deals from stores including Target, Best Buy and Fry's.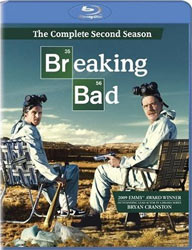 BREAKING BAD (SEASON 2)
Season 2 of Breaking Bad opens with a disturbing but seemingly innocuous shot of a charred stuffed bear floating in a pool, and its relevance is not made clear until the season finale. When provided full context, the remains of that bear is a brutal, in-your-face emblem of the destructive consequences of Walt's moral decay. Consider the characters we met in Season 1: Walt a mild-mannered chemistry teacher, and Jesse an obnoxious, irresponsible punk. Season 2 finds these characters reaching emotionally devastating new highs and lows, and experiencing those moments with them is as compelling as it is stressful. Between this season and its last, Breaking Bad has solidified itself as one of the greatest shows ever made. If you aren't watching it, you are missing the best that serialized drama has to offer.
Available on Blu-ray? Yes.
Notable Extras: DVD & Blu-ray – Cast & crew commentaries, deleted scenes, Inside Breaking Bad – 13 Featurettes About The Making of Each Episode, Walt's Warning Featurette, "Negro y Azul" Music Video, "Better Call Saul" Commercial, 11 Behind-the-Scenes Featurettes, Cop Talk with Dean Norris, a gag reel, 6 Breaking Bad Original Webisodes, Season 3 Sneak Peek, and Vince Gilligan's Photo Gallery.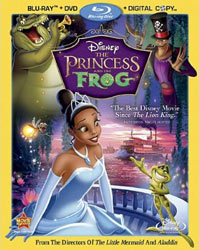 THE PRINCESS AND THE FROG
(Blu-ray available as single-disc and 3-Disc Blu-ray + DVD + Digital Copy)
I appreciate aspects of The Princess and the Frog more than I actually like it. As a return to traditional hand-drawn animation, Disney's latest is at the very least a treat to look at. Its gorgeously rendered visuals are sure to make anyone not raised on CGI family films long for the days of stylized 2D artistry. The script, however, doesn't reach the same heights as the animation. The movie seems so intent on becoming an addition to the classic Disney roster, it never settles down long enough to find a comfortable groove. New outlandish characters are introduced every 10 or so minutes, and with them come lavish set piece after lavish set piece. The movie is so damn busy, at a certain point I just wanted to grab the characters and tell them to calm their asses down. Young girls will probably love it, but I don't know if I could handle sitting through it again.
Available on Blu-ray? Yes.
Notable Extras: DVD – Audio commentary by filmmakers, deleted scenes, and a "Never Knew I Needed" Music Video by Ne-Yo. Single-disc & 3-Disc Blu-ray – Includes everything on the DVD, as well as Play Movie with "Work in Progress", Backstage Disney, Bringing Life to Animation, Filmmaker Intros, Magic in the Bayou: The Making of a Princess, The Return to Hand Drawn Animation, The Disney Legacy, Disney's Newest Princess, The Princess and the Animator, Conjuring the Villain, and A Return to the Animated Musical.
*Does not include 3-Disc Edition, which costs $26.99 at Target, Best Buy, Fry's, and Amazon.
EXCLUSIVE DEAL:
What? Either Blu-ray comes with The Princess and the Frog: The Essential Guide book.
Where? Best Buy.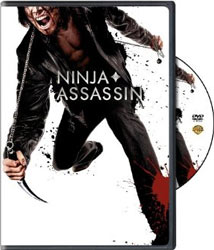 NINJA ASSASSIN
Contrary to what certain critics might have you believe, Ninja Assassin does not take itself seriously. It may be played with a straight face, but this movie knows exactly what it is: a fierce, bloody throwback to the goofy ninja flicks of the '80s. By all measures of quality cinema, the film ranks a big fat zero. The plot is absurd, the characters are cardboard, and the dialogue is laughable. In its own corny way though, these things add to the film's charm, and complement the excessive nature of its highly stylized violence. My only major complaint: CGI blood. Ugh.
Available on Blu-ray? Yes.
Notable Extras: DVD – Additional scenes. Blu-ray – Includes everything on the DVD, as well as featurettes ("The Myth and Legend of Ninjas", "The Extreme Sport of a Ninja", "Training Rain", "Clash of the Titans Theatrical Sneak Peak"), a copy of the DVD, and a digital copy of the film.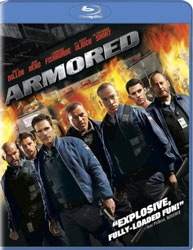 ARMORED
I still maintain that director Nimród Antal is the right man to take on Predators. With only two forgettable B-movie thrillers to his name—as well as his lesser seen (but critically celebrated) directorial debut—it's understandable that most movie buffs would be skeptical of him. But as far as I can tell, the problem is that he's been saddled with weak scripts—not that he's an incapable director. If anything, his direction is what elevates the material, turning what might've been straight-to-DVD garbage into a casually enjoyable viewing experience. In Armored, for example, he lends a contemporary grittiness to the film's backdrop, quietly shining a light on the economic woes of working-class life and the acts of desperation that come as a result. Antal also litters the cast with plenty of familiar faces, providing a touch of class to would-be worthless roles. Details like this aren't enough to completely offset the generic simplicity of the plot and characters, but they help.
Available on Blu-ray? Yes.
Notable Extras: DVD & Blu-ray – Cast & producer commentary, Planning the Heist: Making of, Crash Course: Stunts, and Armed and Underground: Production Design.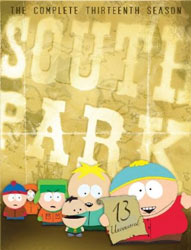 SOUTH PARK (SEASON 13)
Season 13 of South Park will mark a first in my DVD purchasing history. Prior to now, I've never had a moment's hesitation when it came time to pick up each of the show's seasonal releases. But in reviewing Season 13's episode line-up, an unfortunate realization dawned: I have no interest in revisiting any of these. The series' formula has become so repetitious that rewatching the season is as easy as glancing at the episode titles. It seems as though Trey Parker and Matt Stone aren't even trying anymore—all they do is take a topical event, form a plot around whatever point they want to make about said event, and fill in the rest of the running time by stretching out two or three recurring gags. The gags are still funny, sure, but the routine has grown a little tired.
Available on Blu-ray? Yes.
Notable Extras: DVD & Blu-ray – Mini-commentaries with Trey Parker and Matt Stone, deleted scenes, and a behind-the-scenes look at South Park Studios.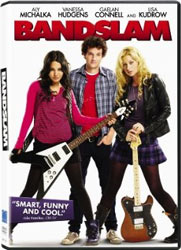 BANDSLAM
Summit really dropped the ball on the marketing for this film. Comparing the ghastly trailer to the finished film, it's obvious that they were trying to appeal to the High School Musical crowd. But Bandslam has no interest in delivering the same gumball pop artificiality and one-note characters that those films offered. No, this is a film with actual heart, and a sincere appreciation for music. The characters deal with real-life conflicts, and those conflicts are handled with honesty and maturity. Even the film's "antagonist"—if you can call him that—is treated like a real person, despite there being numerous opportunities to play him up as the stereotypical bad guy. It's easily one of the better family films to come around in the past few years.
Available on Blu-ray? No.
Notable Extras: Audio commentary by the director & cast, Bandslam: Making the Band documentary, deleted scenes, and 2 music videos.

ASTRO BOY
"I think I made a terrible mistake. I thought he would be like Toby... but he's not. He's strange. Very strange."
"Well, you can't expect him to be a carbon copy. Give him time to-"
"You don't understand! He was meant to replace Toby!"
Protip: If you're creating a robot that's intended to be identical to your dead son in every way, you should probably avoid installing him with things like rocket feet. It's this sort of thoughtless storytelling that Astro Boy is rife with, and it extends far beyond minor absurdities such as that. The chief stand-out is the scientific elements, which are simplified to such an excessive degree—blue energy stuff GOOD, red energy stuff BAD—I feel it necessary to warn parents that the film is at risk of making their children dumber. And where exactly does Astro learn how to open up his chest and transfer energy to other machines when prior to that point he was blissfully unaware of most all of his robotic capabilities? Details like this are what separate pandering kiddy-fare like Astro Boy from the more thoughtfully realized works of Pixar. In the hands of Imagi, it's a deeply unimaginative tale, marred further by disinterested voice acting and the insipid style of animation. It was a struggle for me to get through it.
Available on Blu-ray? Yes.
Notable Extras: DVD & Blu-ray – Featurettes ("Inside the Recording Booth", "Designing a Hero", "Building Metro City", "Astro Boy Image Gallery: Creating a Global Icon"), and animated shorts ("Astro vs. the Junkyard Pirates", "The RRF In: The New Recruit").

THE TWILIGHT SAGA: NEW MOON
(Releases on Saturday, March 20)
I wonder how much of New Moon's $700 million worldwide gross came from regular readers of this site. My guess: not a whole lot.
Available on Blu-ray? Yes.
Notable Extras: DVD & Blu-ray – Audio commentary with director Chris Weitz and editor Peter Lambert, a six-part documentary, band rehearsal footage with Muse, and music videos from Death Cab for Cutie, Anya Marina, and Mute Math.
EXCLUSIVE DEAL:
What? Exclusive New Moon Deluxe Edition 2-Disc Blu-ray ($24.99) or 3-Disc DVD ($19.99). Includes a bonus disc with: deleted scenes, 2 featurettes ('Introducing the Volturi', 'Storyboard to Screen'), Fandimonium: a look at die-hard fans, "The Beat Goes On": the music of New Moon, and a limited edition film cell collectible.
Where? Target.
EXCLUSIVE DEAL:
What? Exclusive Steelbook packaging and Mobile skins on 2-Disc DVD ($24.99) and Blu-ray ($29.99).
Where? Best Buy.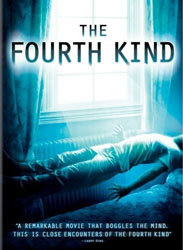 THE FOURTH KIND
It's impossible to discuss this film on any meaningful level without destroying the very foundation on which it rests, so I'll just say this: it saddens me that it's even possible to spoil this movie.
Available on Blu-ray? Yes.
Notable Extras: DVD & Blu-ray – Deleted scenes.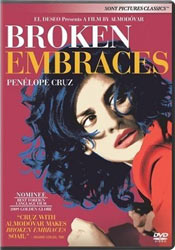 BROKEN EMBRACES
Writer/director Pedro Almodóvar is up to his usual tricks in Broken Embraces, once again working with Penélope Cruz to create his latest critical darling.
Available on Blu-ray? Yes.
Notable Extras: DVD & Blu-ray – Deleted scenes, "The Cannibalistic Councillor" a short film by Pedro Almodóvar, Pedro Directs Penélope, On the Red Carpet: The New York Film Festival Closing Night, and Variety Q&A with Penélope Cruz.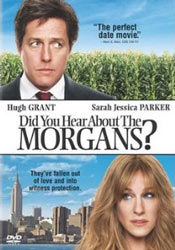 DID YOU HEAR ABOUT THE MORGANS?
This movie represents everything that is wrong with cinema. If you need me to elaborate on why exactly that is, then you obviously haven't seen the trailer.
Available on Blu-ray? Yes.
Notable Extras: DVD & Blu-ray – Commentary with director Marc Lawrence and stars Hugh Grant & Sarah Jessica Parker, featurettes ("Location, Location, Location!", "Cowboys and Cosmopolitans: The Stars of Did You Hear About the Morgans", "Park Avenue Meets the Prairie: The Fashions of Did You Hear About the Morgans", "A Bear of a Scene"), deleted scenes, and outtakes.
Other noteworthy DVD (and Blu-ray) releases this week...
Brief Interviews With Hideous Men [DVD / Blu-ray] – Wonderful World [DVD / Blu-ray] – High Life – Monk (Season 8) – Dillinger is Dead (Criterion Collection) – MST3K (Vol. XVII)

NOTES: Some deals may be in-store only. All deals are for DVDs unless otherwise noted.

$4.99 – Son of Rambow, Harry Potter and the Order of the Phoenix, Harry Potter and the Prisoner of Azkaban, Starship Troopers, Underworld, 30 Days of Night, Napoleon Dynamite, Legally Blonde, Dodgeball, and more...

$8.99 – Blu-ray sale: Gattaca, Donnie Brasco, Rudy, The Big Hit, and more...