Marvel News: Ryan Phillipe For Captain America?; No Hulk Sequel, But Avengers Appearance Still Possible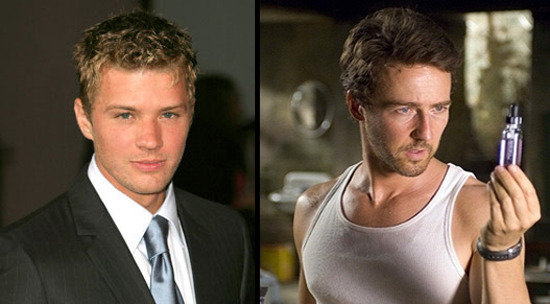 The forward momentum on casting The First Avenger: Captain America seems to be moving rather slowly. Sure, casting Hugo Weaving as the Red Skull is a great start, but there is still that famously contentious shortlist of possible actors to play Steve Rogers, aka Captain America. That list has had a couple names knocked off, but now there's word that one more has been added: Ryan Phillippe.
Meanwhile, Ed Norton is talking about his work with Marvel as the Hulk, and where he might fit into the studio's long-range plans.
HitFix reports that Phillippe is now part of the list that still includes Mike Vogel (She's Out of My League, Cloverfield), Garret Hedlund (Tron Legacy), Chris Evans (Sunshine) and Wilson Bethel (Generation Kill). That's a much shorter list than had been the case. Phillippe is an interesting choice, but despite the potential crossover confusion with the Fantastic Four films I still like Chris Evans for the role. No matter what grousing we've done about this process taking a lot of time, I'd rather see Marvel cast the right person, and based on how things have moved so far, I wouldn't be surprised if this process took a bit longer.
As for Ed Norton, a lot of what he's saying while doing interviews for Leaves of Grass at SXSW is just like what he said while doing similar interviews last year at the Toronto International Film Fest. That is: he's not likely to appear in either Thor or Captain America, [per MTV] and that Marvel has other plans that have put a Hulk sequel on the far back burner [per Cinematical].
SuperHeroHype got similar quotes that others have in the last six months: "Yeah [I have communication with Marvel] to some degree, through my agents. But there's always been an agenda I think to unspool a lot of the Marvel Universe and then come back... I think they've got a lot of new stuff that they're rolling out and then I think at some point they're going to figure out how they want to get around to 'Avengers.'"
Based on that, the only Marvel project that Norton seems likely to be a part of in the near future is The Avengers, and that isn't even that close. But he did tell SuperHeroHype that the primary person he had issues with at Marvel is now gone (make your guesses there) and that could make things easier on his working relationship with the studio in the future.