In Michel Gondry's Future: Ellen Page, Time Travel, Animation And More (UPDATED)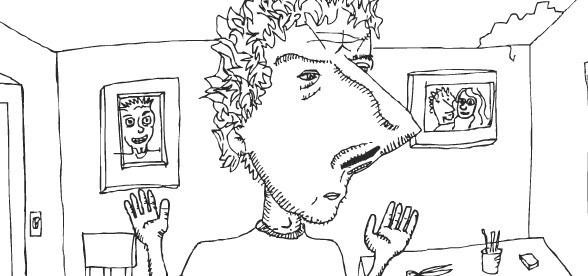 Scanning across the web it seems at first glance that Michel Gondry has a slate of upcoming projects to compare with even Guillermo Del Toro's monster heap. On closer inspection, however, it might appear that he's only got a handful described in various different ways, and certainly not too many to handle. Every one sounds like a winner, though.
After The Green Hornet, which is hitting cinemas in December, Gondry's pick for his next picture is The We and The I. Originally set to go last summer it was postponed when he went to play big budget games with Seth Rogen and co. Here's how he describes it:
It's about the group effect, how people in groups transform when the group is dislocated, because everyone jumps out of the bus at different times, there is a smaller group and how the relationships evolve.
Bus? What bus?
That was Gondry speaking to The Playlist at SXSW. More details, though, lie in an old Aint It Cool interview from 2008:
I have a project where I want to work with kids from a school; it's a story that all happens on a bus... We wanted to do a workshop with students, and then conflate all of their ideas and dynamics into the [ride] back from school. It would be part documentary and part fiction. We'd want to run a workshop for one year or six months to get the kids to participate and find out what they want to say.
It sounds like something he'll be able to make quite quickly, and withe the potential feel as fresh and light and alive as Dave Chapelle's Block Party. Can't wait.
Another of the director's ongoing projects is similarly long coming. Megalomania is being co-directed by Gondry and his son Paul and is an animation, apparently in the style of their previous collaboration on a Willowz video. We now know, from an earlier Playlist story , that the film's voice cast is going to include Seth Rogen, Juliette Lewis and the previously announced Steve Buscemi. They also have a Gondry quote on some of what goes down in Dan Clowes' screenplay:
It's about three kids who discover how to create energy from hair. And they shave everyone on the planet. The rich people wear and rule the world. So the rich people wear wigs and the poor people are just bald. And they want to make a better world, but the maker – which is sort of based on my son – is a horrible dictator.
Again, bring it on.
Meanwhile, MTV have been getting their own exclusive info out of Michel. Their scoop is that Ellen Page is attached to star in a time travel picture the director is developing.
I'm developing a screenplay with a writer right now about kids who travel [into] the future by mistake and a machine [that] keeps people younger... ehhh, it's complicated to explain. Ellen Page is supposed to be the main character. She'd play Nancy... a young woman who participates in the discovery and changes the world.
The writer, they learned, is Keith Bunin who has previously written In Treatment and Susanne Bier's Which Brings Me to You. Bunin has been named as the writer for Gondry's Return of the Ice Kids, a film I've been excited about for years. Indeed, I'm now pretty sure these are the same films – the time travel one and Ice Kids.
Evidence? That Bunin is writing both. That one has Kids in the title and Gondry says "kids" when describing 'the other'. That Ice Kids apparently has "utopian themes" and that fits this description too. That the film has the word Return in the title, which suits a time travel plot to a tee.
So, as I said, Gondry has a lighter slate than it might at first appear – one is co-directed by his son, two are in fact the same film, another is short project to be shot entirely on a bus. Not quite enough? Okat then, coming soon will be news on his upcoming "secret" project with Bjork...
Hopefully, Michel, you'll find some time in the middle of all of this to make me that painting of my dog Delilah I've ordered from your website.
Updated: The Gondry news keeps coming. Again at The Playlist, Gondry confirms that he is working on a project with Bjork. The scoop is that this 40-minutes or so short is being planned for IMAX 3D. According to the director, it's "a sort of scientific musical".
Meanwhile, Gondry has promised MTV that a Green Hornet trailer has been cut and will be coming in the Spring or Summer. Here's how he describes it:
You see Kato and Seth deciding why they want to be crime fighters. Then you see images of their completion. It's pretty violent, but with a good spirit.
Best quote in that piece, though? Gondry says the film's producers "make very random decisions". Thankfully, he also describes these decisions as successful.