Pixar's Day & Night: Is It 2D Or 3D?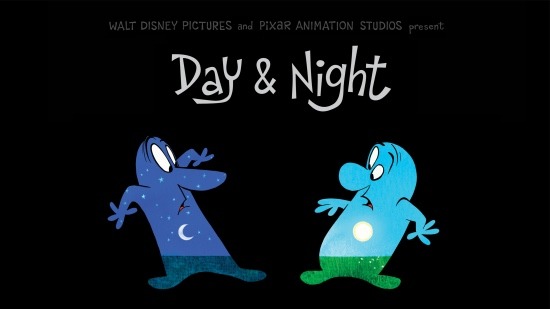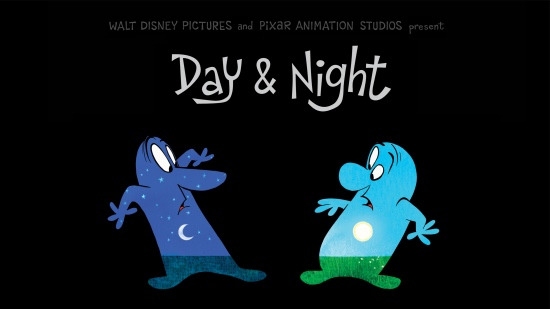 Last week, Walt Disney Pictures released the first photo, a promo title treatment, for Pixar's next short film, Day & Night, directed by Teddy Newton. The photo, seen above, featured two characters, one filled with day, the other filled with night. At the time we speculated that the short might be a 2D animated film, and not the computer animated short film we're use to from Pixar. And now people within Pixar are calling it "unlike anything Pixar has produced before." What does that mean? Is it 2D or 3D? Details after the jump.
Now The Pixar Blog has uncovered a few new bits about the project:
Up art director Don Shank writes on blog: "I am very excited that the public will finally get to see it because it's unlike anything Pixar has produced before." Shank, who served as production designer on the short film, calls his experience "one of the best times I've ever had working on anything". Unlike anything has produced before? What does that mean. It certainly doesn't mean 2D as Pixar's short Your Friend the Rat, included on the Ratatouille DVD/Blu-ray release, was filled with 2D hand-drawn animation. So what can that mean?
Cartoon Brew's Jerry Beck claims that the images "inside" the characters will be Computer animated, but the Day & Night characters are 2D, hand drawn.
Sounds like an interesting theory and certainly fits with Shank's claim that it's "unlike anything Pixar has produced before." And since it will be attached to prints of Toy Story 3 in 3D, one would assume that the characters will acts as animated windows into a 3D world — which might look kinda cool. We're set to see the short film on Wednesday at ShoWest, so we'll know soon enough.
Previously:
So what is it about? Here is the official plot synopsis:
When Day, a sunny fellow, encounters Night, a stranger of distinctly darker moods, sparks fly! Day and Night are frightened and suspicious of each other at first, and quickly get off on the wrong foot. But as they discover each other's unique qualities–and come to realize that each of them offers a different window onto the same world–the friendship helps both to gain a new perspective.
Newton is a Cal Arts guy, very respected, considered one of the most influential visual development artists in the field of animation. Composer Michael Giacchino is providing a scrore for the short. The Academy Award-winning composer has been working with Pixar for some time, providing the score for The Incredibles, Ratatoille, Up, and short films Lifted and Partly Cloudy, so it makes sense that he might also be working on the company's next animated short as well. In the late 1990's, Teddy formed a partnership with Giacchino to make animated films, but they apparently couldn't come up with the capital to make it happen.