Taika Waititi And Temuera Morrison Cast In Green Lantern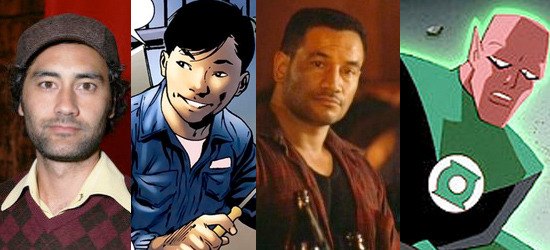 Green Lantern will begin filming on Monday (March 15th) in New Orleans (according to CBM they "will be shooting a bar scene at the Old Point Bar, 545 Patterson Drive, New Orleans during the day").  And as production begins to gear up, we have some last minute casting news from Heat Vision:  Taika Waititi and Temuera Morrison have officially joined the cast.
Waititi is a comedian/actor/filmmaker, probably best known for directing Eagle vs. Shark, but he also was nominated for an Academy Award for his short film Two Cars, One Night. Morrison is best known as the actor who played Jango Fett in the Star Wars prequels.
Morrison is playing Abin Sur, a member of the Green Lantern Corps who crash lands on Earth, and recruits test pilot Hal Jordan to be the Green Lantern. Waititi will play Hal Jordan's best friend Thomas Kalmuka, who in the comics was a young Inuit engineer at Ferris Aircraft (also the employer of Jordan) who was one of the few people who knew Hal Jordan's secret, and kept a journal of Green Lantern's adventures. According to Wikipedia, he served a similar role to Jimmy Olsen in the Superman comics, a non-costumed hero who in several stories he either assisted the hero, or required rescuing.
I've included an interview with Waititi below for those of you who haven't seen him before:
Green Lantern is set to hit theaters on June 17th 2011.