Derrick Comedy Appearing At Mystery Team Screenings In Los Angeles This Week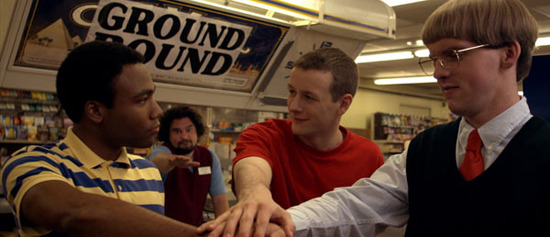 We may receive a commission on purchases made from links.
On Saturday Night I had a chance to see Mystery Team again for the first time since the 2009 Sundance Film Festival midnight premiere. Mystery Team is one of those movies that I get e-mails week after week, from readers thanking me for recommending the film, as they probably wouldn't have otherwise sought it out. Having talked about the film for over a year on the site, it was great to see it again on the big screen. Laughing out loud with a packed crowd of moviegoers in Westwood, most of which were seeing it for the first time.
Sadly, it seems like the film's distributor, Roadside Attractions, isn't really promoting this film. This is the same distributor that has been unable to make money on The Cove, a critically acclaimed Academy Award-winning documentary which could have easily been the next An Inconvenient Truth. The Derrick Comedy guys have been taking a 35mm print on tour across the US, and it appears they've been trying to promote the film themselves. The movie will finally hit DVD this Summer, but Los Angeles will have one last chance to see the movie on the big screen this week.
Mystery Team is playing at the Nuart Theatre in Los Angeles, CA, and I urge you all to go check it out.  I've been told Derrick Comedy members will be appearing in person at all the evening screenings for the entire run (through next Thursday). At the screening last night, they were giving anyone who had seen the movie twice special "Team LA Heroes" membership cards signed by all five members of Derrick. They told me they'll be doing that for the rest of the week.