/Film UK - Zach Galligan Interview, Kick Ass Preview/Review, Saw VI Gets Real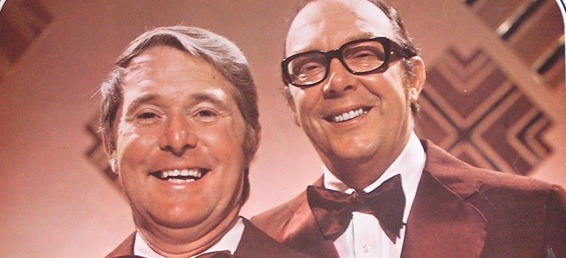 Coming to you weekly from my vantage point in good old Blighty, it's Slashfilm UK. Anglos and Anglophiles rejoice as every week I'll be bringing you a round up of news, links and coverage specific to the motion picture comings and goings here in the UK. Sometimes we'll be talking about films that have already played in the US, other times it will be films that won't make it to the US for a good while yet, and from time to time you'll read about films that will never make it to the US at all.
Kelly MacDonald is to head the jury of the 5th London Independent Film Festival, running April 15-27. The opening night charity gala will be The Calling, and tickets are available now through Film Aid.
We've seen nothing at all of Hideo Nakata's Chatrooom so far, but thanks to the BBFC we know it's finished, is a 15 certificate and lasts some 97 minutes and 22 seconds.
Meanwhile, the BBFC are also suggesting that the Alice in Wonderland DVD is going to be somewhat light on extra material with just 11 minutes and 45 seconds so far certificated.
The BFI have revealed that they will be releasing 'select' future titles in dual DVD and Blu-ray editions. The first year's worth of films will include the Yasujiro Ozu's Tokyo Story and Early Summer, the Quay Brothers' extraordinary Institute Benjamenta, Tony Garnett's Prostitute, Guy Hamilton's The Party's Over, Gerry O'Hara's The Pleasure Girls, Mike Sarne's Joanna and a Tony Scott 'early works' collection. According to the press release "Existing Blu-ray customers will benefit both from the lower price and from the inclusion of a DVD, which offers greater flexibility for viewing away from the home cinema environment" – can't say fairer than that, but I'll probably still pass on the Tony Scott set.
The Telegraph are reporting a) Hugh Grant has passed on My Fair Lady and b) Rebecca Hall is going to play Viola in her Dad's upcoming production of Twelfth Night at The National.Skins is getting another reboot, say Broadcast. Open auditions will occur next month, yoofs be warned.Stephen Moffat and Mark Gatiss' modern-day version of Sherlock Holmes is finally filming. There's three 90-minute movies going before cameras, directed by Paul McGuigan and Euros Lyn (Who got two? Lyn, I'd bet). According to the BBC "the iconic details from Conan Doyle's original books remain – they live at the same address, have the same names and, somewhere out there, Moriarty is waiting for them".Addressing the FDA (via the BBC), Lord Puttnam said he considers UK cinema to be in a "buoyant state" and that 3D will be here to stay. More negatively, he did criticise the absence of film shows on British TV. Bring back BBC2's Moving Pictures, says I. The best film show I ever saw – the odd South Bank aside.John Malkovich is to get his own one man show in London, playing serial killer Jack Unterweger. The Official London Theatre Guide say that the play was written for "a Baroque orchestra, two sopranos and an actor".The Ultramarines movie is to be blessed with John Hurt and Terrence Stamp amongst the voice cast. Here's a video of the actors talking about their casting.
The Taiwan Cinefest hits London on March 17th, runs until 21st, then scoots on up to Glasgow for 23rd-31st. Yu-Hsien Lin will be screening a number of his films including Jump Boys and, in London but not Glasgow, holding a masterclass Q&A.
Alan Jones has essentially admitted to Blogomatic 3000 that Simon Rumley's The Red, White and Blue will be getting its UK premiere at the awesome Frightfest later this year.
The BBC are adapting Muddle Earth into a TV series, with David Jason as the voice of Randalf. If it looks like Chris Riddell's illustrations I'll be most impressed.
Empire scored the official premiere of this poster for Chris Morris' Four Lions.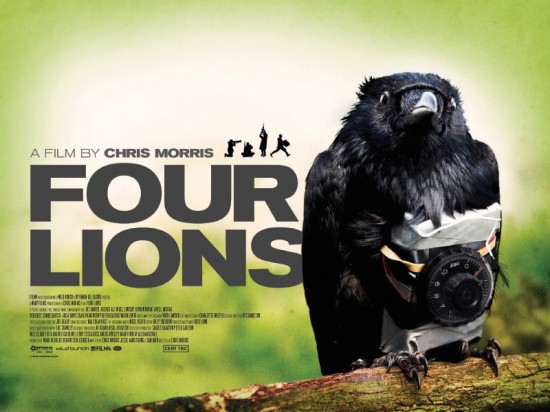 The trailer was fleetingly online, then pulled. Weird.
Gordon Brown has congratulated the British Oscar winners Sandy Powell and Ray Beckett via press release and official statement. He could at least have had them round to Number 10 for a cup of tea.
Film4 is to go HD for Virgin Media subscribers this summer. Of course, this is still just 1080i, but it's better than nothing.
When I was shown Matthew Vaughn's Kick-Ass the film wasn't quite finished. Some FX were less than perfect, the animation sequence was just an animatic and there were countless music cues borrowed from other pictures just waiting to be replaced by freshly composed score. I've yet to see the finished film, though the embargo for reviews has now passed and I'm allowed to comment.
First and foremost, I should sat that it's a tremendously entertaining film. If what you want from a movie is a regular rotation of laughs, squeals and ooohs, then you're set for a perfect night out. On the other hand, it isn't the deepest or most sophisticated of films, usually diverting it's intelligence and creativity to quite unambitious ends.
Aaron Johnson's performance as Dave Lizewski, the teenager who decides it would be a good idea to dress up and try to be a superhero, totally supercedes his forgettable impersonation of John Lennon in Nowhere Boy. He's got several scenes interacting with his peers, played by Clark Duke, Evan Peters, Lyndsy Fonseca and Christopher Mintz-Plasse that seem as effortless and feel as identitifiable as in the best teen movies.
The majority of show-stopping moments feature the tween assassin Hit Girl and her Adam West-alike Big Daddy. Nicolas Cage is so adroitly cast that the title Kick-Ass can now be ranked alongside Raising Arizona, Vampire's Kiss and Wild at Heart as films that just wouldn't have been the same without him. That's the mark of an indispensable star.
Kick-Ass the film is faster, funnier and full of more memorable moments than the comic, but also seemed a shade more simplistic in places (and, yes, these facts may well be interrelated). I suspect that any sequel will delve a little deeper into the complexities of Dave's situation, and that will most certainly be welcome. A lot of folk complain about closing shots that set-up sequels, but I think the problem with most is how cynical they seem. Here, the last moments suggest potential and promise great things to come and actually left me looking forward to the long, long period of, well, looking forward to Kick-Ass 2 we have ahead of us. The only way this punchline will disappoint is if there never is a follow up.
Some of the cut I saw was a little less smooth than other pieces, but this is still Vaughn's most polished and well realised film. He appears to be getting better and better at filmmaking before our very eyes – a rare trajectory for a director to follow, but an exciting one. Jane Goldman's sterling work on the adaptation is well worth note too because, like Stardust before it, this is a tidy story, smoothly told.
Citroen are running a competition in which you might just win tickets to the Empire Awards. Here's a video that explains all you need to know.
Last weekend, the Uma Thurman picture Motherhood opened in London on just one screen. It's weekend haul? £88. And that's an London prices. Sunday was particularly bad, with just one ticket sold at £9. The film was released on the Monday on DVD, however... so, there is some slight mitigation. But, really. Quentin – quick. She needs you.
The Girl With the Dragon Tattoo is out now across the UK. I reviewed the film at last August's Frightfest. Want to win a poster and T-shirt that feature the film? If you're in the UK, then e-mail and tell me the answer to this question: Who do I say needs Tarantino, and quick? The answer is elsewhere in this post.
Out on DVD in the UK this week is Cut, a rather novel horror film that dispenses with traditional editing after just a few minutes and then proceeds for the rest of it's running time in one unbroken shot. The film's name star is Zach Galligan, previously Billy Peltzer from Gremlins or Adam Beckett from Tom Schiller's forgotten gem Nothing Lasts Forever. I had a chat with Zach, maninly about Cut but also a little about Gremlins 3. Here's what he told me.
Brendon: Explain what Cut is about.
Zach: Cut has a fairly well trod plot, which is a group of people in a house suddenly under attack by forces they don't understand and for reasons they can't comprehend. We've certainly seen that before but I where Cut is different is in the way it is filmed. Though in a way I suppose you'd say it is a bit of a gimmick, I think it adds something to the film to shoot it all in one long, continuous take.
The film opens with about two or three minutes of conventionally made film, but as we pull back you realise you're watching a movie, a regular movie on a TV screen. From the second a character turns the television off, the rest of the movie is one 66 minute long continuous steadicam shot, shot by the remarkable Dominic Jackson.
Brendon: Did performing in such long takes share much with theatrical acting?
Zach: By the end of the takes we're all covered with blood, cuts and bruises so we go and have a shower, have a meal and pull ourselves together and go and have another take. We did that every day for a week, so it did feel like we were doing a limited engagement theatre piece.
The style of the acting is completely film. I don't think anybody was over-emoting, and we weren't trying to reach 20 ways back so it's still very intimate and filmic. The only way in which it was really like theatre was that you would have the momentum that could build up, the emotional momentum that would build with an uninterrupted experience, which isn't possible in film when at most you're doing two or three minute takes. Here, when you're doing a 66 minute take you're living through the experience in real time. It really felt like it was happening to you in real time. There were times when I was outside the house that we shot in, because that's what my character needed to do, and I was standing in the drizzling rain and all you hear is the sound of crashing, terror and murder coming from inside the house and it was quite scary, actually.
Brendon: So, what benefit is there to shooting in this style?
Zach: One of the things that means it's not boring and hokey is, a lot of times, a character will need to go off to get something and the camera will follow him and leave the other four or five behind and then when you come back to it, you discover that something has happened to one of the other people when you were gone. It's cleverly done, so a lot of what you don't see you, don't see like a real human experience in which you try to piece together what is happening.
Hopefully, the film is exciting and it will have a kind of visual quality that other films won't have because of the stop-start nature of filmmaking. Hopefully this will help the audience feel they are part of something truly terrifying to them that is happening in real time.
Brendon: Is there a traditional structure with a protagonist that the camera sticks quite close to?
Zach: It follows different characters around the house and a lot of time they intersect, or some people have squabbles and go into separate rooms. I can't say if there's a protagonist in the traditional sense because it would give away too much.
Brendon: How did you end up making a British independent horror film?
Zach: I'll read and I'll look at anything, I'll at least consider it. It doesn't mean I'll do it, but these cutting edge young filmmakers who are really hungry are really exciting people to work with.
Brendon: How different for you was this process to your normal way of work?
Zach: The rehearsal process was absolutely crucial. It really was about 96% rehearsal and about 4% shooting. The way we did it, it seemed like it was planned this way, we did it in layers. First we learned our lines. Then we learned our blocking. Then we learned where the special effects were going to come. Then we added where the costume changes were going to come. Then we took it to the location and relearned all of those things on location. Then we added the camera. Then we did the full dress rehearsal and shot them in case lightning struck. So then, when we did it, it had a finished quality before we began.
All told, we did 16 attempts and about half of them were stopped in the first ten minutes due to a technical problem. Five of them had to be stopped around the 30 or 40 minute mark, but three of them were deemed finished and usable and of those, I believe we did use the very last take from the very last night.
The first take was so thrilling. I did not think we'd be able to do this, I thought it was a fools errand and we'd end up doing cheats and safety cuts, so when we got the first one and I realised all we had to do now was improve on it, that took some of the tension out of the cast. You could even argue that the next night was really crap after the really good night, so the next night we got irritated with ourselves for being so slack.
Brendon: Were the filmmakers trading on your established screen persona at all?
Zach: The first time you see an actor in something you think "Oh, that's who they are" and when I firsy did Gremlins I played this sweet, kind of soft, kind of edgeless Midwesterner, but the fact of the matter is, I'm a Manhattanite and I'm actually kind of – or at least I was at the time – a somewhat acerbic, edgy, sarcastic city kid. People just assumed right away, because I guess I played it reasonably convincingly, that's who I was. In Cut, I actually play a bit more the bad-ass, a bit of a harder guy. It was exciting, because I don't think people associate me with being able to give someone a bit of a beating.
If they were going to do Gremlins 3 in 3D, having seen Avatar on 3D IMAX, it's a pretty exciting technology to work in to. This new 3D really seems instrumental in helping to tell the story. I think a Gremlins 3D would be interesting, providing it had a good screenplay. The only way it would work because it's been 20 years is they'd have to have Phoebe and myself play the parents and then turn over our roles to some young, hotter, more recognisable young stars to do the heavy lifting. I think that would work wonders, so the baby boomers could go down memory lane and the new kids would be able to see people that they could relate to.
The people who made Cut are working on a very different film called The 10 Year Itch which is a bawdy sex comedy so I'll definitely have a role in that one.
I didn't really like Cut at all, I'm afraid, but Galligan acquitted himself well and I respect the intent to try something new. Brit Films, the small label distributor who are releasing the film, have made a good job of the DVD however, and they certainly have better pictures on the horizon.
My other home viewing for the week was Saw VI on Blu-ray, newly released in the UK. This was my second go-round with this one, after the cinema and I'm quite astonished I quite comfortably made it all of the way through both times. I'm not a fan of the series, not even the generally-preferred first installment. As a matter of fact, my opinions on the specific Saw movies is probably completely counter-fashionable as this one, the sixth, was probably my favourite.
There's a simple grasp at relevance in this chapter as the main group of "naughty people" subjected to Jigsaw's traps are a health insurance executive and his minions. This made the film rather timely on it's cinematic release, around the time of great debate and civil disagreement over Obama's proposed reforms. I live in a country that already has socialised healthcare – and we love the NHS, it works, and I would literally fight to keep it as part of our society. Therefore, the film plays slightly differently in my eyes. All the same, one "trap sequence" with a shotgun and a merry go round meant more to me than anything else I'd seen in the entire series. If only it had all been that engaging.
The Blu-ray disc itself is particularly interesting for how it expands use of the technology. This disc is equipped with basic BD-Live access, branded LG Live for Lionsgate Live, as well as compatability with Metamenu tech. I'm very interested in these new ways of interacting with Blu-ray but beyond being able to steer my Saw VI BD from my iPhone and stream a few clips on the little handset too, I don't know what else I could really do with this disc.
It's early days, though, and I think the system shows great potential. I'd particularly enjoy being able to listen to a commentary track through my iPhone headphones while my wife gets the main film track through the main set-up.
Here's a featurette from the Saw VI Blu-ray and DVD to give you a very good idea of what the supplements are like. I did watch them all – take that as a review.
In other Saw news – because there's a surfeit of it this week - the latest attraction at Thorpe Parke has been previewed, and it's another Saw one. Saw Alive is a kind of haunted house walk-through experience. Think The Haunted Mansion without the little carts, none of the cute and a lot of grossness. There's even a real, live topless woman in the 'show' – I bet that sells a few tickets to the less savory of Saw fans.
Visitors need to sign a disclaimer that will allow them to be a) touched by the performers and b) subjected to a surprise, electrical charge. I wonder how many will turn around and run on looking at this form?
I'm absolutely terrified of mannequins, masks and other spooky fake faces, so I wasn't able to take the plunge and go through Saw Alive myself. Luckily, lots of other folk did, including a bunch of celebrities (Bill Bailey? You were Ghost Stories last week too – are you a real horror nut? Or do you just like freebies?) and several bloggers. My spy on the inside tells me that it was a lot of fun, if over too quickly, but probably worth a second trip just to see how many little in-jokes and references to the Saw series are hidden away in there.
Still think I'll be giving it a miss myself. Thorpe Park opens for the new season on the 18th. Here's a sneaky little trailer for the attraction.