Cloverfield Screenwriter Hired For Robopocalypse, Will Steven Spielberg Direct?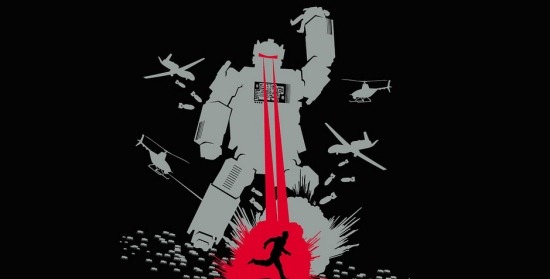 While there is nothing concrete, industry insiders and Deadline are speculating that Steven Spielberg might make Robopocalypse his next directorial feature film. DreamWorks Studios and Doubleday have acquired the property in November in a pre-emptive deal.  Daniel H. Wilson's unpublished manuscript (due in 2011), Robopocalypse tells the story of "the fate of the human race following a robot uprising." Cloverfield screenwriter Drew Goddard has been hired to pen the big screen adaptation. Spielberg directing a film about the robot apocalypse written by Goddard? Consider me excited!
Robopocalypse won't be a hugely fantastical tale of the robot uprising, but aims to be more realistic. Wilson has a background in robotics and artificial intelligence which Doubleday Executive Editor and Vice President Jason Kaufman claims "grounds his story with a frightening level of realism and he has created an exhilarating story that we think audiences will really respond to." Wilson has a Ph.D. in robotics from Carnegie Mellon University's Robotics Institute, is a contributing editor to "Popular Mechanics," and hosted a show on the History Channel called "The Works." So yeah, expect something a lot more realistic than Transformers or Terminator Salvation.
You might recognize Wilson's name as his name is all over a bunch of those novelty survival guide books, including the 2005 book "How to Survive a Robot Uprising: Tips on Defending Yourself Against the Coming Rebellion," which was optioned by Paramount Pictures, and "Where's My Jetpack?: A Guide to the Amazing Science Fiction Future That Never Arrived," "How To Build a Robot Army: Tips on Defending Planet Earth Against Aliens, Ninjas, and Zombies," and "The Mad Scientist Hall of Fame: Muwahahaha!" His next book, titled "Bro-Jitsu: The Martial Art of Sibling Smackdown," which has already been optioned by Nicalodeon Movies, is scheduled for release next year.