Shrek Forever After Movie Trailer #2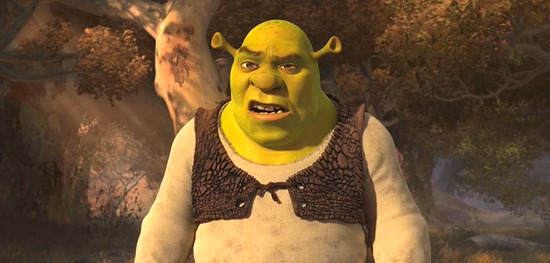 DreamWorks Animation has released a second movie trailer for Shrek Forever After, the fourth and final installment of the Shrek franchise. The full length trailer will be attached to How To Train Your Dragon, which hits theaters on March 26th 2010. I probably shouldn't say anything about that film, but I will say this — it is my favorite DreamWorks Animated film thus far. And if you see it in 3D, you'll also see this new Shrek trailer attached in 3D as well.
Shrek on the other hand, I'm not really looking forward to. I've never really been a fan of the series (aside from the first film) and the new trailer hasn't convinced me this is anything but another cash grab. It is interesting that they're marketing the hell out of this sequel being "the final chapter" when it seems obvious to me and most everyone else that Dreamworks will be forced to revisit the series at some point in the future (if there is money to be made, it will happen). Watch the trailer embedded after the jump, and leave your thoughts in the comments below.
Official Plot Synopsis:
The final chapter of Shrek's personal journey brings all of our beloved characters full circle in a way that pays creative homage to each of the previous films and the stories they told, while taking Shrek and his family and friends on a fantastic, emotion-filled journey that is funny at every turn," said the film's director, Mike Mitchell. "Technological innovation at DreamWorks Animation has done wonders for our storytelling capabilities and I am excited to share these with audiences when we bring Far Far Away into the third dimension for the very first time.
In "Shrek Forever After," Shrek, who has already successfully challenged an evil dragon, rescued a beautiful princess and saved his in-laws' kingdom, is faced with the question: What's an ogre to do? Well, if you're Shrek, you suddenly wind up a domesticated family man. Instead of scaring villagers away like he used to, a reluctant Shrek now agrees to autograph pitch forks. What's happened to this ogre's roar? Longing for the days when he felt like a "real ogre," Shrek is duped into signing a pact with the smooth-talking dealmaker, Rumpelstiltskin. Shrek suddenly finds himself in a twisted, alternate version of Far Far Away, where ogres are hunted, Rumpelstiltskin is king and Shrek and Fiona have never met. Now, it's up to Shrek to undo all he's done in the hopes of saving his friends, restoring his world and reclaiming his one True Love.
Watch the trailer in High Definition on Yahoo. Shrek Forever After hits theaters on May 21st 2010.