Michael Giacchino To Score John Carter Of Mars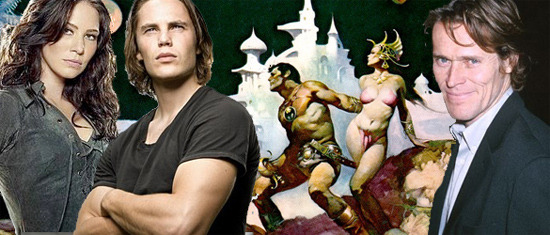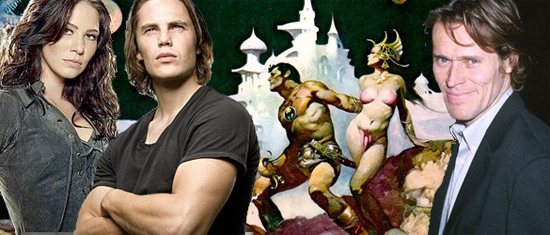 MovieScore Magazine has confirmed that Academy Award winner Michael Giacchino will be writing the score for Andrew Stanton's adaptation of John Carter of Mars. This shouldn't be a huge surprise considering Giacchino's relationship with Pixar: Giacchino has been working with Pixar for some time, providing the score for The Incredibles, Ratatoille, Up, and short films Lifted, Partly Cloudy, and Teddy Newton's upcoming short Night And Day.Official One Pager Release:
Academy Award®-winning filmmaker Andrew Stanton brings this captivating hero to the big screen in a stunning adventure epic set on the wounded planet of Mars, a world inhabited by warrior tribes and exotic desert beings. Based on the first of Edgar Rice Burroughs' "Barsoom Series," the film chronicles the journey of Civil-War veteran John Carter, who finds himself battling a new and mysterious war amidst a host of strange Martian inhabitants.
Produced for Walt Disney Pictures by Jim Morris ("WALL•E," "Ratatouille") and Colin Wilson ("Avatar," "War of the Worlds"), the live action/animation film marks Academy Award®-winning director/writer Andrew Stanton's ("Finding Nemo," "WALL•E") first foray into live action. Stanton directed and co-wrote the screenplay for Disney•Pixar's "WALL•E," which earned the Academy Award and Golden Globe® for Best Animated Feature (2008); Stanton was nominated for an Oscar® for the screenplay. He made his directorial debut with Disney•Pixar's "Finding Nemo," garnering an Academy Award-nomination for Best Original Screenplay and winning the Oscar for Best Animated Feature (2003). He has worked as a screenwriter and/or executive producer on Disney•Pixar's "Toy Story," "A Bug's Life" (which he also co-directed), "Toy Story 2," "Monsters, Inc.," "Ratatouille" and "Up."
"I have been waiting my whole life to see the characters and worlds of 'John Carter of Mars' realized on the big screen," says Stanton. "It is just a wonderful bonus that I have anything to do with it."
The stellar ensemble cast is led by Taylor Kitsch (NBC'S "Friday Night Lights", "X-Men Origins: Wolverine") in the title role, Lynn Collins ("50 First Dates," "X-Men Origins: Wolverine") as the warrior princess Dejah Thoris and Oscar® nominee Willem Dafoe ("Spider-Man 3," "Shadow of a Vampire") as Martian inhabitant Tars Tarkas. The cast also includes Thomas Haden Church ("Sideways," Spider-Man 3), Polly Walker (upcoming "Clash of the Titans," "Patriot Games"), Samantha Morton ("Elizabeth: The Golden Age," "In America"), Mark Strong ("Sherlock Holmes," "Body of Lies"), Ciaran Hinds ("Munich," "There Will Be Blood"), British actor Dominic West ("300," "Chicago"), James Purefoy ("Vanity Fair," "Resident Evil") and Bryan Cranston ("Breaking Bad"). Daryl Sabara ("Disney's A Christmas Carol," "Spy Kids") takes the role of John Carter's teenaged nephew, Edgar Rice Burroughs.
The creative team includes Oscar®-nominated production designer Nathan Crowley ("Public Enemies," "The Dark Knight," "Batman Begins"), costume designer Mayes Rubeo ("Avatar," "Apocalypto"), cinematographer Daniel Mindel ("Star Trek," "Mission Impossible III," "Spygame") and video effects supervisor Peter Chiang ("The Reader," "The Bourne Ultimatum").