Christopher Nolan Talks Superman: "We Know The Genre And How To Get It Done Right"; Jonathan Nolan At Work On Batman 3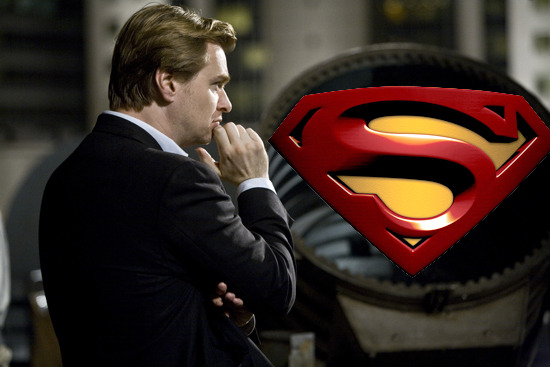 Remember when DC Entertainment president Diane Nelson denied that Christopher Nolan was overseeing the new Superman film? It's stories like this that make the movie rumor business so sketchy, because an official denial doesn't always mean that something isn't true. We know now that Nolan is overseeing Superman for WB as David Goyer writes the script based on a story by Nolan and Goyer. We know this because Nolan is talking about it. The director promises good things for the next Superman, and his wife, producer Emma Thomas, denies a few other recent rumors.
Meanwhile, Jonathan Nolan is 'now doing the hard work' on a script for Batman 3, based on a story by Christopher Nolan and Goyer.
The LA Times has quotes from Nolan and Thomas about Superman. The big one is from Nolan, speaking about the story that Goyer pitched to him when they were stalled for ideas for Batman 3:
It's very exciting, we have a fantastic story. And we feel we can do it right. We know the milieu, if you will, we know the genre and how to get it done right...[it] is a way of approaching the story I've never seen before that makes it incredibly exciting. I wanted to get Emma and I involved in shepherding the project right away and getting it to the studio and getting it going in an exciting way.
A further quote suggests that we shouldn't expect a team-up of Batman and Superman, at least from Nolan. The LAT describes Nolan's Batman films as creating a world in which Batman is the only hero, and that is expected for Superman as well. "Each serves to the internal logic of the story," says Nolan. "They have nothing to do with each other."
As to the specific approach, Nolan is cagey. He won't talk villains or any real specifics."We're approaching it in a not dissimilar way [to the Batman films] in terms of trying to find an incredible story in a way that audiences can engage with it the way they engage with contemporary action films," he says. He explains that the high-profile casting of the original Richard Donner Superman is what led him to his casting approach for the Batman films, so it is appropriate that Nolan is coming around to Superman now.
Will it be called Man of Steel, as previously reported? "I don't know where this stuff comes from," says Emma Thomas. But by 'stuff' she could be referencing a number of different rumors mentioned by the LA Times: the Man of Steel title, the inclusion of Lex Luthor and/or Braniac, and more far-fetched rumors of a period piece. That leaves us at square one with respect to having real details.
With respect to Batman 3, Christopher's brother Jonathan Nolan is currently writing the script, and few other details are being allowed out. Christopher Nolan says the villain won't be Mr. Freeze, insists that the primary character ensemble from the previous two films will return, and that it will end their story. He explains,
The key thing that makes the third film an great possibility for us is that we want to finish our story. And in viewing it as the finishing of a story rather than infinitely blowing up the balloon and expanding the story...I'm very excited about the end of the film, the conclusion, and what we've done with the characters. My brother has come up with some pretty exciting stuff. Unlike the comics, these thing don't go on forever in film and viewing it as a story with an end is useful. Viewing it as an ending, that sets you very much on the right track about the appropriate conclusion and the essence of what tale we're telling.
The big question now is: who will direct both Superman and Batman 3? Nolan says he won't direct Superman, and no other director has yet been named. As for Batman 3, Nolan is keeping quiet while he finishes Inception, but the LAT is certainly under the impression that he will helm the film. As the site says, "Nolan, for the record, also won't confirm that he is actually directing the third Batman film but, well, of course he is, but Inception isn't in the can yet and it's against his code."