John Krasinski NOT Captain America! Chris Evans, Mike Vogel, Wilson Bethel And Garrett Hedlund In The Running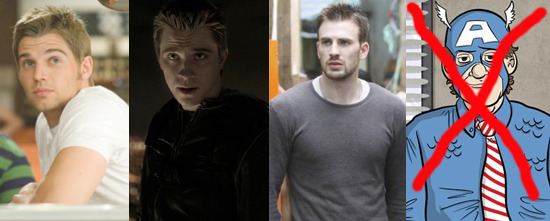 A couple weeks ago a short list was leaked, containing the actors that Joe Johnston was considering for Steve Rogers, aka Captain America, in The First Avenger: Captain America. The list included John Krasinski (The Office), Scott Porter (Speed Racer, Friday Night Lights, Caprica), Mike Vogel (She's Out of My League, Cloverfield) Michael Cassidy (Smallville) and Patrick Flueger (Brothers, The 4400), Chace Crawford (Gossip Girl) and Garret Hedlund (Tron Legacy).
Earlier today we ran a story linking  Fox 411 (and a previous Cinematical) report stating that Office star John Krasinski is Marvel's top choice for the part, after reading four times for producers and recording two costumed screen tests. The Fox report claimed that producers are having Krasinski read with multiple actresses up for the female leads, to ensure chemistry. Of course, many comic book fans were not happy with the choice, calling him too small and unmuscular for the role of the scientifically engineered super soldier.
Now Mike Fleming is reporting that Krasinski is out of the running for the role of Captain America, and that Marvel has expanded its search slightly. Details after the jump.
Of the original contenders, only two remain "in serious contention": Mike Vogel (Cloverfield) and Garrett Hedlund (Tron: Legacy).  Marvel has also added Chris Evans to the mix. Vogal and Hedlund have a very similar look. I'm not sure what comic book fans will think of Evans, as the actor has already appeared in the Marvel Film Universe as Johnny Storm/Human Torch in the Fantastic Four films. Hedlund is my biggest concern about the upcoming Tron sequel (I didn't think he came off good in the short clips in the new trailer).  Hedlund was apparently on Marvel's original wish list but was unable to test for the role at first due to "scheduling conflicts."
Update: Heat Vision adds that Wilson Bethel, who starred in HBO's Generation Kill and The Young and the Restless, is also one of the producer's top contenders.
In addition to John Krasinski, the list of actors who tested for the role, but are now out of the running includes Chace Crawford (Gossip Girl), Scott Porter (Friday Night Lights), Michael Cassidy (Privileged) or Patrick Flueger (Brothers).
Director Joe Johnston previously stated that casting needed to be complete by March 1st 2010 (a date that has now passed) as filming is set to begin at the end of June in the UK.
Discuss: Which of the three actors listed above would make the best Captain America?
Krasinski/Captain America comic image source: hijinksensue