Robert De Niro Cast As Vince Lombardi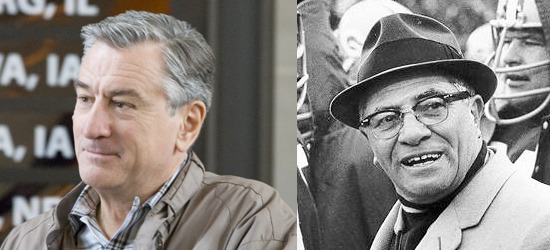 Robert De Niro has signed to play legendary football coach Vince Lombardi in ESPN Films' big screen feature Lombardi. Academy Award-winning screenwriter Eric Roth (Forrest Gump, Munich, Benjamin Button, The Insider) penned the script. The National Football League is involved in the project, which means we probably won' see anything controversial in the movie (steroids, alcohol).
I don't know a lot about football, but looking at photos of Lombardi, you can certainly see how De Niro would be cast in the role. Risky Business says the plan is to release the film between the AFC and NFC conference championship games and the Super Bowl in 2012. The film will focus on Lombardi's Green Bay Packers years, although ESPN acquired the entire life rights to Lombardi's story from his estate, as well as the rights to Jerry Kramer and Dick Schaap's book Instant Replay.
For those of you who don't know about Vince Lombardi, here is information on Lombardi from Wikipedia:
Lombardi was the head coach of the Green Bay Packers of the National Football League from 1959-67, winning five league championships during his nine years. Lombardi went on to accomplish a 105–35–6 record as head coach (.750, discarding ties as was the NFL policy); and he never suffered a losing season. He led the Packers to a still-unmatched three consecutive NFL championships in 1965, 1966, and 1967; winning the first two Super Bowls, solidifying his place in history as one of, if not the greatest coach in football history.
He was diagnosed with colon cancer in late June 1970, weeks before training camp for his second season in Washington. Just a week after his death, the NFL's Super Bowl trophy was renamed the Vince Lombardi Trophy in his honor, first awarded after Super Bowl V. Lombardi was enshrined in the Pro Football Hall of Fame at its next induction ceremony in 1971.
Vince Lombardi has become virtually synonymous with the NFL. This began during his career: he was featured as the face of the NFL on the cover of Time on December 14, 1962 as part of the magazine's cover story on "The Sport of the '60s." Lombardi's players were wholeheartedly devoted to him, and his emphasis on hard work and dedication endeared him to millions who admired his values. In addition to Lombardi's contributions to the history of pro football, Lombardi is legendary for his coaching philosophy and motivational skills. Many of Lombardi's speeches continue to be quoted frequently today, and he is well known as being unequivocally committed to winning. One of his most famous maxims is "Winning isn't everything; it's the only thing," although he did not coin the phrase and the exact words he used are disputed. "Lombardi time" is the principle that one should arrive 10–15 minutes early, or else be considered late. His chief scout, Wally Cruice, once said of Lombardi's single-minded devotion to the game: "you didn't talk about anything but football. If you didn't have the facts, he didn't want you to waste his time."