This Week In DVD & Blu-Ray: Up In The Air, Precious, The Boondock Saints II: All Saints Day, And More
This Week in DVD & Blu-ray is a column that compiles all the latest info regarding new DVD and Blu-ray releases, sales, and exclusive deals from stores including Target, Best Buy and Fry's.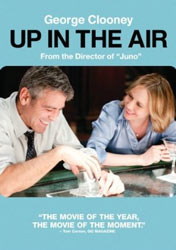 UP IN THE AIR
As a drama, Up in the Air offers the best of both cinematic worlds; it contains all the heart and intimacy of a thoughtful indie, and all the pure entertainment value of a mainstream crowd-pleaser. Every scene, every line of dialogue offers either something to laugh at, reflect on, or further engage you in the lives of these characters. It's one of those movies that's so immediately watchable, I'm genuinely surprised to find out that there are people who dislike it. It might not be the most daring of cinematic endeavors, but it gets all of the important details right—smart writing, slick filmmaking, tight storytelling, terrific acting, etc.—and explores themes that anybody can relate to, asking the question: Which of these do you want to define your life: your job or your relationships? The answer may seem obvious, but Up in the Air tackles it in a way that refrains from leaving audiences with an easy answer.
Available on Blu-ray? Yes.
Notable Extras: DVD – Commentary by writer/director Jason Reitman and others, a Shadowplay: Before The Story featurette, and deleted scenes. Blu-ray – Includes everything on the DVD, as well as 8 additional deleted scenes, a "Help Yourself" music video by Sad Brad, storyboards, and a American Airlines Prank feature.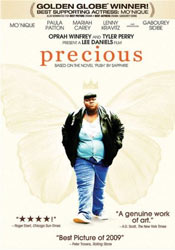 PRECIOUS
Precious tackles each subject as if marking them off a checklist of the world's worst indignities. Let's summarize: a poor [X], grotesquely overweight [X], illiterate [X] 16-year-old girl lives with her cruel, abhorrent mother [X] who beats her [X] and force-feeds her disgusting, fatty foods [X], and is repeatedly raped [X] by her father [X] while her mother watches [X] and blames her for it [X] and then beats her some more [X] and, *deep breath*, the girl has also given birth to a baby [X]—sorry, her father's baby [X]—that is suffering from Down syndrome [X], and oh yes, now she's got a second baby on the way [X], also from her father [X], and for the love of god I'm just going to stop now, but yes, it does in fact get worse. Much, much worse. At a certain point, I started to question what the point of it all was. What was I gaining by watching a character suffer such monstrous hardships? True or not, the end result is one that feels manufactured, perfectly suiting the excessive heights of Hollywood melodrama. If the film is intended to be a reflection of real life, providing insight into the repercussions of a white-dominated/beauty-celebrated country (a running theme throughout, and one that is ironically deflated by all the nice, positive role model characters being portrayed by beautiful lighter-skinned actors), it presents such a narrow, specific view of those affected by it as to render the theme almost irrelevant. If, on the other hand, the film is meant to make those who watch it reflect on their own lives and count their blessings, the tale is an effective one, but also one that remains needlessly hampered by dramatic overkill. By laying on the unpleasantness to such a thick degree, all the film does is inadvertently trivialize the problems of people leading similarly troubled lives (of whom there are many) by making the issues of those with even the most horrific of afflictions pale in comparison to poor dumb fat Precious. Naturally, this argument continues to be combated with the "based on a true story" defense. Yes, the film is based on a true story (or more specifically, based on a book that was inspired by multiple true stories), but this a movie, and we are the audience, and as a viewer struggling to figure out what there was to be gained from watching this buffet of misery, I'm left with the realization that there might've been a whole hell of a lot had the suffering just been toned the fuck down. I won't try to deny that Precious succeeds at being an emotionally harrowing tale; it's expertly made, impressively acted, and is guaranteed to leave those who watch it a devastated wreck. Ultimately though, that devastation lacks purpose; it exists primarily so that its well-off liberal audience can watch it, feel bad, and then feel good about themselves for feeling bad. I'm sure Lee Daniels had more noble intentions than that, and to some degree, those intentions still shine through in the final product—but not nearly enough for me to recommend the film as anything beyond a possible rental.
Available on Blu-ray? Yes.
Notable Extras: DVD & Blu-ray – Audio commentary by director Lee Daniels, featurettes ("From Push to Precious", "A Precious Ensemble", "Oprah and Tyler: A Project of Passion"), a conversation with author Sapphire Daniels and director Lee Daniels, a Gadbourey Sidibe screen test, and a Fluorescent Beige feature.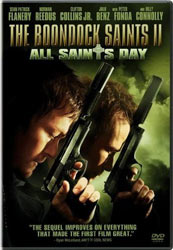 THE BOONDOCK SAINTS II: ALL SAINTS DAY
"I'm so fucking smart, I make smart people feel like they are retarded." I wonder if Julie Benz experienced any sense of conflict or regret when writer/director Troy Duffy tasked her with reading that line without the slightest inkling of comedic irony. Never before have I seen a movie so self-satisfied—so pleased with its own brand of contrived idiocy. The assured nature with which Duffy delivers his derivative, clumsy attempts at coolness makes the experience of watching the film legitimately embarrassing—made doubly uncomfortable by the painful overacting from nearly everyone involved. There are a couple of almost creative sequences to be found, but they're buried beneath 2 hours of agonizingly dull and unfunny cinematic diarrhea. Don't waste your time.
Available on Blu-ray? Yes.
Notable Extras: DVD – Filmmaker & cast commentaries, deleted scenes, and 2 featurettes ("Unprecedented Access: Behind the Scenes", "Billy Connolly and Troy Duffy: Unedited"). Blu-ray – Includes everything on the DVD, as well as 3 additional featurettes ("Inside the Vault: The Weapons", "The Cast Confesses: Secrets from the Set", "The Boondock Saints Hit Comic-Con"), and a sneak peak of the motion comic.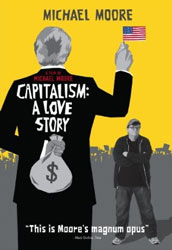 CAPITALISM: A LOVE STORY
I have as little interest in sharing my views on politics as I'm sure you do reading them, so I generally avoid discussing political documentaries, where the message overshadows the filmmaking and storytelling—and rightly so. Admittedly, this is less true of Michael Moore documentaries, as they tend to be designed to entertain almost as much as they are to inform. For the sake of avoiding a futile debate in the comments though, I'm going to stick to my above rule, and instead just tell people what they already know: See it if you like Moore, don't see it if you don't. Brilliant solution, no?
Available on Blu-ray? Yes.
Notable Extras: DVD – Over 80 minutes of bonus material including deleted scenes, extended interviews, and featurettes. Blu-ray – Includes everything on the DVD, as well as an exclusive featurette, and a digital copy.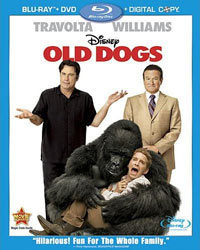 OLD DOGS
(Blu-ray available as single-disc and 3-Disc Edition)
Usually the release of this blatantly awful a film results in a permanent red mark imprinted on my forehead from repeated acts of face-palming, but between the Faces of Old Dogs gag site, the death of Wild Hogs 2, and a 6% Rotten Tomatoes score, Old Dogs has brought us (almost) enough moments of joy and hilarity to compensate for the release of the movie itself.
Available on Blu-ray? Yes.
Notable Extras: DVD – Commentary by director Walt Becker and others, deleted scenes, and bloopers. Single-disc Blu-ray – Includes everything on the DVD, as well as an "Every Little Step" music video performed by John Travolta and Ella Bleu Travolta. 3-disc Blu-ray – Includes everything on the single-disc Blu-ray, as well as a copy of the standard definition DVD, Young Dogs Learn Old Tricks featurette, a "You've Been A Friend To Me" music video by Bryan Adams, and a digital copy of the film.
*Does not include 3-Disc Edition, which costs $24.99 at Amazon, $26.99 at Target, and $29.99 at Best Buy.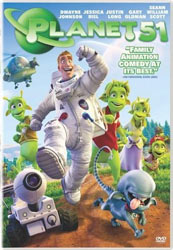 PLANET 51
Be honest: Who else forgot this movie existed until just now?
Available on Blu-ray? Yes.
Notable Extras: DVD – Extended scenes, featurettes ("Planetarium – The Voice Stars of Planet 51", "The World of Planet 51 – Explore the Sights and Sounds of Planet 51", "Life On Planet 51"), a music video montage, animation progression reels, and games. Blu-ray – Includes everything on the DVD, as well as a copy of the standard definition DVD and a digital copy of the film.
Other noteworthy DVD (and Blu-ray) releases this week...
The Stoning of Soroya M. [DVD / Blu-ray] – Hachi: A Dog's Tale [DVD / Blu-ray] – Ninja [DVD / Blu-ray] – Evangelion: 1.11 You Are Not Alone [DVD / Blu-ray] – Paris [DVD / Blu-ray] – The Wedding Song – Gigante – The Memory Thief

NOTES: Some deals may be in-store only. All deals are for DVDs unless otherwise noted.

$9.99 – Blu-ray sale: Primal Fear, Sunshine Cleaning, Dumb and Dumber
$12.99 – Blu-ray sale: Quantum of Solace, Goldfinger, Die Another Day, Never Back Down
$14.99 – Blu-ray sale: Knowing, Pirates of the Caribbean: Curse of the Black Pearl, Casino