SXSW Exclusive Clip: Leaves Of Grass (Watch Ed Norton And Ed Norton Get Stoned)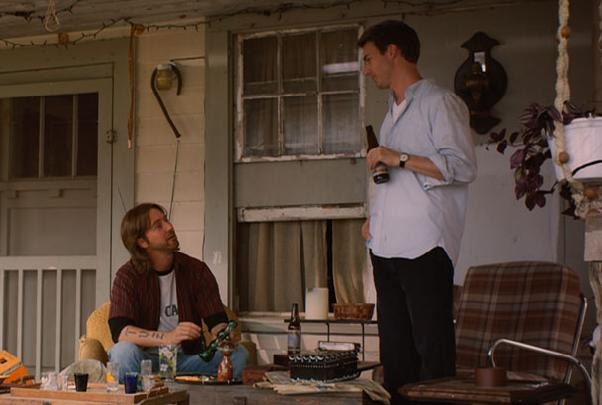 Over the years, we've come to expect the sight an actor playing twins or clones on screen to either be yanked for low-brow laffs and shenanigans (Multiplicity, Double Impact) or to spiral down a freaky reveal about the human condition (Dead Ringers, Moon, Big Love). The latest word on Leaves of Grass, starring the challenge-welcoming Ed Norton in roles as a longhaired drug dealer and his straight-and-narrow twin, is that it's an original and scrappy mix of twin genres, with a healthy splash of violence.
Below we have an exclusive clip where Norton offers a green hit to his twin and gives meta-meaning to peer pressure. One of my friends felt the stoner twin's accent and personality bordered on kooktarded—personally have no problem—but let us know what you think. Leaves of Grass opens on April 2nd and premieres this Friday, March 12, at the SXSW Film Festival in Austin, Texas.
[flv:http://media2.slashfilm.com/slashfilm/trailers/grassclip.flv 550 310]
The official, star-friendly synopsis as follows...
When Ivy League professor Bill Kincaid receives news his estranged twin brother, Brady (both played by Edward Norton), has been murdered, he travels back home to Oklahoma to find that his brother's death is greatly exaggerated, and he's soon caught up in the dangerous, unpredictable drug world of the Oklahoma back waters. In the process, he reconnects with his eccentric mother (Susan Sarandon), meets a wise and educated woman who bypassed academia for a simpler life (Keri Russell), and helps his brother settle a score with a pernicious drug lord (Richard Dreyfuss) who uses Tulsa, Oklahoma's Jewish community for a cover.
Directed by Tim Blake Nelson, who is a recognizable character actor, conceived and co-wrote the project with Norton—they're pals—and has said the project would not have happened with another actor in the leads.
Frequent readers will likely recall that we've been writing about the film for nearly a year; a curious example of a release that should have, hypothetically, entered the marketplace like a breath of fresh air and flirted with sleeper potential given Norton and a likable cast, but has lobbed about the festival circuit and online like an ambitious orphaned indie. We're glad to see it's going theatrical and buzz out of SXSW will be more integral than usual. Next up for Norton? He plays an incarcerated arsonist opposite Robert De Niro—the actors were previously paired with M. Brando in the unremarkable but not terrible caper The Score—in an adulterous thriller titled Stone due in May.