Kick-Ass Outdoor Posters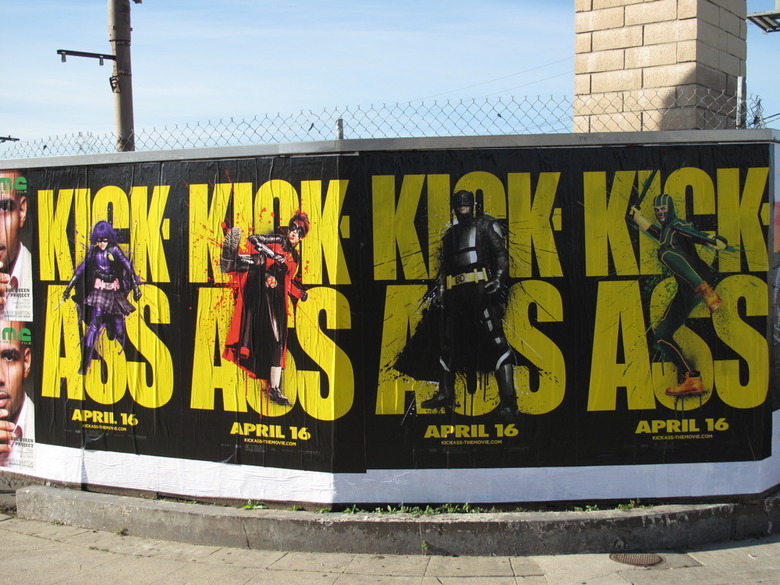 Lionsgate has released a bunch of new outdoor art/posters/banners for Matthew Vaughn's big screen adaptation of Kick-Ass. Check out the digital images in high resolution after the jump.
New Official Synopsis:
"How come nobody's ever tried to be a superhero?" When Dave Lizewski – ordinary New York teenager and rabid comic-book geek dons a green-and-yellow internet-bought wetsuit to become the no-nonsense vigilante, Kick-Ass, he soon finds an answer to his own question: because it hurts. But, overcoming all the odds, the eager yet inexperienced Dave quickly becomes a phenomenon, capturing the imagination of the public. However, he's not the only superhero out there – the fearless and highly-trained father-daughter crime-fighting duo, Big Daddy and Hit-Girl have been slowly but surely taking down the criminal empire of local Mafioso, Frank D'Amico. And, as Kick-Ass gets drawn into their no-holds-barred world of bullets and bloodletting with Frank's son, Chris, now reborn as Kick-Ass's arch-nemesis, Red Mist – the stage is set for a final showdown between the forces of good and evil – in which the DIY hero will have to live up to his name. Or die trying... Directed by Matthew Vaughn, from a screenplay by Jane Goldman & Matthew Vaughn, and based on the comic written by Mark Millar and John S. Romita Jr. Lionsgate and MARV present a MARV Films / Plan B production.