Demetri Martin Drops Out Of Moneyball, Replaced By Jonah Hill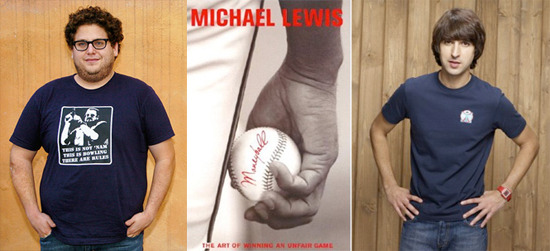 Hey, remember Moneyball? How could you not? The film meant to be directed by Steven Soderbergh, which was famously shut down at the eleventh hour by Sony chief Amy Pascal, is still going forward. Bennett Miller is directing from a new script by Aaron Sorkin. Original star Brad Pitt remains part of the equation (which seems miraculous) but his co-star has changed. No longer will Demetri Martin play the young statistician that helps Oakland A's manager make baseball history. Now it will be Jonah Hill.
ESPN has the news about Hill. Columnist Rob Neyer says he talked to Michael Lewis, author of the source book Moneyball: The Art to Winning an Unfair Game, who gave up the info that Martin was out and Hill is in. Rumors of the trade have been circulating for a week or so, but this is the first printed confirmation I've seen. That it comes from Lewis, rather than one of the film's producers, is interesting, but I don't think that makes it any less legit.
Jonah Hill will play Paul DePodesta, a Harvard grad who skipped over Wall St. jobs and instead went to work for A's manager Billy Beane. The duo put DePodesta's 'Earned Run Value' statistical system to work and built a winning team for peanuts.
The change from Martin to Hill certainly puts a different spin on the film; I hadn't thought much about Hill ever being the number two guy in a Brad Pitt movie prior to this. But what happened to Martin? He was signed to the film almost a year ago. Was it just time to move on? Or did Taking Woodstock do some damage to his career? Moneyball is reportedly shooting in June, but I can't say if it was scheduling or something else that forced this swap.
Check out a video of Paul DePodesta giving a talk, below. Ironically he opens with "we tend to focus on physical appearances...the problem is, that doesn't always translate into success." Huh. Demetri Martin looks a hell of a lot more like DePodesta, but watching him talk I can see Hill capturing his character.