Iron Man 2 Movie Trailer #2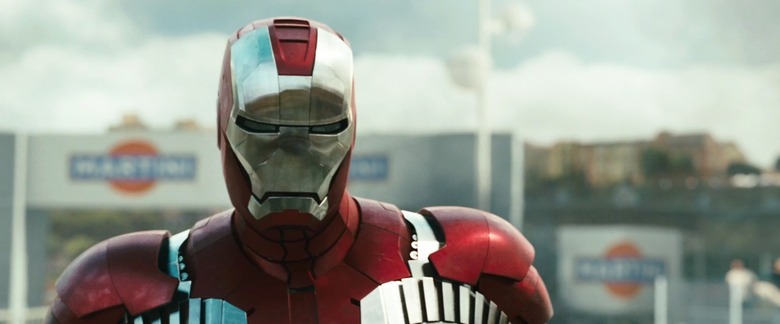 Paramount Pictures and Marvel Entertainment premiered the second movie trailer for Jon Favreau's Iron Man 2 on tonight's post-Academy Awards Jimmy Kimmel Live.
The new trailer mixes a bunch of footage we've seen before, with extended cuts, before all hell breaks loose and all of a sudden Iron Man and War Machine are surrounded by robotic enemies and and an all out war ensures. We also get an appearance from Samuel L Jackson, reprising his role as Nick Fury, and a insanely cool new and improved Iron Man armor. In case you miss any of the fast-cut action, we've also compiled a gallery of over 100 high resolution screencaptures from the trailer.
Watch the trailer now embedded after the jump, and please leave your thoughts in the comments below.
[flv:http://media2.slashfilm.com/slashfilm/trailers/IM2_Trl2_SD_lrg.flv 550 232]
Watch the trailer in High Definition on Apple: 480p 720p 1080p
Here is what we know about the film so far:
Sam Rockwell
plays a fast-talking weapons manufacturer named Justin Hammer, "who fancies himself the next Tony Stark". He sells Stark the weapons he uses to construct War Machine.
Mickey Rourke
plays Russian criminal Vanko, who creates his own battle-suit while incarcerated in a Soviet prison.
Whiplash's suit "shoots devastating, whip-like beams."
Hammer and Whiplash join forces to take on Stark/Iron Man.
Scarlett Johansson
plays Russian superspy Natasha Romanoff (aka the Black Widow), who is hired as Stark's assistant which inevitably sparks romantic tension between Stark and former assistant Pepper Potts (Gwyneth Paltrow), who's been promoted to CEO of Stark Industries.
Tony is trying to learn more about his father's mysterious past, specifically the Stark Expo, which must "play a major role in the energy crisis, which is a chief issue in the film."
Iron Man 2 will hit theaters on May 7th 2010.