Screenplay For Rome Sequel Movie Finished; Film To Happen Without HBO Involvement?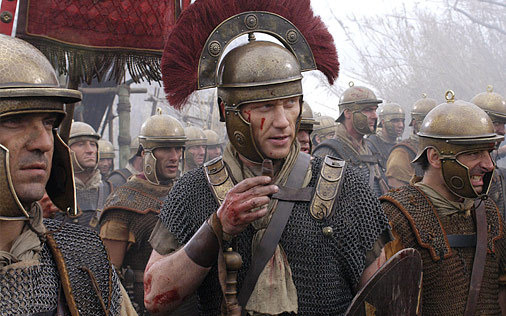 One of the shows that is really high on my 'to-watch' list is HBO's Rome. I have friends who were seriously devoted to it, and practically thrust the blu-ray set into my hands whenever possible. The wildly expensive show was canceled after the second season, and while quite a lot of story was crammed into the last set of episodes, there is material yet to cover. (Big surprise, right? It's Rome, after all.)
Over a year ago we heard that the show's creator Bruno Heller was interested in doing a feature film Rome sequel, but we haven't known much about it. We still don't know much now, but there are a few interesting details bubbling up.
Last we heard about the film, Kevin McKidd was saying that a script for the film had been 'floating around' and that, should it be made, he would definitely return as Lucius Vorenus.
Now EW reports that development on the film is "well underway," and that Heller has finished his script for it. The EW report pushes forward the idea that McKidd and co-star Ray Stevenson will likely be involved.
The interesting bit is that EW says HBO Films won't be involved. That's not the most outlandish news. Since the network didn't want to move forward with the series it isn't difficult to see how there would be no interest in the feature. (Much like those proposed Deadwood follow-up features that, tragically, never materialized.) Heller is working with Morning Light Productions, which EW says has been financing development of the film so far, and will continue to finance the project as it moves forward.
Rome was "set during Ancient Rome's transition from Republic to Empire, from Caesar's invasion of Gaul to the death of Mark Antony and the rise of the first Emperor Augustus. The series follows the two main characters, soldiers Lucius Vorenus (McKidd) and Titus Pullo (Stevenson), who find their lives intertwined with the key events."