Guy Ritchie Attached To The Warren Ellis Version Of Excalibur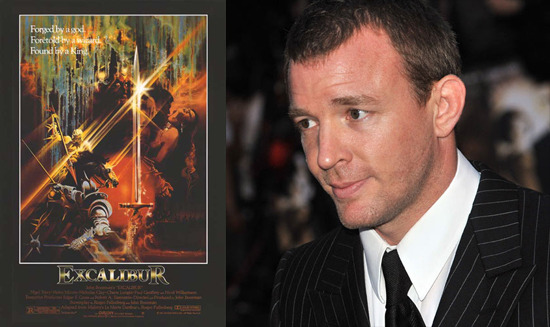 You may recall that, last year, Warren Ellis mentioned he was working on a treatment for an Arthurian film that may or may not be a remake of Excalibur. Now Warner Bros. has evidently attached a director to the film: Guy Ritchie, ready for more adventure after scoring a success with Sherlock Holmes.
Pajiba reports that Ritchie is attached to the Star Wars-like version of Arthur's tale, which is being assembled by Hollywood Gang, the company that co-produced 300. The site also reports that there is indication that Hollywood Gang and Warner Bros. are looking to move forward with the Ellis treatment, and are going out to writers about script development.
There's not yet a real hurry on this one; Ritchie has another Sherlock Holmes film to shoot this summer, after which this would likely be in the pool of possible follow-up projects.
Recall that Ellis said of the Arthurian treatment:
'Untitled Arthurian Project,' as I call it (just so I can't feel John Boorman's EXCALIBUR looming down at me from my DVD shelf), differs from the prior 751 King Arthur movies in many ways, but perhaps most obviously in that it is very specifically about the gathering of the Knights.
Question is, does this moot Bryan Singer's proposed remake of Excalibur, which would be a more direct updating of John Boorman's original film? Possibly not, though he's not going to be able to get to that soon. Chances are Ritchie would be able to move forward on this film first, though that isn't set in stone.
I'd rather see Ritchie play with an Arthurian tale that isn't a direct Excalibur remake, anyway. The Boorman film has faults, but it is such a singular combination of casting, effects and storytelling that I can't imagine a remake hitting the same notes. Then again, the 'Star Wars-like' note makes me wonder. Is that in terms of tone (i.e. more light and adventuresome than the Boorman) or structure?