Francis Lawrence To Direct Marco Polo Adventure Movie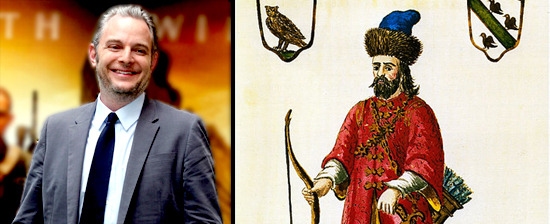 The story of Marco Polo has been brought to the screen before and will probably be adapted many times in the future. The next film about the explorer could be directed by Francis Lawrence (I Am Legend) as Warner Bros. has attached the director to a project based on a pitch by Adam Cooper and Bill Collage, who will write a script based on Polo's adventures.
The key word here is likely adventure. Variety says the Cooper/Collage project is "seen as a fantasy-adventure rather than a biopic," which is actually fairly appropriate given that the authorship of some of Polo's tales is in doubt. Cooper told the trade "We see this as something that takes place in the Orient of our imagination amid the cultural clash of the East and the West." Hey, the fictionalized take on Polo worked for Neil Gaiman, so why not for these guys?
The Venetian Marco Polo spent 24 years journeying to and residing in the court of Kublai Khan, who ruled the Mongol Empire in China. When he returned to Venice he found the city at war with Genoa, and he was imprisoned in a Genoese cell. There he dictated his adventures to another inmate (who likely embellished Polo's stories and added his own) and they were eventually published in various editions and under a number of titles, including The Travels of Marco Polo and Il Milione.
While Marco Polo may have appropriated other travelers' tales as his own, his book became the first major representation of Asian culture in Europe. He and his family were hardly the first to go to China, but the book allowed tales of China to spread.
Before this, Francis Lawrence will direct Water for Elephants, an adaptation of the novel by Sara Gruen and scripted by Richard LaGravenese. Robert Pattinson, Reese Witherspoon and Christoph Waltz star in the depression-era tale about 21-year old Jacob (Pattinson), who joins a second-rate circus after the death of his parents. Having once planned to become a veterinarian, Jacob is entrusted with the outfit's mangy menagerie. He has to deal with impresario Uncle Al and animal trainer August (Waltz), both of whom are crazy and eccentric. He falls in love with August's young wife Marlena (Witherspoon), which naturally leads to trouble.
And what of the last Marco Polo project we heard about? The one John Woo is or was interested in making? Good question. Haven't heard a whiff about it since last year, at which point it just seemed to be something in development in which he's interested. Ironically at that point I said that there was likely a great movie in the story of Marco Polo, if not necessarily from Woo. I feel more or less the same about Lawrence. Maybe Water for Elephants will change my mind.