Disney's Domain Name Purchase Hints At Possible Ant-Man Movie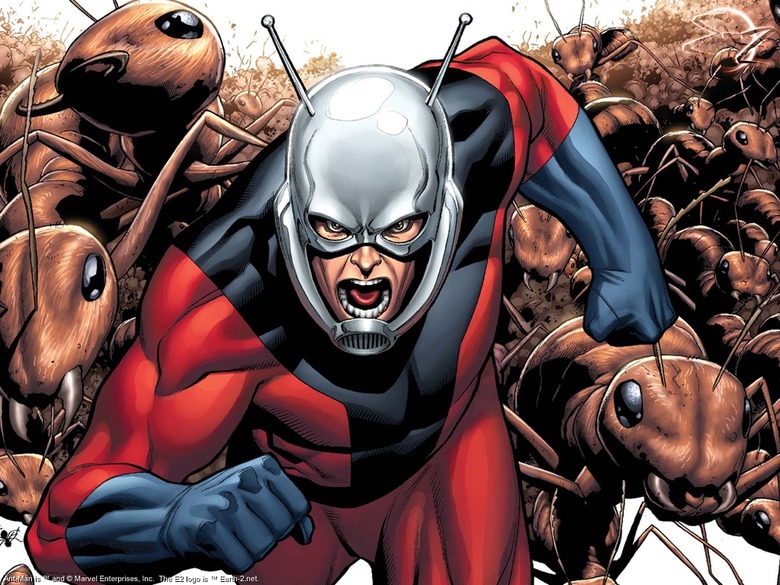 Today it has been learned that Disney has purchased a new batch of internet domain names. The most interesting domain in the batch is a domain for an Ant-Man movie: ANT-MAN-THEMOVIE.COM. Now, this doesn't confirm anything... but Disney doesn't usually purchase domain names without reason. Looks like they are considering an Ant-Man movie.
When the Walt Disney Company announced they would be acquiring Marvel Entertainment, speculation began to run wild on which comic book properties Disney might tackle first. Disney doesn't have rights to the comic properties in development at other studios like Spider-Man at Sony and X-Men at 20th Century Fox, and as of this second, Paramount still holds to rights to distribute up to five Marvel films, including: Iron Man 2, Thor, Captain America, The Avengers and possibly one more unannounced film. And on top of that, there are still existing deals in which other studios hold the big screen rights to certain characters. Most of the online world concluded that Ant-Man would probably be the most likely candidate. And when it was revealed that Pixar boss John Lasseter "talked to the Marvel guys" about collaborating on a feature, Ant-Man was at the top of the list.
Comic creator Stan Lee sent out some tweets earlier this month claiming that he has met with director Edgar Wright regarding an Ant-Man movie, which Marvel is "prepping",  according to Lee. Adding fuel to the fire, Wright tweeted about his dinner with Iron Man director and Avengers producer Jon Favreau a few days earlier. Of course, speculation again ramped up that the Ant-Man movie would go into production after Wright's Scott Pilgrim vs. The World hit theaters this Summer. Wright responded to the speculation, telling MTV, "I can't do two things at once, so [now that 'Scott Pilgrim' is finished] I will return to doing another draft of that one."
The Other domains purchased by Disney hint at other projects the animation/feature film studio may or may not be working on:
New Cars Toons: Lunar Mater (LUNARMATER.COM), Moon Mater (MOONMATER.COM) and Right Stuff Mater (RIGHTSTUFFMATER.COM), Mater Pi (MATERPI.COM) and Investigator Mater (INVESTIGATORMATER.COM)
Eat, Sleep, Poop (EATSLEEPPOOPMOVIE.COM)
Escape Artist (ESCAPEARTIST-MOVIE.COM)
Good Looking (GOODLOOKING-THEMOVIE.COM)
I Saw You (ISAWYOU-THEMOVIE.COM)
Nonstop (NONSTOP-MOVIE.COM)
Robopocalypse (ROBOPOCALYPSE-MOVIE.COM)
War Horse (WARHORSE-MOVIE.COM)
Wife vs. Ninja (WIFEVSNINJAMOVIE.COM)
Possible Walt Disney Feature Films:
A True Story (ATRUESTORY-MOVIE.COM and ATRUESTORY-THEMOVIE.COM)
CA Rancho Film (CARANCHOFILM.COM), Classy Lady (CLASSYLADYMOVIE.COM)
Denver International Airport (DENVERINTERNATIONALAIRPORTMOVIE.COM)
Genneris (GENNERIS.COM and GENNERISMOVIE.COM)
Great Lengths (GREATLENGTHSMOVIE.COM)
Home Movies (HOMEMOVIES-THEMOVIE.COM)
Me Harmony (MEHARMONYMOVIE.COM)
When the Trumpets Sound (WHENTHETRUMPETSSOUND.COM and WHENTHETRUMPETSSOUND-THEMOVIE.COM).
Other possible titles for Secretariat:
Taking the Crown (TAKINGTHECROWN.COM and TAKINGTHECROWNMOVIE.COM)
Triple Crown (TRIPLECROWNMOVIE.COM)
source: Stitchkingdom