Negative E-Mails, Producer Bans, And Lawsuits: The Hurt Locker's Tumultuous Path Towards The Oscar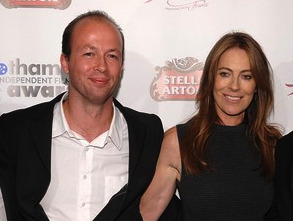 So it's come to this: Nicolas Chartier, one of The Hurt Locker's four producers, has been banned from attending the Oscars this year due to remarks he made about his film in an e-mail, which violated Academy rules. If The Hurt Locker wins Best Picture, Chartier will have to collect his Oscar at a later date. Hit the jump for all the details of The Hurt Locker's sad, unexpected, bump-ridden path towards Oscar gold.
For the past few months, The Hurt Locker has been widely favored to take the Best Picture prize, and also garner Best Director for Kathryn Bigelow. The trouble began in late February, when producer Chartier sent an e-mail out to industry colleagues. Here is the text of the e-mail:
I hope all is well with you. I just wanted to write you and say I hope you liked Hurt Locker and if you did and want us to win, please tell (name deleted) and your friends who vote for the Oscars, tell actors, directors, crew members, art directors, special effects people, if everyone tells one or two of their friends, we will win and not a $500M film, we need independent movies to win like the movies you and I do, so if you believe The Hurt Locker is the best movie of 2010, help us!
I'm sure you know plenty of people you've worked with who are academy members whethere a publicist, a writer, a sound engineer, please take 5 minutes and contact them. Please call one or two persons, everything will help!
Not terribly professional, but fairly innocuous. However, Chartier's remarks about a "$500M film," clearly aimed at Avatar (though not naming that film), violated Academy rules against "casting a negative or derogatory light on a competing film." After word of the e-mail reached the press, Chartier recanted almost immediately, issuing a statement that read, in part:
My naivete, ignorance of the rules and plain stupidity as a first time nominee is not an excuse for this behavior and I strongly regret it. Being nominated for an Academy Award is the ultimate honor and I should have taken the time to read the rules.
To be fair, Chartier's actions are nothing new. Miramax famously got in trouble over its whisper campaign against Saving Private Ryan in 1999 (Shakespeare ended up taking the prize. Side note: Which one of those films do you think has had more of a lasting impact?). This time around, Deadline blogger Nikki Finke responded to news of Chartier's e-mail with complete nonchalance:
[F]or months now I have been sent so many emails from so many studios and filmmakers and flacks and insiders badmouthing every rival nominee this Oscar season and talking up their own. How the hell am I to tell them apart? Or tattle on them all? This is the down and dirty system which AMPAS hath wrought and doth condone. And no one is surprised by it, least of all the Academy.
Furthermore, by the time Chartier had written his e-mail, most of the ballots were already cast. However, one publicist claimed that some Academy voters went so far as to demand new ballots to change their votes (once a ballot has been cast, it cannot be altered). For the past few weeks, speculation has swirled as to whether or not the Academy would take action, and if so, what that action would be. There was even talk that the Academy might rescind The Hurt Locker's nomination for Best Picture, a drastic move that would have outraged just about everyone (admittedly, the likelihood that this would have happened was virtually nonexistent).
On Monday, The Daily Beast published an assessment of the situation, with more details about Chartier's involvement in the film. Chartier raised the $15 million required to finance the film, but his relationship with the film's crew was so fractious that he was eventually asked to leave the set and not come back. According to Hurt Locker screenwriter and producer Mark Boal:
It was a hard movie to get made...It was a challenging shoot, and it's the nature of those things that tempers can flare and strong disagreements can arise. And Nic was eventually asked not to come back to the set.
People involved in The Hurt Locker's production have tried to distance themselves from Chartier's remarks. After hearing about the e-mail, Bigelow called Avatar producer Jon Landau immediately to express her apologies. Boal recalled, "Kathryn was shocked and appalled and embarrassed by Nick's poor judgment, and condemned it." This is a sentiment apparently shared by everyone involved with the movie. "Everyone understands that Nic bears the responsibility for his mistake 100 percent on his own shoulders," Boal added.
In the meantime, other publicity mishaps have also befallen the film. Specifically, a Newsweek piece written by Army veteran Paul Rieckhoff alleged that The Hurt Locker was laden with inaccuracies. "The Hurt Locker tries to articulate [the experience of modern combat]," Rieckhoff writes, "but those of us who have served in the military couldn't help but be distracted by a litany of inaccuracies that reveal not only a lack of research, but ultimately respect for the American military." Moreover, in the past day we've learned that, Master Sgt. Jeffrey Sarver, who served in Iraq, is suing the makers of The Hurt Locker for pilfering his story. Sarver was the subject of the Playboy article on which the film's script was based. A press conference is schedule for later today.
In the end, the Academy has decided to ban Chartier from attending the Oscars. He will be denied attendance and he will not be able to go as anyone's guest that evening. This is the first time the Academy has ever taken the step as banning one individual specifically. Here's the Academy's statement via the LATimes:
The Academy of Motion Picture Arts and Sciences announced today that, should "The Hurt Locker" be announced as the recipient of the Best Picture award at Sunday's ceremonies, only three of the picture's producers will be present for the celebration. The fourth of the film's credited producers, Nicolas Chartier, has been denied attendance at the 82nd Academy Awards as a penalty for violating Academy campaigning standards...
The group stopped short of recommending that the Academy governors rescind Chartier's nomination. If "The Hurt Locker" were to be selected as Best Picture, Chartier would receive his Oscar statuette at some point subsequent to the March 7 ceremonies.
One thing's for sure: If The Hurt Locker doesn't take Best Picture, I do not want to be Nicolas Chartier on Sunday night.