This Week In DVD & Blu-Ray: 2012, Where The Wild Things Are, Ponyo, And More
We may receive a commission on purchases made from links.
This Week in DVD & Blu-ray is a column that compiles all the latest info regarding new DVD and Blu-ray releases, sales, and exclusive deals from stores including Target, Best Buy and Fry's.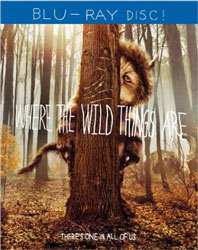 WHERE THE WILD THINGS ARE
With his adaptation of the classic children's book Where the Wild Things Are, co-writer/director Spike Jonze took the $100 million budget he was given by the studio to make an accessible family film, and used it to make a heartrending arthouse film for adults. And we could not be better off for it. Never before has a film so honestly and fascinatingly depicted what it's like to be a kid: the excitement, the loneliness, the confusion, the joy, the anger—even the rapid mood swings that lead from one to the other. There is no traditional three-act arc; the story takes place entirely through the eyes of Max, who invents the world of the Wild Things as a means of coping with his emotional pain, and later uses it to help gain a better understanding of life and himself. Jonze approaches all of the themes with great subtlety and intimacy, even when the larger than life Wild Things are punching holes through trees and launching each other into the air. The cinematography, special effects, sound work, and score are all astounding, and perfectly complement the tone and ideas of the film to create a fully unified vision—all while still firmly retaining the spirit of the book. That a film this unique and wonderful exists is surprising; that it's been so casually neglected by audiences, critics and the Oscars is straight-up tragic.
Available on Blu-ray? Yes.
Notable Extras: DVD – 4 Webisodes. Blu-ray – Includes everything on the DVD, as well as an all-new short entitled "Higglety Pigglety Pop!" featuring the voices of Meryl Streep and Forest Whitaker, a HBO First Look featurette, a digital copy, and the standard definition DVD.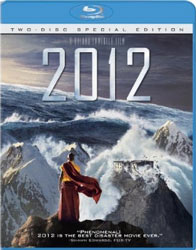 2012
(Blu-ray available as single-disc and 2-Disc Special Edition)
Absurdity reaches new heights in 2012, a movie that is without a doubt among the most ridiculous (and ridiculously entertaining) I have ever seen. At 2-and-a-half hours, Roland Emmerich uses the elongated running time to stage identical sequences on a perpetual loop (the formula: character has emotional conflict with other character, disaster ensues, character either dies or very narrowly escapes death), and then simply switches out the location, type of disaster and mode of transportation each time. That may sound banal when spelled out in such succinct terms, but Emmerich made sure to use only the coolest assortment of the three when closing his eyes and picking each category from a hat. Here's an example of one of his selections: Yellowstone National Park + fire balls + RV. Here's another: LA + earthquake + limousine. Each is exactly as inane as it sounds, and just as fun.
Available on Blu-ray? Yes.
Notable Extras: DVD – Commentary with writer/director Roland Emmerich and co-writer Harald Kloser, Deleted Scenes, Alternate Ending, "Roland Emmerich: The Master of the Modern Epic" featurette, and "Time For Miracles" Music Video by Adam Lambert. Single-disc Blu-ray – Commentary with writer/director Roland Emmerich and co-writer Harald Kloser, Alternate Ending, and Picture-In-Picture: Roland's Vision-Includes Pre-Visualization, storyboards & behind-the-scenes footage/interviews. 2-Disc Blu-ray – Includes everything on the DVD and single-disc Blu-ray, as well as featurettes (Countdown to the Future, Designing The End Of The World, Science Behind The Destruction, The End Of The World: The Actor's Perspective), an Interactive Mayan Calendar, and Making the Music Video "Time For Mircales" with Adam Lambert.
*Does not include 2-Disc Edition, which costs $22.99 at Target and Amazon, and $24.99 at Best Buy.
EXCLUSIVE DEAL:
What? 2-Disc Blu-ray ($22.99) includes the Discovery Channel documentary 2012 Apocalypse.
Where? Target.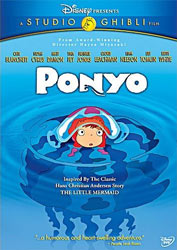 PONYO
As much as I enjoyed the whimsical imagery and occasionally breathtaking animation, Ponyo is the most overtly cutesy and kiddish of Hayao Miyazaki's work, and the first Miyazaki film that has failed to fully pull me into its visually imaginative world. Is the latter a result of the former? Perhaps to some degree, yes, but I would assert that the clumsy narrative structure is primarily to blame. What made Spirited Away and My Neighbor Totoro so compelling was the gradual reveal of the story's fantastical elements within the real world setting; it spent time building likable, relatable characters before thrusting the audience into the madness. Ponyo takes the opposite approach, kicking off with the whacked-out fantastical elements before the audience even has a chance to understand what the hell is going on or why they should care. There's nothing to ground the weirdness; it's just goofy imagery without any associable perspective. By the time the weirdness is provided any context, newer and weirder weirdness has already been introduced ("OK, so now reality is folding in on itself... wait, what!? Where did this come from?"). This isn't to suggest that the experience wasn't entertaining—on the contrary, it's nearly impossible to feel anything other than pure, unadulterated joy when basking in the visual splendor of Miyazaki's creations—but the narrative just doesn't satisfy in the same way that his other work has.
Available on Blu-ray? Yes.
Notable Extras: DVD & Blu-ray – Behind-the-scenes features (Creating Ponyo, Ponyo & Fujimoto, The Nursery, Behind the Microphone: the Voice of Ponyo, Producer Perspective: Telling the Story, Scoring Miyazaki, the Scenery in Ghibli), the original Japanese trailer, and a multi-layered interactive experience that allows the viewer to explore the lands of: Ponyo, Kiki, Laputa and Totoro.
EXCLUSIVE DEAL:
What? Save additional $10 when purchasing Ponyo DVD or Blu-ray with 2-Disc Special Edition DVD of My Neighbor Totoro, Castle in the Sky, or Kiki's Delivery Service.
Where? Fry's.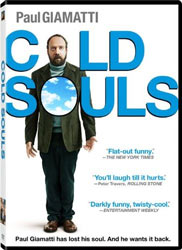 COLD SOULS
In Cold Souls, Paul Giamatti (playing himself) pays to have his soul removed. On paper, the premise intrigues; in execution, it feels like Kaufman Lite. This isn't necessarily a bad thing—more of a niggling distraction than anything—but the influence is palpable. Get past it, and Cold Souls makes for a mostly engaging (if meandering) slice of introspective, existential drama/comedy. Since the human soul is such an abstract concept, the film operates in very ambiguous terms when quantifying the effects of losing or exchanging one, and it's through this ambiguity that the film explores its metaphysical themes. This enhances the comedic elements of the film—all of which are handled as dryly as possible—by providing a surreal contrast between an intangible idea and a scientific, real world setting. The downside though, is that it also results in an emotional detachment to the character, since the movie never provides a truly definable scale for the audience to gauge how he has been affected by this (mentally or physically). We're simply expected to look at Giamatti's anguished expressions in one scene and slightly less anguished expressions in another, and then take our best guess. Because of this, Cold Souls is far more successful at being amusing than it is thought provoking.
Available on Blu-ray? No.
Notable Extras: A 'Soul Extractor' slide show featurette, and 9 deleted scenes.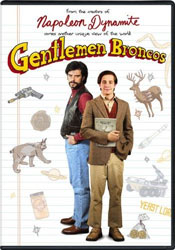 GENTLEMEN BRONCOS
Gentlemen Broncos is a dumb, unpleasant, off-putting movie. In one scene, a girl—carrying armfuls of junk food purchased with money leant to her for tampons—squeezes in beside our meek protagonist on a bus, squirts out an obscene amount of lotion into her hand, and requests a hand massage. As he's wiggling the thick globs of lotion around her fingers, the girl's gay Hispanic friend Lonnie leans over and starts humming "Ooooh" repeatedly into her ear. This is one of the film's more restrained sequences. The others generally feature some form of vomit, testicles and feces. The sole saving grace of the film is Jemaine Clement (of Flight of the Conchords fame) as Ronald Chevalier, a pompous author of bad sci-fi novels who is ironically the only character to not reach unbearable levels of annoyingness. Alas, this might have had more of an impact on the film if he had received more than 10 minutes of screen time.
Available on Blu-ray? Yes.
Notable Extras: DVD – Commentary with Jared Hess and Jerusha Hess, 5 deleted scenes, outtakes, and a One Nutty Movie: Behind the Scenes of Gentlemen Broncos featurette. Blu-ray – Includes everything on the DVD, as well as 16 mini-documentaries featuring the cast of Gentlemen Broncos.
Other noteworthy DVD (and Blu-ray) releases this week...
Bitch Slap – Alice (2009 Miniseries) [DVD / Blu-ray] – The Beaches of Agnes – The Private Lives of Pippa Lee [DVD / Blu-ray] – We Live in Public – My Neighbor Totoro (2-Disc Special Edition) – Kiki's Delivery Service (2-Disc Special Edition) – Castle in the Sky (2-Disc Special Edition)
Noteworthy Blu-ray-specific releases this week...
The Neverending Story – Clash of the Titans – The 36th Chamber of Shaolin – The Who: The Kids Are Alright

NOTES: Some deals may be in-store only. All deals are for DVDs unless otherwise noted.

$13 – Blu-ray sale: X-Men Origins: Wolverine, National Treasure, The Kingdom, Pirates of the Caribbean: At World's End, Ice Age: Dawn of the Dinosaurs
$10 – The Curious Case of Benjamin Button, Pineapple Express, Transporter 3, Enchanted, Madagascar

$7.99 – Goodfellas, Forrest Gump, The Departed, Top Gun, Saving Private Ryan, Crouching Tiger Hidden Dragon, Good Morning Vietnam, Juno, Aliens, Gangs of New York, The Usual Suspects

$12.99 – Blu-ray sale: The Departed, The Aviator, 2001: A Space Odyssey, Dog Day Afternoon, Casablanca, Robin Hood, Gigi, An American in Paris