Casting Notes: Brandon T. Jackson In Big Momma 3; Sean Bean In Cleanskin And Death Race Prequel; Elizabeth Banks Rumored For Dark Fields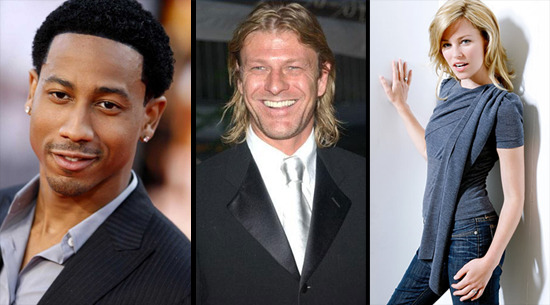 Against all laws of nature, Big Momma's House 3 keeps happening, though it probably won't be called that. Martin Lawrence is going to go back into rubbery drag for the third outing, and he'll be joined by Brandon T. Jackson of Tropic Thunder and Percy Jackson. Guess everyone's gotta eat, but why does it have to be a shit sandwich?
This one will see "FBI agent Malcolm Turner (Lawrence) and his 17-year-old nephew, Trent (Jackson), go undercover at an all-girls performing arts school after Trent witnesses a murder. Posing as Big Momma and Charmaine, they must find the murderer before he finds them." The f ilm shoots in Atlanta soon; if I'm out for drinks sometime in the next month and come across the casts and crews of this and Hall Pass fighting in the streets, Anchorman style, I'll be so happy. [Variety]
After the break, Sean Bean has his work cut out for him, and Elizabeth Banks may have a cool new project.
Speaking of 'gotta eat,' there are a bunch of hungry folks in the direct to DVD prequel to Death Race: Ving Rhames and Danny Trejo have been joined by Sean Bean and Luke Goss. The film has had a couple of different titles bandied about in the last six months, but today's press release pegs it simply as Death Race 2. Which, for a prequel, won't be misleading at all. This one is "the origin story for the character named Frankenstein, a convicted cop killer (Goss) in a declining American empire where a racing reality show is about to be born in the country's corrupt prison system. " [THR]
(If you haven't seen the original Death Race 2000, directed by Paul Bartel, don't let the recent films deter you. Bartel's movie may be low-budget but it is sharp and sick  and a hell of a lot of fun. And, as I never tire of pointing out, it has a title card done in colored pencil. Big points for that.)
I do wonder about Bean's role in what sounds like his very own Paul Greengrass movie, albeit without Greengrass. Bean and Charlotte Rampling have been cast in Cleanskin, a thriller that will see Bean as a secret service agent on the trailer of a suicide bomber (Abhin Galeya) and the terrorist cell behind him. No word on Rampling's role; Ruth Wilson and James Fox are in the cast, too. [Screen Daily]
Finally, ComingSoon passes along a rumor that Elizabeth Banks will join Bradley Cooper in Dark Fields. That seems to be based on an email tip without substantiation at this point, so look at this one warily for now. Be a great pairing, though. Love to see Banks working with director Neil Burger (The Illusionist) and Bradley Cooper, who replaced Shia LaBeouf last year. The film is based on a book by Alan Glynn, about "a struggling writer who takes a top-secret pharmaceutical drug that makes him smarter. He finds success, but also comes to learn there are consequences, such as the phenomenon "trip-switching" which makes him perceive time moving similar to stop-motion." Might be fun, yes?