Awards: A Prophet Scores Big At Cesars; ASC Awards The White Ribbon; Hurt Locker Wins Audio Accolade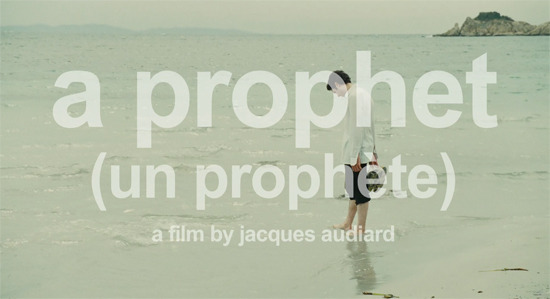 This year's Oscars aren't for another week, but this past weekend was a big one for awards. We've already posted on the Visual Effects Society awards that were largely handed out to Avatar and Up. But France's big awards ceremony, the Cesars, went down over the weekend, with Jacques Audiard's widely acclaimed A Prophet scoring nine wins. And the American Society of Cinematographers handed out a slightly surprising best of '09 while the Cinema Audio Society honored sound mixing achievements in '09.
A Prophet took almost all the top awards at France's Cesar awards: Best Film, Best Director, Best Actor, Best Supporting Actor, Breakthrough Actor, Best Original Screenplay, Best Cinematography, Best Editing and Best Art Direction. At this point I can't figure whether it or Michael Haneke's The White Ribbon seems more likely to win the best foreign language Oscar — the two are relatively equal in respect and acclaim — and these awards, together with the film's full release in the States, may have come too late to sway Oscar voters. Still, it's a great awards coup for the film, and a far more meaningful one than winning the foreign Oscar. [indieWire]
The American Society of Cinematography chose to honor Christian Berger for his work on The White Ribbon. The digital black and white film beat out films like Inglourious Basterds, The Hurt Locker, Avatar and Nine. The White Ribbon now may be considered a lock to win the Oscar for cinematography, for which it is also nominated. That would be an interesting turn of events; glad to see the film continuing to earn accolates in the States regardless. [indieWire]
And The Hurt Locker took the award for best sound mixing from the Cinema Audio Society; production mixer Ray Beckett and re-recording mixer Paul N.J. Ottosson took the honor for "outstanding achievement in sound mixing for motion pictures," and deservedly so. The Hurt Locker's most tense setpieces rely on audio to work, and the sound mixing was indeed fantastic.