VOTD: Meet The Musicians Behind Sherlock Holmes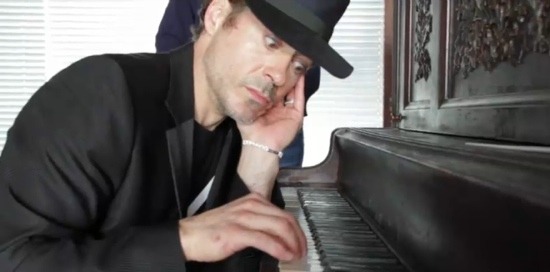 Warner Bros has released a music video to help promote the original music composed for Sherlock Holmes, timed to let the Academy members get one last look before casting their ballots. The video introduces the musicians behind the music:
The musicians are Hans Zimmer, the composer nominated for his 8th Oscar for this score. The gentleman on the boat in the red pants is Lorne Balfe, (co-music producer) Alexsey Igudesman is the gentleman playing the violin on the beach and on the elephant, and the women are Ann-Marie Calhoun who is playing the violin and also in the box and Tina Guo plays the cello on the car. Davey Johnson has the long bleach blonde hair playing the banjo and Diego Stocco is banging on a cello like a drum towards the end of the video.
All of these people featured in the video are the original musicians that played on the film's score and director Guy Ritchie and star Robert Downey Jr. also joined in on the fun. Watch the video, embedded after the jump.