/Film UK - Alice In Wonderland And Micmacs Reviews, The New Monty Python Project Trailer, Minority Report And Much, Much More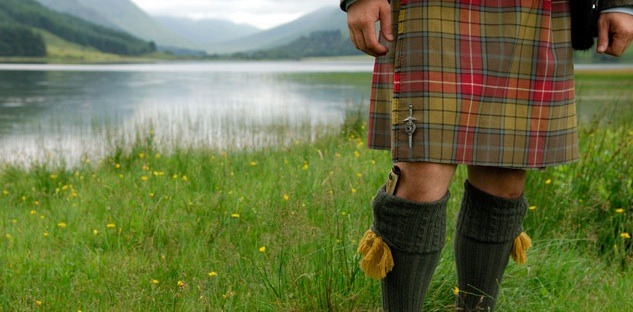 Coming to you weekly from my vantage point in good old Blighty, it's Slashfilm UK. Anglos and Anglophiles rejoice as every week I'll be bringing you a round up of news, links and coverage specific to the motion picture comings and goings here in the UK. Sometimes we'll be talking about films that have already played in the US, other times it will be films that won't make it to the US for a good while yet, and from time to time you'll read about films that will never make it to the US at all.
It seems that Working Title could be bringing some of their biggest cinema franchises to the small screen. According to The Guardian:
One of the aims is to make TV adaptations of Working Title's library of more than 90 theatrical releases, which includes the Bridget Jones movies, Billy Elliot and Nanny McPhee, along with Four Weddings and a Funeral, Notting Hill and Shaun of the Dead.
Personally, I'd love to see a Hot Fuzz series in a T J Hooker style. Well, for ten minutes at least.
Salvage is a new British horror film set in Liverpool – something I'd definitely like to see more of. Fantastically, the picture was filmed on the set for Brookside, the now-defunct Channel 4 soap opera. Here's the trailer. Note that the cinematographer, Simon Tindall, was a camera assistant on 28 Days Later – something the PR materials for Salvage are at great pains to accent.Salvage will play in "select" UK cinemas from March 19th, and then hit Revolver DVD on the 22nd. It should also be available on your choice of VOD platform.Tomb Raider's Lara Croft is getting a road in Derby named after her. This is Derbyshire say that the proposed name won with 28,000 votes. Will Ms. Jolie come and cut the ribbon? I wouldn't hold my breath.
The latest Film Weekly podcast from The Guardian goes behind the scenes of the London Critic's Circle Film Awards.
After East is East and the upcoming West is West, Reuters are reporting that a third film about George Khan and family could be on the cards.
Roger Ebert has written for The Guardian on the London hotel that he loved staying in whenever he was in town:
...on a corner near the Lower Regent Street end, I found a time capsule within which the eccentricity and charm of an earlier time was still preserved. It was called the Eyrie Mansion. When I stayed there, I ­considered myself to be living there. I always wanted to live in London, and this was the closest I ever got.
Empire scored an exclusive premiere of the UK quad poster for Shelter. The tagline is patently dreadful, to wit "The Sheltering Has Begun".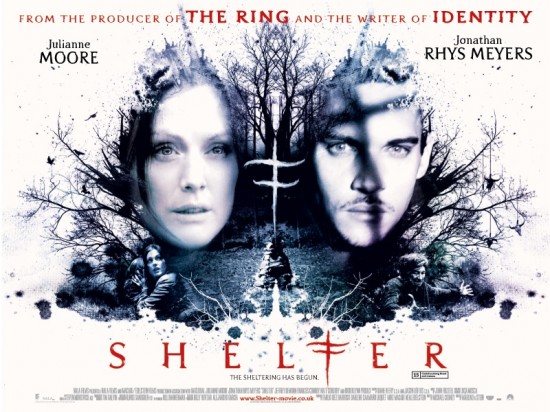 From Deadline Hollywood Daily comes news of a proposed Shank sequel. That's about the 167th mention of Shank in this column. The article focuses on Revolver's production arm Gunslinger, suggesting it "could become a Roger Corman-like lab for young filmmaking talent". It sure could.
Jim Loach's Oranges and Sunshine has wrapped and Dark Horizons marked the occaison with the following still of Emily Watson (not Emily Mortimer, not Suzie McTypo) in full-on social worker action: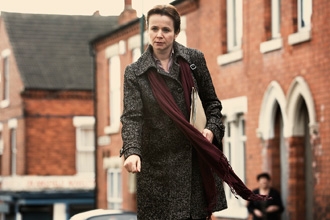 I don't like the UK version of The Office nearly as much as I do the US one. All the same, the BBC original is now on Hulu for free streaming. Of course, the irony is that Hulu doesn't work in the UK...
...meanwhile, our own VOD service SeeSaw has launched. To get you started, I'd particularly recommend the BBC sketch show Big Train with Simon Pegg, Kevin Eldon, Mark Heap and Amelia Bullmore and scripts by Graham Linehan and Arthur Matthews – but there's an awful lot more on there too.
Below, you can see the Steelbook packaging for the Fox UK release of the Minority Report Blu-ray (Paramount are handling the title in the US). As it happens, earlier in the week I saw a special preview screening of the transfer as well as few glimpses at the special features.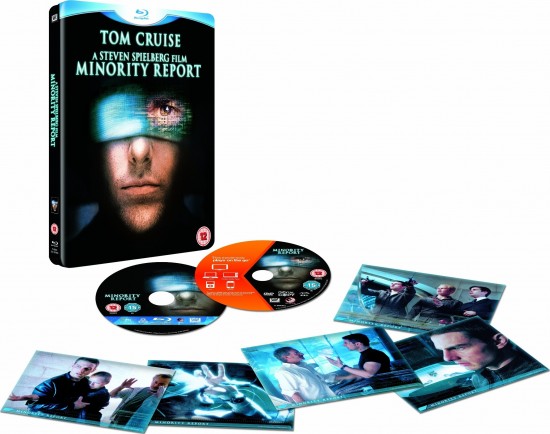 There's something rather unexpected on the disc in the form of a series of interlinked interview segments with Spielberg, indexed directly from moments in the film. This is probably the closest we've gotten to a commentary track from the man and I imagine it will help shift a good heap of copies. I'll give you a better break down of what other cleverness resides on the disc when I get some proper time with a preview copy soon.
While I was on the same press trip that took me to the Minority Report unveiling, I got to speak to Danny Kaye, Fox's Executive VP of Global Research and Technology Strategy. Unfortunately, just about every question I asked was met with a cleverly phrased version of no-comment but lots of announcements were promised as being imminent: on Avatar, on the Alien Anthology box-set, on the 20th Century Fox 75th Anniversary celebration plans, which should mean lots of great catalogue titles later in the year. My money's on a nice selection of Marilyn Monroe titles, but nothing's out in the open at all yet, unless you count the Sound of Music disc expected to hit before Christmas.
Talking of Fox Blu-ray, I've also had a chance to preview some material from the Alien Anthology Blu-rays and while I can't say anything much yet... wow. Just wow. More on that is bound to come to the front page before long.
The latest Sci Fi London podcast features Marc Caro, Cory McAbee, Gerald McMorrow, Stuart Hazeldine and Richard Jobson discussing "The Problem of SF and Fantasy Filmmaking".
The UK Film Council have named a number of projects they're supporting, and Russ took a look at the list earlier in the week.
Frank Zappa collaborator and stop-motion master Bruce Bickford is coming to the UK for a special event being held by the London International Animation Festival folk:
American cult animator Bruce Bickford is coming to London for a rare, one-night-only presentation of his films, featuring the exclusive English premiere of his new film that he has been working on for many years – Cas'l.
The evening will commence with a screening of Monster Road, the 80-minute award-winning documentary by Brett Ingram, which premiered at the 2004 Slamdance Film Festival where it won 'Best Documentary', eventually screening at 85 festivals around the world and winning 16 awards.
This incredibly rare screening will be immediately followed by a live onstage interview and extended audience Q and A with Bruce Bickford. This will mark his first appearance in England.
The event takes place at our favourite venue – The Horse Hospital, 30 Colonnade, London, WC1N 1JD on Monday March 15th at 7pm. Nearest tube is Russell Square.
Tickets cost £10 full/£7 concession. If you are interested in pre-booking please email us at: info@liaf.org.uk
Not the Messiah (He's a Very Naughty Boy) is comedic oratoria based upon The Life of Brian and featuring all of the surviving Pythons not called Cleese. Filmed as a lived event at the Royal Albert Hall last November, it is now going to get a one-night-only screening on March 25th, in 90 cinemas across the UK. Indeed, it will play across a number of other countries... but not the US...
Here's the trailer.
Marina Hyde has written an article for The Guardian in which she asks if the UK can now claim Tim Burton as their own.
On the matter of Mr. Burton and his Alice in Wonderland movie, I'm now out of the embargo and can tell you what I thought of the film. First of all, though, an update on the threatened boycott by UK cinemas.
After their initial threats, all three big-gun UK cinema chains have now withdrawn plans for a boycott of Alice in Wonderland. Here's how it breaks down by my understanding:
Disney said the film would play with a 12 week theatrical window, not the usual 17. The cinema chains supposedly asked for a deduction in payments to Disney to compensate, and Disney apparently said no. The cinemas threatened a boycott, Disney negotiated and one by one, they all stepped in line. The release window now seems set for 13 weeks – what a difference a week makes.
As an aside, here's another picture of Alice POS marketing materials, this one snapped by Jon Lyus of the HeyUGuys podcast and sent to me via Twitter: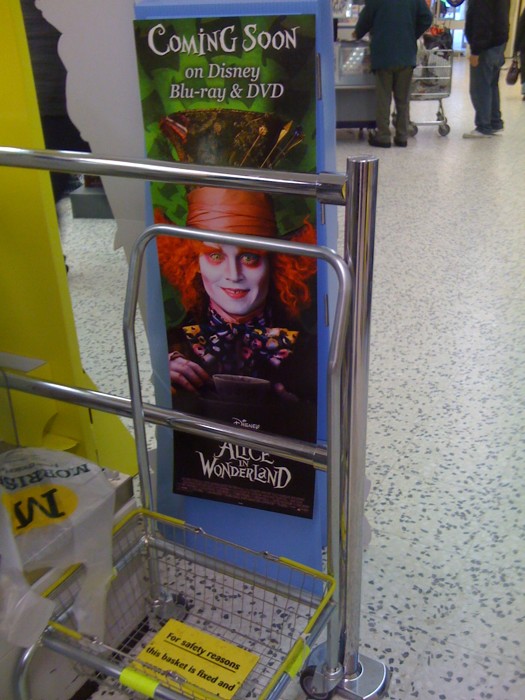 Now, I'd sympathise with the cinemas entirely if it was not for one thing: there's barely ever a film that plays for 10 weeks, let alone 12. And with 3D-led prospects like Alice, I'm thinking we'll soon see even shorter runs, at least as far as main screen and all-day bookings.
Within a month or so of Alice hitting, two more 3D pictures come to the UK in the guise of How to Train Your Dragon and Clash of the Titans, and I'd be absolutely staggered if cinema chains held either of those off for longer Alice bookings in their 3D screens. Don't take that as a knock on the movie, though, because overall I rather liked it. There's certainly some silly, badly judged stuff in there, but the good definitely outweighs the bad.
By now you probably know that the film is a sequel, but it doesn't just follow on from the original Wonderland. It's a sequel to Through the Looking Glass, too, a fact that most people have forgotten thanks in part to the 1951 animated Disney feature that incorporated set pieces and characters from Looking Glass such as Tweedle Dee and Tweedle Dum who don't show up in Carroll's Wonderland at all.
What makes this film a particularly worthy addition to the Alice canon is that it explores the psyche of a post- rather than pre-pubescent Alice. The result is a story with an entirely new set of meanings and perspectives. Burton's Wonderland is a sexualised dream world ignited by an unwanted marriage proposal Alice receives in the "real" world. When Alice nervously flees her suitor she enters a dream that exposes and amplifies her anxieties. For instance this time around when Alice shrinks, her dress doesn't thus revealing bare shoulders and nearly a bit more. When she grows, her hemline rises to reveal her thighs. For a moment, she's even contrived to be entirely naked (see below clip). Out of context this portrayal might seem dodgy, but in this case it's integral to the film's agenda. What's more it's been portrayed sympathetically and isn't gratuitous in any way.
Alice's feelings towards her stereotypically sexualised clothing are raised in an early scene in the "real" world where she talks about having had a dream in which the women wear trousers and the men wear dresses, an idea later echoed in Wonderland when the Mad Hatter comes out in a kilt while Alice is stoically clad in an armoured suit.
Alice's physical transformations resonate across other themes, too, particularly the central discussion of standards of beauty. The Red Queen's head is hugely outsized and her courtiers are so desperate to conform to this grotesque physique that they deliberately wear false noses, ears, chins and the like. The "good guys" however tend to be more conventionally attractive – Anne Hathaway and Johnny Depp don't make the covers of so many magazines or sell calendars simply because they're talented actors. Ultimately, though, this seems to be no more than an oversight in a sincere attempt to satirise body and face fascism in a topsy-turvy fashion.
The film is essentially well made, and certainly has a distinctive look. Burton has successfully meshed his style with something more Disney-like. Regrettably though the CG White Rabbit doesn't sit comfortably with the real world live-action footage when he first appears. Most of the performances are pleasing, particularly Helena Bonham Carter's snippy, funny Queen played like the most annoying kind of spoiled little rich kid. Not since her 'Liberal of Privilege'/Trustafarian chimp in Planet of the Apes has Burton given her so appropriate a role.
There is one particularly disappointing moment. A few times over we're promised that the Mad Hatter will dance a celebratory "Futterwacken" when the evil Queen is deposed. Well, when we do get to see this most joyful of dances, it's a rather sorry scene, I'm afraid. I imagine apologists will use the Hatter's madness as a kind of cop-out explanation for how baffling this little moment is.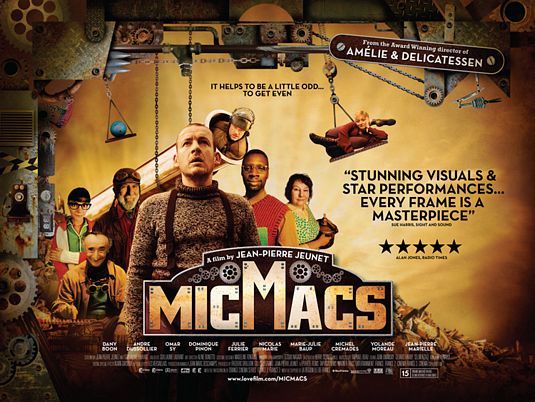 While you will have a week to wait for Alice in Wonderland to hit cinemas, this weekend sees the release of Jean Pierre Jeunet's splendid Micmacs. I was able to see an early screening courtesy of See Film First and my first regret on leaving the cinema was that the film wasn't yet on general release so I couldn't just turn around, go back in and see it again.
The film tells the story of a young man who ends up shot in the head and and is left to live knowing that, at any moment, the bullet lodged in his brain could kill him. To strip the plot down to the basics, he ends up living with some outcasts in a junkyard and they together conspire to bring down the arms dealers making profit from death and suffering. It's a premise that meshes the kind of whimsy familiar from Amelie or Delicatessen with a more overtly political objective and though those flavours might seem like an odd combination, they actually end up delighting and, in a surprising final sequence, I was emotionally moved in ways I had not at all been expecting.
Be warned that the film is laugh-out-loud funny as often as it is quietly charming and sweet and that the overall effect is like watching an old-fashioned magician carry off a series of imaginative illusions. You'll have to be in the mood for a collage of invention, subversion and diversion rather than anything more conventional and effortless to get the best out of Micmacs. While I'm not convinced it will be the best picture of the year, I'll be absolutely flabbergasted to take another one to heart in the same way. I think this is Jeunet's best picture to date.
A good week for cinema screenings then (and I'll buck the trend and proudly declare that I really rather liked The Lovely Bones too) but what of my homeviewing?
This week I settled down for a session with Ca$h. Here's how I described it last week:
A crime thriller in which [Sean Bean] plays twin bad guys menacing a poor little couple played by Victoria Profeta and Chris Hemsworth, aka the man who will be Thor.
And now, here's the reason to watch the film, if you fancy it: Sean Bean plays dual roles. We get to see him play against himself, in a way that's a little like Sam Rockwell's work in Moon. Just a little, though – Ca$h doesn't allow for the same quality of interaction.
And that's probably the best I can say, to be fair. I wasn't impressed, and I'd only recommend the film to fans of the actors. Thankfully, Bean in particular is charismatic and worth watching no matter what he's doing. Ca$h is available on UK DVD from March 1st and has low-priority Lovefilm listing written all over it.
Finally, I want to guide you over to the nomination's for this year's Empire Awards. You can vote online now for such categories as Best Director, Best Actor/Actress, Best Newcomer, Best Comedy, Best Horror and so on. reading down their polling list in order, I selected Carey Mulligan, Inglourious Basterds, Let the Right One In, Up in the Air, The Imaginarium of Dr. Parnassus, Christoph Waltz, Anne-Marie Duff, Quentin Tarantino, The Imaginarium of Dr. Parnassus and Inglourious Basterds.
The awards will be announced on March 28th with "a high profile ceremony on Sunday, March 28 at London's Grosvenor House Hotel, hosted for the second year running by award-winning Irish comedian and television presenter Dara O Briain."