How To Train Your Dragon Movie Trailer #3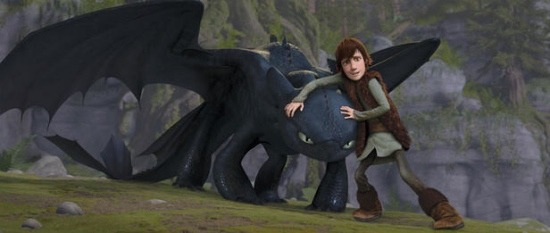 Dreamworks Animation has released the third and final movie trailer for Chris Sander's How to Train Your Dragon. For those of you who don't recognize the name, Sanders directed Lilo & Stitch, and the unfinished American Dog (which was the initial development for what became Bolt). Sanders is now making a home for himself over at Dreamworks Animation, and while you can certainly see the Dreamworks influence, I also see Sanders' spunk in the characters and designs. I've heard nothing but good things about this film from friends who have seen bits and pieces, and Harry Knowles saw a very early cut of the film, in 3D, and said that the film is "every bit as emotional, thrilling and fun as KUNG FU PANDA" and "very much a story over gags film, with no potty humor." I hope he's right. Watch the new trailer embedded after the jump. As always, leave your thoughts in the comments below.
From the studio that brought you "Shrek," "Madagascar" and "Kung Fu Panda" comes "How To Train Your Dragon" — an adventure comedy set in the mythical world of burly Vikings and wild dragons, based on the book by Cressida Cowell. The story centers around a Viking teenager, who lives on the island of Berk, where fighting dragons is a way of life. Initiation is coming, and this is his one chance to prove his worthiness to his tribe and father. But when he encounters, and ultimately befriends, an injured dragon, his world is turned upside down. The voice cast includes Jay Baruchel, Gerard Butler, Jonah Hill, Christopher Mintz-Plasse, Craig Ferguson, Kristen Wiig, and America Ferrera.
Watch the trailer in High Definition on Yahoo. How to Train Your Dragon hits theaters in March 26th 2010.