Casting Notes: Zach Galifianakis In Miracle Workers; Mickey Rourke In War Of The Gods; Tom Atkins In Drive Angry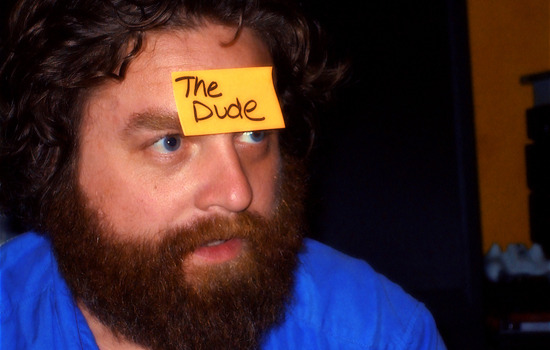 What is it with exorcism movies? Earlier today we had word that Anthony Hopkins had been cast in The Rite. Now there's another exorcism movie in the works called Miracle Workers, with Zach Galifianakis attached to star.
STYD has the report, saying the script is "a buddy supernatural comedy in which the actor is put on a path that has him posing as an exorcist with a pal. The two think they've got a good thing going until they're faced with a real menace." So...kinda like The Frighteners? Or The Brothers Grimm? Fine with me — I can easily see Galifianakis killing a role like that. (Even though the best thing about The Frighteners was a wickedly messed-up turn from Jeffrey Combs. Top that, guys!) This news comes from producer Michael Aguiler, who also produced this week's The Crazies. No director is set yet.
After the break, Mickey Rourke is looking to go to war with the gods, and a genre veteran continues his comeback.
Mickey Rourke will be in Iron Man 2, The Expendables and possibly Passion Play this year, and he's got more work coming up. According to DHD, he's negotiating to play King Hyperion in Tarsem Singh's upcoming War of the Gods. The film is set to shoot on April 7. (Finally, after seemingly being in the planning stages for quite some time.) Freida Pinto was recently cast as Phaedra, and Henry Cavill is also in the cast.
I was down on Tarsem after The Cell — really down on him — but I liked The Fall quite a bit. He's calling this one "a really hardcore action film done in Renaissance painting style," which is enough to pique my interest.
Finally, Tom Atkins, already immortalized in Night of the Creeps and many other genre films, has been cast in Patrick Lussier's Drive Angry. The 3D film already stars Nicolas Cage as "an enraged man who is out for revenge, chasing the people who killed his daughter and kidnapped her baby." The ensuing chase reportedly "spins out of control as the chase gets bloodier by the mile, leaving bodies strewn along the highway."
William Fichtner, Amber Heard, David Morse, Billy Burke and Charlotte Ross are also in the cast; Atkins was last in Lussier's My Bloody Valentine 3D, so seeing him show up here isn't a surprise. But it is very welcome. [Dread Central]