Early Buzz: 15 More Reviews From Another Test Screening Of Edgar Wright's Scott Pilgrim Vs. The World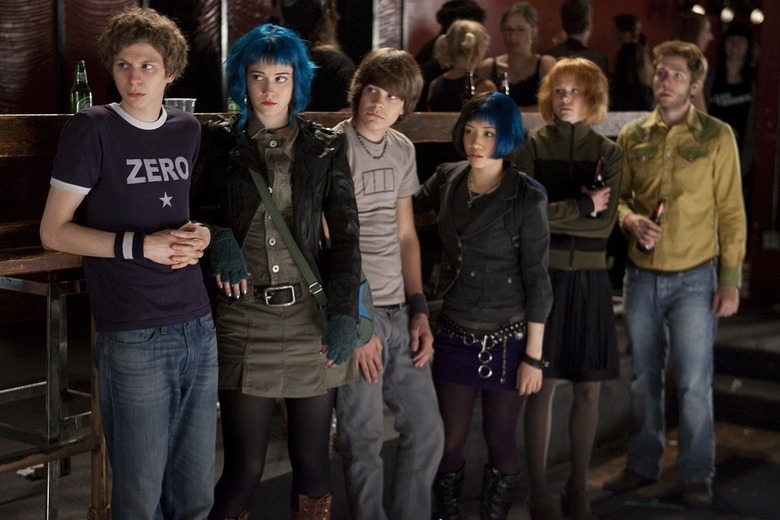 Last month Universal held a test screening of an early cut of Edgar Wright's adaptation of Scott Pilgrim vs. The World in Las Vegas. We posted a collection of ten reviews from people who attended the screening, most of which were extremely positive (you can read them here). It appears that Universal just test screened the film again, this time in New Jersey.
Of course, it should be noted that these people did not see the finished version of the movie, but an early cut, without finished effects, which could very well turn out much different from the final cut. That said, the early reviews are very positive. Check out early thoughts from fifteen different people, after the jump.
L2BT on Tumblr: "I was lucky enough to see this awesome nerdfest of a flick known as Scott Pilgrim vs The World. It was a lot of fun and Edgar Wright did an impressive job bringing the comic to the screen. Pilgrim is going to gain even more followers once this hits theatres in August. Kids are really going to geek out over this. Hard." "Scott Pilgrim was the nerdiest movie I've ever seen and it was awesome. Edgar Wright did an amazing job. What a fun film."
enright on Tumblr: "the movie itself is somewhat entertaining, there's some humor in it and his gay roommate is a riot. it's WONDERFULLY shot, like holy shit. the effects weren't so great, reminded me of cheap japanese animation. the acting was OK, one of the "exs" was superman in superman returns and he's also the gay guy miri hit on in zach and miri make a porno. most of the affects were cheesy, like the "fight scenes" were mostly CGI'd, less than impressive. overall, it was okay. i wouldn't see it again. maybe download it illegally. so hey movie people, if you end up seeing this, it's JAMES ENRIGHT from the PARAMUS SHOWING."
RunItsAPirate: So I feel obligated to the twittersphere. I saw Scott Pilgrim vs. The World today. Awesome movie, 100% respectful to the books.lo_diggs: Basking in the afterglow of a Scott pilgrim vs the world nerdgasmbeefyfunk: [non-haiku] saw Scott Pilgrim vs. the World focus group tonight, great flick (to-be) (Love Aubrey Plaza!)CraigeryMontoya: Saw Scott Pilgrim vs. The World. 'Twas epic.PTAnderson (not the filmmaker): Scott Pilgrim vs The World was unbelievably good. So stoked I saw it before it'll be cool to like that movie. Remember this tweet hipsters!AdamVole: Went to a mystery test screening descriped as "a music drive slacker comedy/action film based on a comic book" it ended up being a Michael Cera movie directed by Edgar Wright and is now of one my favorite movie that doesn't have Star Wars in its title. it was called Scott Pilgrim vs The WorldskinnyboyBALKI: "@radiomaru Just saw Scott Pilgrim in a test screening. Edgar Wright did your books tremendous justice." ... "@edgarwright Just saw Scott Pilgrim in NJ, all I can say is wow. You surpassed my already lofty expectations. So I thank you."MaddenOnRookie: Scott Pilgrim vs. the World was amazing...hipster-indie sin cityChristoff679: Scott Pilgrim vs. The World. Heard of it? @brendonbigley ur gonna love this. My dad saw a preview. he said its incredibleJonRivera: Just caught a surprise test screening of Scott Pilgrim Vs.the World! Fantastic!Bilal_Mian: Just saw an early screening of Scott Pilgrim Vs. The World. Michael Cera's best movie to date. Original, hilarious, witty, and great action. ... have to say it was AMAZING. Never read the comics, now i do.rchapoteau: Just saw a screening of the Scott Pilgrim movie. Holy crap that was awesome! #scottpilgrimCRusso815: Went to a VERY early screening of Scott Pilgrim vs. The World w/ @Erock88. The geekiest movie I've ever seen. AWESOME
—
I can't wait to see this movie...