David Goyer Hired To Write WB's Next Superman Film, The Man Of Steel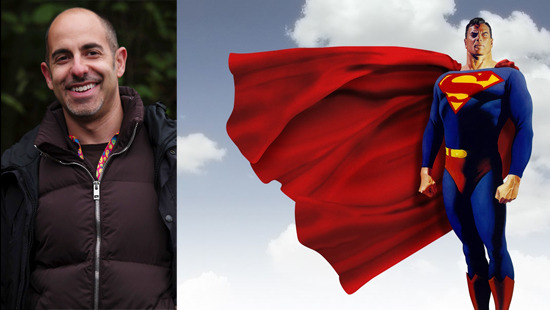 It's a big day for movement on the comic book movie front. We just had word on Marvel's casting approach to Captain America, and now there is some new detail about the next Superman movie from DC and Warner Bros. While recent reports that Christopher Nolan is mentoring the new Superman film were denied by DC and WB, we're now told that David Goyer, who has worked with Nolan on his Batman films, has been hired to write the new Superman film, The Man of Steel.
Latino Review has the story, and offers a few extra details. The site reports that Lex Luthor and Braniac are part of Goyer's script, which is not an origin story. They also say that a story point is the financial struggle of The Daily Planet, which is floundering like so many real-world papers. Finally, LR mentions the story setting up a "huge Kryptonian mythology."
LR also claims to have other details about the project: Brandon Routh will not star, and Bryan Singer is not expected to direct. So, basically a reboot that isn't a reboot? Fine, no problem with that. If WB wasn't happy with the way Singer's film went down with audiences, I'd prefer to see the studio just move on with another chapter. We know the story.
All that said, David Goyer? OK, I like the first two Blade films, and there's something to be said for a guy who was able to start off writing a film like Demonic Toys and ultimately end up working on massive studio projects. (An incitement to argument: how different are his Full Moon Entertainment projects from some of the superhero ones, when you really get down to it?)
Goyer's name has cred attached thanks to his work with Nolan on Batman, but in general I don't see a lot of personality coming through in his work. After Superman Returns, that's probably exactly what Warner Bros. wants. That movie had too much of Singer's personality for many tastes, so now the sequel will skew towards being more broad.
But hell, if the guy gets Braniac into the film and (here's me hoping for a Superman movie that can really capture my imagination) put the character into space and a bit more of a pulpy sci-fi context, I'll take it.