Cool Stuff: Tavis Coburn's BAFTA "Best Film" Retro Poster Series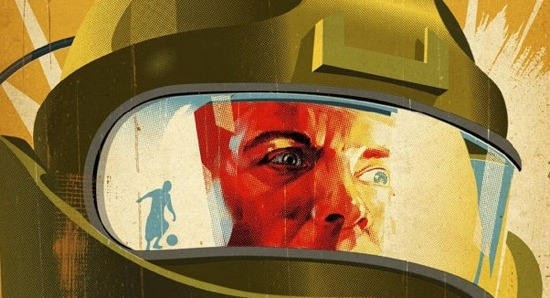 The BAFTA (the British Academy of Film and Television Arts) Awards happened over the weekend, and Brendon filed his report on the site. To promote the award show, the BAFTA commissioned illustrator Tavis Coburn of Dutch Uncle to create a series of posters, one for each of the five Best Film nominees of the year (Avatar, An Education, The Hurt Locker, Precious, and Up in the Air). I absolutely love the retro 1960's/1970's style. Check out all five posters after the jump.
You can see more of Tavis Coburn's art here and here. You can read his official bio below:
Tavis Coburn graduated from California's prestigious Art Center College of Design with a BFA in Illustration.  Since then, Tavis has created countless works for leading publishing, advertising, and music companies in North America and Europe.His clients include: Time, Rolling Stone, GQ, The NFL, Nike, Lexus Sony/BMG, Island/Def Jam, and Universal Music to name a few.  Tavis' unique style is inspired by 1940s comic book art, the Russian avant-garde movement, and printed materials from the 1950s/60s.  Over the years Tavis' work has garnered many accolades, including top honors from The Society of Publication Designers, the Society of Illustrators, and American Illustration.  In 2005, Tavis was featured in the "Fresh" section of Communication Arts, was selected by Print magazine as one of "20 Breakthrough Talents Under 30". In 2007, he received a gold medal in the Illustration: Story category at the SPD Awards.  He's been interviewed for web and print publications from around the world, including Decorate, Pig Magazine, joshspear.com and Behance. In 2008, Tavis' work for Nike/Footlocker was featured in Creative Arts and was awarded a Gold Medal in Graphis magazine's run-down of the years best poster art.  Beyond just illustration, Tavis has been tapped to create motion graphics work for clients including Dyson, Nike, and the Los Angeles Chamber of Commerce and has worked on imagery for a handful of Canadian film and television projects. A selection of some of his favourite recent images are available as limited edition prints via his website.
via: FirstShowing