Matt Damon To Star In Robert F Kennedy Biopic His Life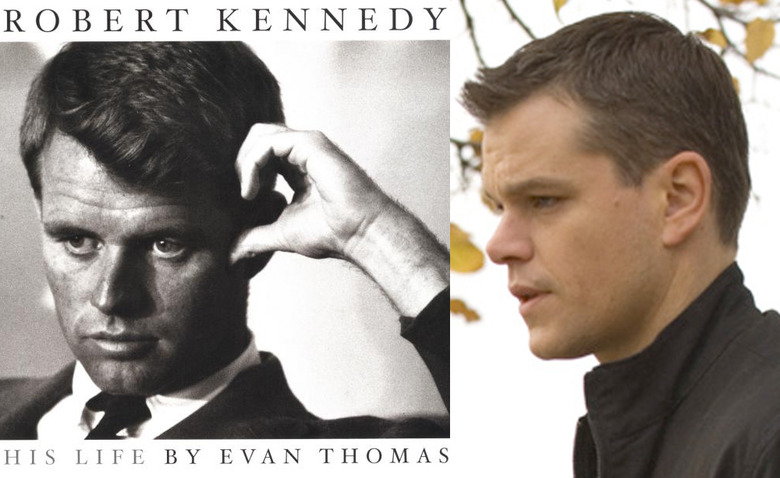 We may receive a commission on purchases made from links.
Nikki Finke is reporting that Matt Damon is going to star in a biopic of Robert F Kennedy for New Regency. Directed by Gary Ross, and written by Dirty Pretty Things and Eastern Promises scribe Steven Knight. The film will be adapted from the Evan Thomas-penned biography His Life, published in 2000.
Ross burst into Hollywood as the screenwriter and co-producer of Big. He also wrote Mr. Baseball, Dave and Lassie before making his feature directorial debut with Pleasentville. He has since wrote and directed Seabiscuit and the animated film The Tale of Despereaux.
Here is the official description from Thomas' book:
He was "Good Bobby," who, as his brother Ted eulogized him, "saw wrong and tried to right it . . . saw suffering and tried to heal it." And "Bad Bobby," the ruthless and manipulative bully of countless conspiracy theories. Thomas's unvarnished but sympathetic and fair-minded portrayal is packed with new details about Kennedy's early life and his behind-the-scenes machinations, including new revelations about the 1960 and 1968 presidential campaigns, the Cuban Missile Crisis, and his long struggles with J. Edgar Hoover and Lyndon Johnson.
The Library Journal wrote the following about the book:
Thomas's narrative, skillfully woven from numerous interviews, vividly reveals a very human Kennedy struggling to come to terms with his brother's assassination, his role in wiretapping Martin Luther King Jr., and his fatal decision to take on Eugene McCarthy and Hubert Humphrey in the 1968 Democratic primary. Thomas's chilling account of the Cuban Missile Crisis shows Kennedy at his best, while his portrayal of his feuds with FBI director J. Edgar Hoover and Cuban president Fidel Castro reveal him at his worst. Thomas convincingly debunks a number of the myths that envelop Kennedy.
The book is available in paperback from Amazon for around $11-12. For those of you who don't know how RFK looked, I've also included video of RFK's famous Indianapolis speech, in which he revealed to a mostly black crowd the news that Martin Luther King had been assassinated.
While watching the speech above, I think it is easy to see Matt Damon in the role. What do you think?
Discuss: Is Matt Damon the right actor to play Robert F Kennedy?