Peter Berg's Battleship Won't Be 3D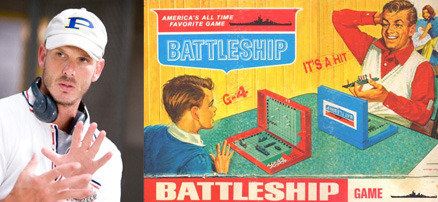 MTV has learned that Peter Berg's water based epic action adaptation of the board game Battleship will not be filmed in 3D. In this post-Avatar world, I think almost everyone assumed that it would be. A war between aliens and humans set on a Battleship seems like the perfect type of story to benefit from a 3D release. Of course, Universal could always change the plans before the Summer shoot, and they always have the option of creating the 3D in post production, like Clash of the Titans.
Also, producer and Hasbro CEO Brian Goldneralso says that the film "doesn't begin as a fight" and "unlike a lot of those other alien stories this is really not about aliens that came here to do us harm."
Previously:
Jeremy Renner (The Hurt Locker) is in talks to star in the film, but the actor has another offer for an undisclosed mystery project which is planning to shoot at the same time.
Written by the brother writing team Jon and Erich Hoeber, who gave us Whiteout.
Battleship "will unfold as a massive Naval adventure across the seas, in the skies and over land as our planet fights for survival against a superior force."
The superior force are aliens from another planet known as The Regents. They come from a world similar to ours, and aren't actually looking to take over humanity or the planet Earth. Instead, they're on a mission to build a power source in the ocean, which is where they come in contact with a navy fleet. The film will also show us both sides of the story—from the aliens' perspective, as well as the humans.
The alien ships do fly to Earth, as well as through the atmosphere, but they lose that capability once they land. They're also not busting out any lasers or fantastical alien weaponry—their weapons will be ballistics-based just like ours.
The main character is the Commanding Officer of a destroyer. He has a team of five trusted shipmates which include the XO and a Scotty-like chief engineer.
Battleship will now hit theaters on Memorial Day weekend — May 25th 2012