Coen Brothers Cast Hailee Steinfeld As The Young Heroine Of True Grit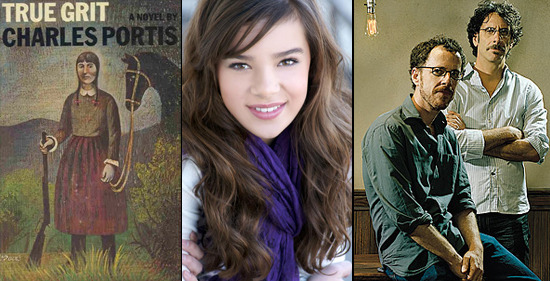 When Joel and Ethan Coen announced their new adaptation of the Charles Portis novel True Grit, much of the primary cast came together quickly. Josh Brolin, Matt Damon and Jeff Bridges were all announced in short order.
The last piece of the puzzle has been the actress who will play Mattie Ross. The girl propels the story by hiring a US Marshal, 'Rooster' Cogburn, to find her father's killer. While the original film version ceded a lot of screen time to Cogburn, in the novel Mattie is the central character, and the Coens are following that path. Now they've found their girl: 13-year old Hailee Steinfeld.
Deadline Hollywood reports that Steinfeld has been given the role. While many of the girls auditioned for the role were unknowns, Steinfeld has a few small credits. This will be her biggest role to date by far, and could be a star-making turn if she nails it. The Coens aren't known for miscasting (The Ladykillers being the example where I think they blew it) so I'm seriously curious to see how this turns out.
Mattie Ross is described as a "simple, tough as nails, young woman in post-Civil War Arkansas." The casting call said "Her unusually steely nerves and straightforward manner are often surprising to those she meets. She possessed plenty of true grit and determination. Enough so that she insists on going with 2 marshals to hunt down the killer of her father."
Here's the plot recap:
Fourteen-year-old Mattie Ross's father, Frank, was killed by Tom Chaney (Josh Brolin), one of his own workers for a horse, $150 cash, and two Californian gold pieces. Mattie heads to Fort Smith to seek justice. There she hires Reuben 'Rooster' Cogburn (Jeff Bridges), a hard-drinking US Marshal, to help her track down Chaney. Meanwhile, a Texas Ranger named La Boeuf (Matt Damon) is also tracking the killer, and he joins Ross and Cogburn, setting an unlikely trio on Chaney's trail.
True Grit is going to come together fast; it is currently scheduled for a Christmas Day release this year.