Will Comic Con Leave San Diego? Anaheim, CA Hopes So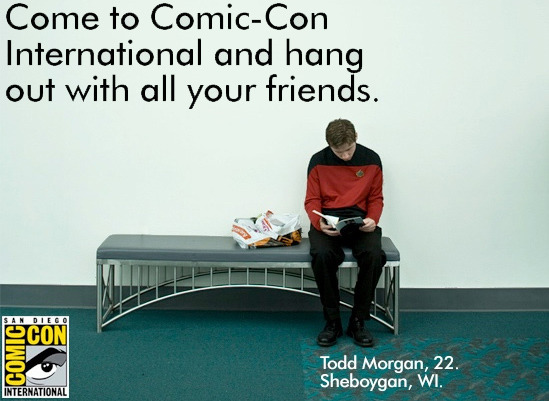 For the last few years there has been a lot of talk about Comic Con moving out of San Diego. The show was born there, but in the last decade, as 'geek culture' has exploded into the mainstream, the con has been bursting at the seams. Once a playground for actual comic book fans, the show has become a massive promo market for movies, television and video games, as well as a meeting ground for those who like to dress up in Slave Leia costumes.
Currently, the organization behind the show has a contract to stay in San Diego through 2012. But other cities like Anaheim and Las Vegas are trying to lure the Con to their convention centers starting in 2013. Will Comic Con soon have a new home?
The San Diego Union Tribune has a piece about the business behind the Con, and the deals that are percolating to possibly relocate it. At issue is the show's massive attendance (126,000) and the fact that passes and hotel rooms sell out months in advance. The two overarching problems are a lack of additional convention center space and limited hotel room availability. A proposal to expand the San Diego Convention Center has been endorsed by a citizens task force, but there is currently no plan to implement it.
The San Diego Convention Center Corp is trying to broker a deal to extent Comic Con's stay in San Diego through at least 2015. In concert with city officials and the San Diego Unified Port District, hotels have been convinced to allocate more rooms for Con attendees. Three hotels (Manchester Grand Hyatt, San Diego Marriott and Hilton San Diego Bayfront) have committed to provide free meeting room space from 2013 to 2015, while the SDCCC proposes doubling the hotel rooms offered at discounted Con rates, from 7,000 to 14,000. But neither of these changes would take place until 2013. By then, even those figures might be too small.
"When you have to limit exhibit space and sell out early, those are negatives," Comic Con spokesman David Glanzer said. "But by San Diego trying to increase hotel-room blocks and utilize space at adjacent hotels, that may neutralize some of those things."
Meanwhile, Anaheim, which has a convention center with half a million more square feet of space than San Diego's, is making a play for the Con to relocate. The city is currently the location for the music industry's large NAAM show, which draws about 90,000 people each year. And without the attraction of the waterfront in San Deigo, Anaheim hotel room rates would also be cheaper and less in demand from non-Con tourists.
Anaheim is drawing up a plan to formally bid for Comic Con, and the board at Comic Con International is expected to make a decision about whether to move within the next month.
"The convention would be a big deal to anyone who would be able to bag it," said Charles Ahlers, president of the Anaheim/Orange County Visitor & Convention Bureau. "Everybody gets immediately healthy with Comic-Con."