Kevin James Joins Vince Vaughn In Ron Howard Film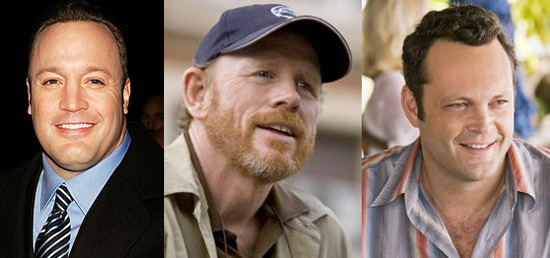 Before Paul Blart: Mall Cop, Kevin James was just another comedian who had done well on TV before leaping into some mildly successful films. After Paul Blart, which had an exaggerated ratio between financial success and critical disdain, James suddenly became, to some people, the worst thing in movies. Can't say why, since I haven't seen Mall Cop (I chose Observe and Report instead) but I wonder if working with Vince Vaughn in Ron Howard's new film will change anything. Probably not.
THR and Deadline Hollywood have the dirt on James and Howard working together, but that basic detail is really all they've got. The film is currently untitled, though IMDB lists it as Your Cheating Heart. Howard will direct from Allan Loeb's screenplay, which was based on a story by Vaughn and Brian Grazer. As we wrote when the film was first announced, it is about a "man who learns that his best friend's wife is cheating and must then navigate treacherous waters to decide what do with that knowledge." Let's get some some fun casting for the wife and the object of her illicit affection to dress this one up a little.
So, Kevin James factor aside, when I look at the lineup for this film so far, the one that stands out as an odd duck is Ron Howard. I'm hoping that this will play to the Arrested Development side of his sensibilities. Through that show, Howard got to exercise some great comic muscle, but when he's behind the camera all we get are films that are capable but uninspired. It's been ten years since he even attempted a film comedy; will any of that Arrested Development energy show up here? Given Vaughn's recent track record as a leading comic actor, I have my doubts.